"

Perhaps what needs to happen is a championing of shared values that have seem to have fallen on the wayside of late—awareness, openness, honesty, respect—values that should not only be impressed upon men, but mankind.

"

We live in a time of change. That much is apparent, and fashion has always been a reflection of the times we live in. What are we to make, then, of designers sending men down the runways in a deluge of ruffles, satin, and lace, with pussybows and floppy fringes and pastel? It seems we have become somewhat desensitised to these visions, but the question remains—what is the real message here?

Yes, the debate on challenging gender stereotypes has long been waged. It never ends, really; at times it quietens for a moment or so before it finds fuel for resurgence, like Boy George's kohl-lined eyes and perfect pout in the '80s, or Alessandro Michele's vision for Gucci since 2015. But perhaps it's no longer about making a statement but a shifting cultural direction—one that goes beyond just clothes, and which, foreseeably, has a much deeper impact.

2017 was a rough year for men. 'Rough' is probably making light of all the Weinsteins, Spaceys, and Nassars, but suddenly, all the qualities we have traditionally ascribed to men being in control, strong, and powerful—even charming—have been designated as traits to watch out for in the workplace or behind the scenes of a movie set. A flirtatious comment or a hand on someone's shoulder? Be warned.

But go the other way—as Facebook COO Sheryl Sandberg warns—and isolate or ignore women in the workplace for fear of being wrongly accused, and you're obstructing workplace equality. "Whether that means you take all your direct reports out to dinner or none of them, the key is to give men and women equal opportunities to succeed," she says. "Doing right by women in the workplace does not just mean treating them with respect." To Sandberg, that means creating a more inclusive environment instead of leaving women out of key meetings and conversations. While the actions of men come under increased scrutiny, with new scandals being revealed on what seems like a regular basis, inaction is also being flagged. For Sandberg, preventing access is almost as damning as sexual harassment.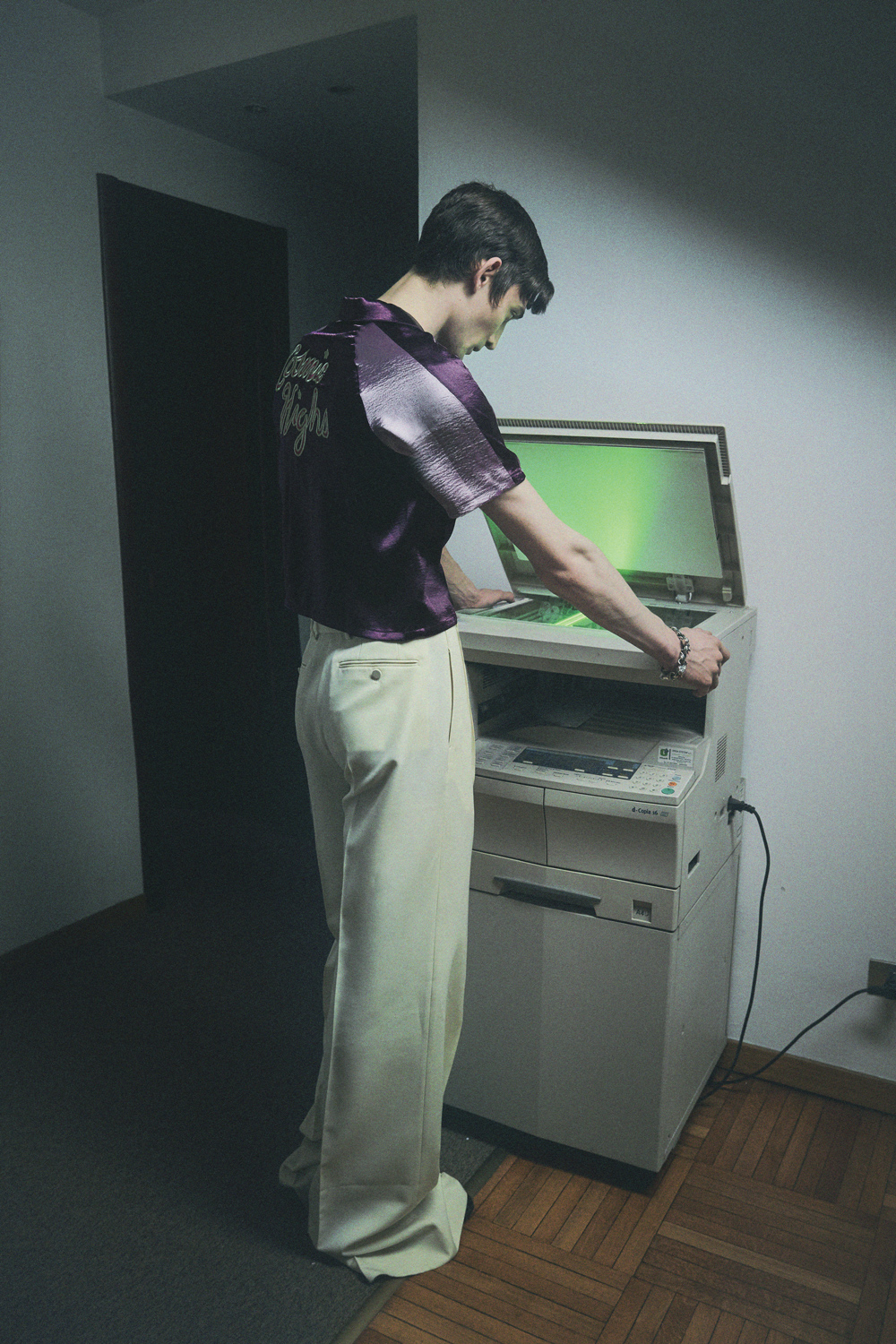 Then there is Trump. Alexander Fury, fashion critic and editor of AnOther, posits that the current flamboyance in men's fashion is a reaction to the present overarching mood of political conservatism—Trump, for one, then Brexit. "Perhaps it's because men in suits are now the bad guys," he says. Refer, also, to Robin Givhan's piece for the Washington Post that detailed former FBI director James Comey's hearing as "Washington's great fashion show of 2017", describing the man himself as "the consummate G-man in his black suit and pristine white shirt with its barrel cuffs and point collar" matched with a "perfectly straight burgundy tie with its discreet geometric pattern and rigorous dimple." Polished, poised, pure—and right in the centre of political turmoil, and then Brexit.

For those who identify traditionally as men this must seem like a minefield to manoeuvre. Can't dress like a man, can't act like a man—everything they have been taught to do by the very society that now questions them. Social cues and dress codes that have been ingrained since the day they were told to choose trains over tiaras are now being re-examined, for all the best intentions, but here men find their identities being challenged. Of course, there has been some pushback—like Catherine Deneuve and other French women who challenged the #MeToo movement—but there is an overwhelming sense that things have changed, and will continue to change. What's a guy to do?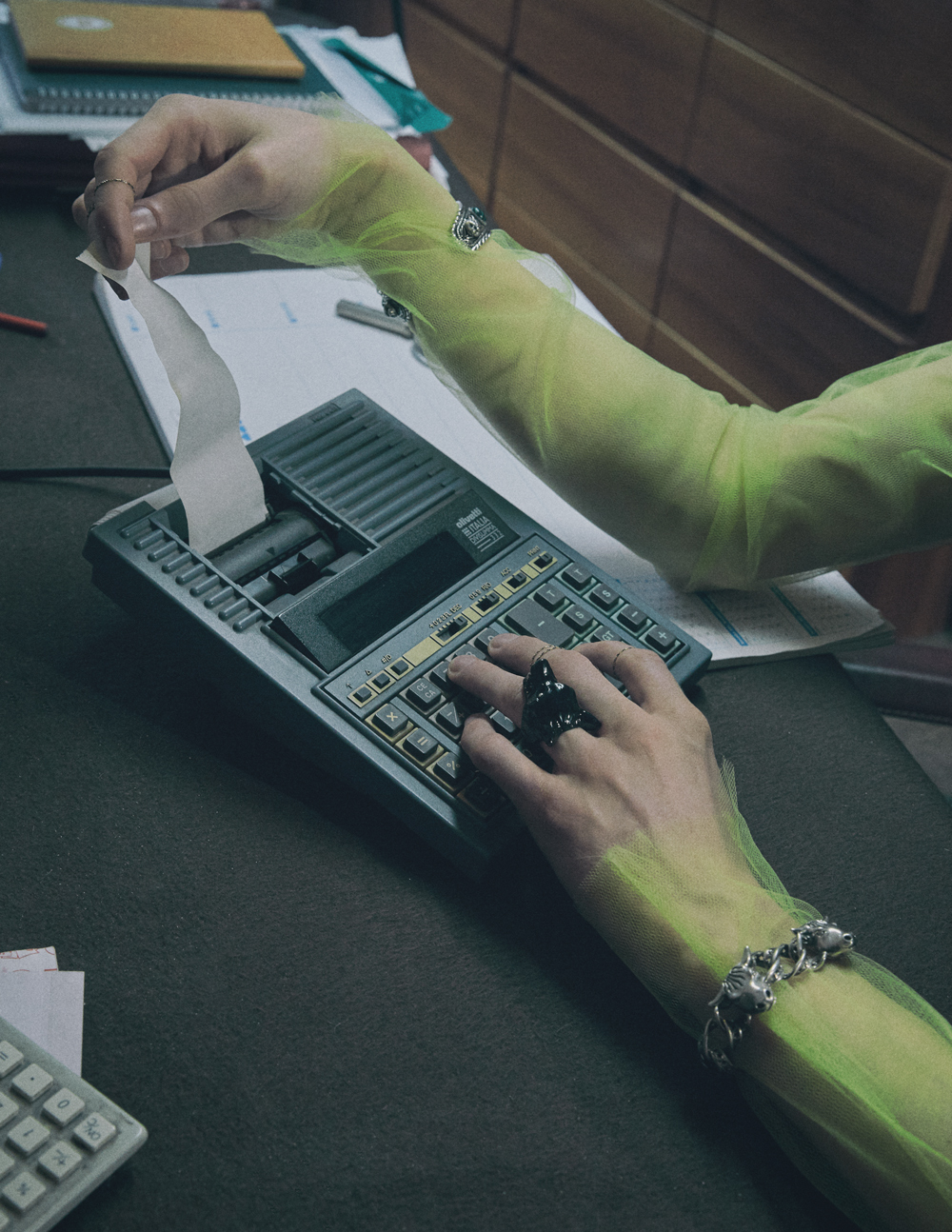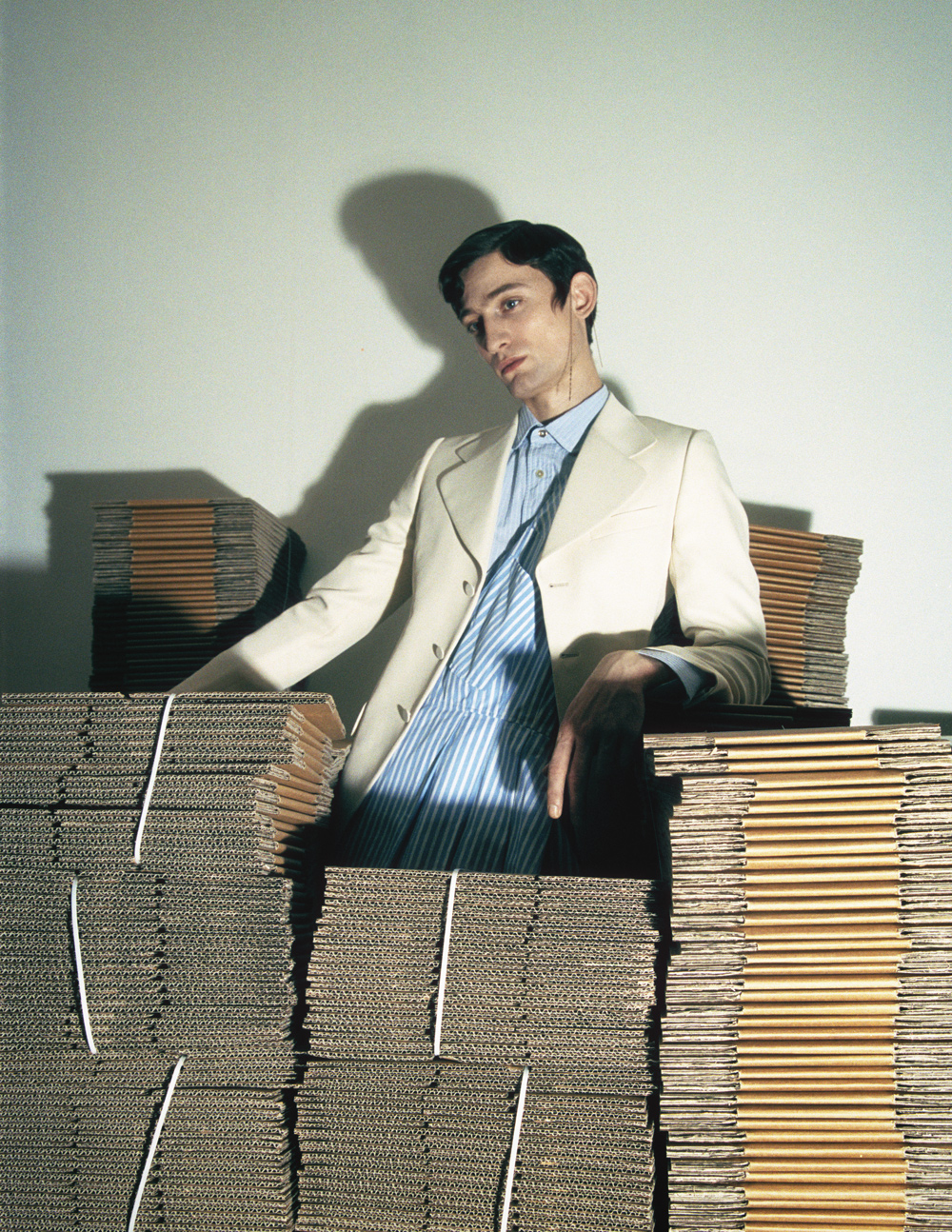 From left: bracelets & black ring GUCCI chainrings X TE
jacket GUCCI shirt PAUL SMITH stripe top LUCIO VANOTTI earring X TE
All this means that men must now attempt what appears to be a great balancing act. Not to attempt a Jaden Smith, but (re)introduce a feminine aspect into menswear. If Michele's version of a man is taking things too far, then look towards more subtle manifestations, such as those of Grace Wales Bonner—whose ode to Senegalese street-style and traditional British tailoring presented a new vision for menswear; all shrunken jackets, nipped-in waists, and exposed ankles, which appealed to men and women alike. Or Chitose Abe's restructuring of socially-enforced clothing codes in her Spring 2018 collection for Sacai. She wasn't the first designer to send both men and women down the runway in a menswear show—Demna Gvasalia, Craig Green, and Hedi Slimane are just a few who have done the same—but Abe's declaration ("One should live the way one wants!") goes beyond a business tactic or a publicity stunt. A similar look was presented for him: a flowing, buttoned-up jacket with checks of emerald velvet, worn over a skirt for example, and for her: a short-sleeved, knee-length, oversized drawstring dress of the same material—but, as she says, you're free to choose whichever look you're drawn to, gender be damned.