As we continue to keep our distances from one another, businesses that have transitioned online seem prime for survival. Yet, can something that relies so heavily on the tangible make a seamless digital transition? How does the second-hand economy situate itself in Asian markets, which are culturally more resistant against pre-owned articles, as the industry adapts to the movements of technology and sustainability?
Far more accessible than auction houses, resale businesses offer pre-owned or sometimes backstock items at discounted prices (occasionally presenting collector's items that have higher prices than its original retail, think Birkins or Yeezys).
The pandemic presented a multifaceted challenge for resellers. In terms of sales, it diminished the appeal of buying someone else's things due to hygiene considerations. Yet, the financial crunch increased demand for lower-priced items, which is typically the case for second-hand goods. Similarly, more people have consigned their items for extra income. In fact, inventory—which used to be an obstacle for resale start-ups—increased as people stayed at home with more time to clean out and put their unwanted items for sale online. Considering the pre-existing demand that continues to grow and extra time on most people's hands, the resale industry has welcomed a new dawn.
This growth, while budding, is slower in Asian markets, with few exceptions. Models of resale businesses include consignment, cash up front, or donations, each with their own perks and drawbacks. Second-hand items do not appeal to the Asian palette, especially if their histories are unknown. Here underlies a superstitious attitude that deems the old dangerous and favours the new. The concern aside from hygiene is their speculative histories; its previous owner's conjectural biography of being deceased or unlucky an invisible tag that would bring misfortunes upon the new owner. Furthermore, there is a perception of inferiority as second-hand items are cheaper, unwanted, and compromised with wear and tear or defects. The markets with an existing second-hand economy for fashion goods, such as Tokyo, Shanghai, or Hong Kong, focus on luxury bags and accessories, rather than clothing. Nevertheless, antiques and artifacts—or items that sellers substantiate to be part of this category—are usually not perceived in this light for their cultural value.
Yet, the older narrative for Asian resellers is more pragmatic compared to their Western counterparts. Hong Kong's notable Milan Station focuses on buying and reselling handbags simply for easier accessibility to brand name goods for the working class to thrive in a materialistic workplace culture, creating a more commercial experience in contrast to the quixotic search for a serendipitous find in a vintage store. A testament to its sucess, the company recorded a revenue of HKD 318.6 million in 2018.
The second-hand economy, which is expected to rise to USD51 billion by 2024 according to a 2019 report by reseller thredUP, rides on the eco-conscious movement as we become more aware and concerned about the true costs of fashion cycles, which accounts for 8% of greenhouse gases among other ethical issues. The emerging resale names in the United States and Europe, such as Vestiaire Collective, Depop, The RealReal and thredUP, each raised over a hundred million in capital, priding themselves on sustainability and technology.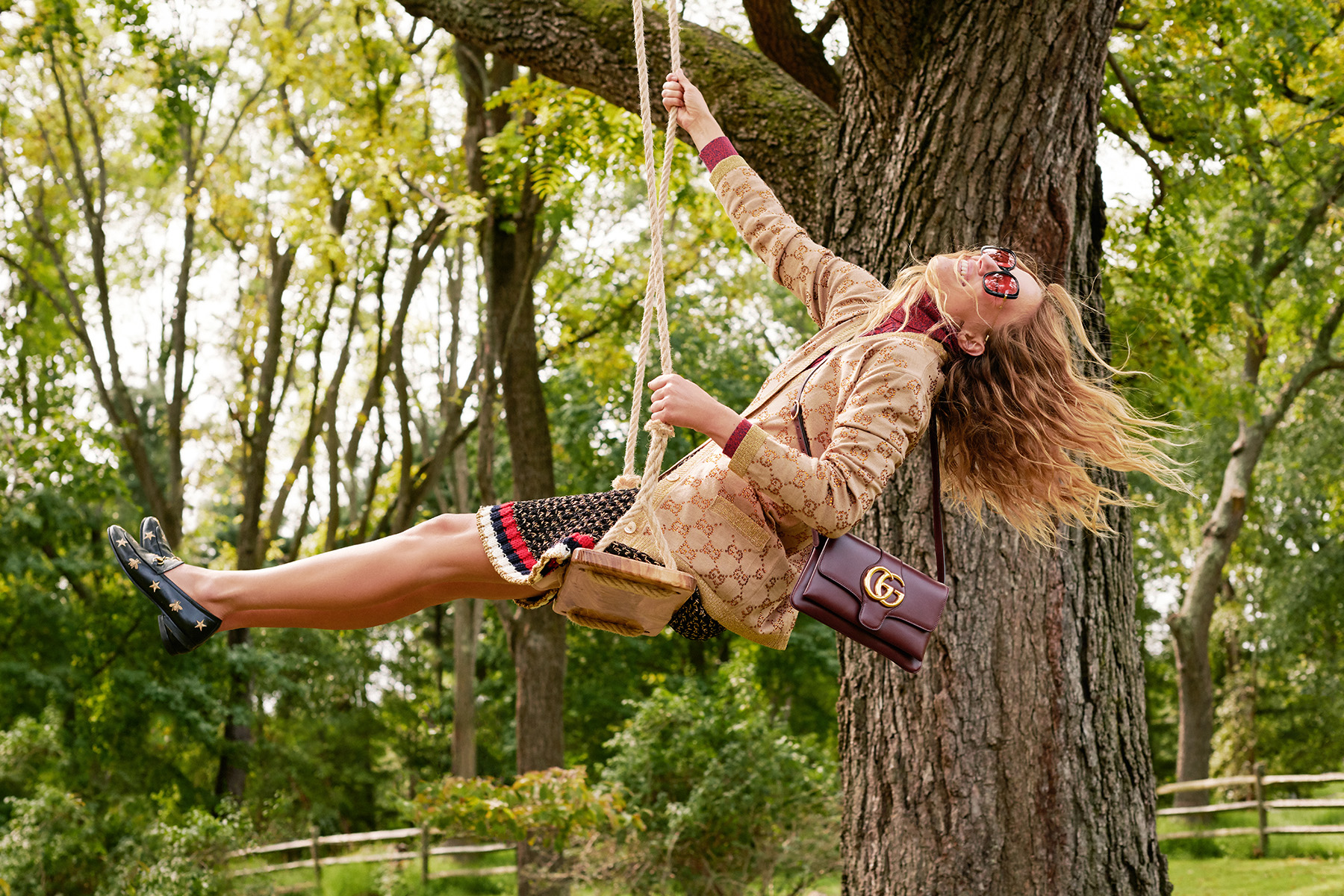 The RealReal x Gucci Circular Economy partnership. Image courtesy: The RealReal
For instance, The RealReal, which offers the transactional seamlessness of the Milan Stop model, also constructs the romantic atmosphere of vintage stores in their curated storefronts. What sets The RealReal apart from its brick-and-mortar competitors, such as What Goes Around Comes Around or Tokio 7, is their alignment with the rise of on-demand businesses that leverage on technology. Instead of beginning with physical stores for sellers to drop off items, the company worked in reverse, accumulating a following online before setting up shop in now 14 locations. The user interface of its website and app is closer to Net-A-Porter than Ebay. Customers can schedule an in-home or in-store appointment with their account manager to review their items, or pre-pack the items for doorstep pick up and even ship with a pre-paid label. Sellers simply hand their approved items over for photo documentation, listing and the ease of shopping online. The company includes fine jewellery, art and furniture in their collection too; case in point, a Phillipe Stark Doctor Sonderbar Armchair is available at 40% off.
Apart from the monetary prospects of this business, the allure of consigning and buying second-hand is poetic and social. It buys time for and of an object, parallel to taking care of and inheriting an heirloom. For vintage artifacts, impressions of age become character. Furthermore, due to the limited sizing, it presents an opportunity to de- and reconstruct a piece to create new, unique pieces, demonstrated by designer house Tiger in the Rain. On the other hand, as we grow apart from things we own, resale allows them to find new owners who would like them enough to purchase and bring home. They are reborn, or as Stella McCartney would say, "have an afterlife." The unknowable journey of discovering an item and making it yours extends its exclusive history to you—and your adoption begins its sequel.
"

The treasure hunt is an exciting prospect, but it takes time and effort to search or chance upon your perfect piece as stores typically only have one of each item.

"
It is noteworthy that despite the romance, history and convenience of resale, it is still not mainstream. The treasure hunt is an exciting prospect, but it takes time and effort to search or chance upon your perfect piece as stores typically only have one of each item. Second-hand items, particularly apparel, are also more prone to odours. Based on my first-hand experience, ethanol may be tried first before attempting fabric deodorants. Then, send for dry cleaning. Reselling is also a difficult business. The RealReal, the only publicly traded company in the abovementioned examples (for now), has not reported positive earnings since its IPO. In its model, any item sold less than USD50 would be loss-making due to the cost it has to absorb for logistics, documentation, listing etc. For thrift stores that buy at low prices or are donation-based, income comes not only from sales but also rag exports. The irony is, as more people donate and consign to these stores, rag supply increases, causing the price to fall and total revenue from this channel to decrease for them.
It may be a while before Asian markets develop more sophisticated infrastructures for the resale industry. While the stigma of pre-owned goods dissipates, designers are already taking on a proactive position and choosing to upcycle backstock materials to create new pieces. In changing perceptions, we look to the source to direct consumption patterns and change industry behaviours; there is much to gain from presenting old things in a new light.