The cloth mask is not an invention of fashion. Like most truly original contributions to the world of clothing, it is a product of necessity and circumstance: an odd migrant from the world of medical equipment. This bit of home-brewed "PPE" became necessary against a backdrop of market failures, and our creeping awareness that Covid-19 is not going anywhere. What was initially a disposable medical object has now shifted into a kind of anxious permanence. As such, it is already a bastard-object, an unhappy migration from the realm of the clinical. Whether we realise it or not, the colors and patterns of the mask-as-fashion represent the domestication of emergency—the collective admission that our present is one of permanent exception.
All garments define how we relate to the world, and to each other. The mask—suddenly the most important garment of the age—does so even more intensively. It signals a new regime of social personhood, of public being. It defines how we are to exist together. While evidence of a certain apocalypticism, the mask is also a fundamentally optimistic object, one that forces us to reconsider what "relatedness" means in a strange, new global order. Masking is not just self-protection. It is a form of collective care, in a moment of capital that is marked most by the wholesale rejection of human reciprocities and entanglements.
"

It is a form of collective care, in a moment of capital that is marked most by the wholesale rejection of human reciprocities and entanglements.

"
We should pay attention to this ubiquitous little piece of fabric, because it articulates a profound reterritorialisation. The borders of our exterior and interior worlds are being re-drawn—this includes the broadest notions of the political, as well as the intimate experiences and understandings of the body itself.
1.
The mask is also hugely controversial. Because, as we all know only too well, it is widely and passionately rejected. Armed protesters have taken to the streets of Texas, Wisconsin, and Florida—not to mention London's Hyde Park—to agitate against what they see as tyranny. Some have (with notable sass) even adopted the leftist language of reproductive rights, with signs saying "my body, my choice" and "hands off my face."
This furor has little to do with the discomforts or inconveniences of masking—which are minor. The outrage has been explained in many ways: absurd over-reaction, toxic masculinity, white fragility and privilege. These are all factors, certainly. But this almost certainly under-estimates the depth of the divide that is being articulated.
In fact, this scrap of cloth has become the flag of a culture war, defining the fault-line of an emergent political order. Across this breach, two unreconcilable views of the world face each other. This difference is fundamental. It is, at root, what separates Trump's America and Boris's Britain from those who see themselves as socially-minded, respectful of science, and willing to socially distance and make sacrifices. This is a divide between acceptance and denial, fact and faith, reasonable explanation and conspiracy theory.
Simply put, it is the difference between those who believe in a world of social related-ness, and those who would see the future as an anomic space of individuals acting without obligation to each other or to a broader human project. How we wear masks proclaims a great deal about how we see ourselves and others. Putting it on when one sees another person is not simply a courtesy, like doffing one's hat or removing one's shoes. It also signals care for the other person's well-being, and for a social world that we believe to exist. As anthropologist Mary Douglas pointed out in her seminal Purity and Danger more than 50 years ago, our identity as a people is ever forged against the notion of some form of invasive, exterior threat. This is not merely self-protection; it is collective self-creation.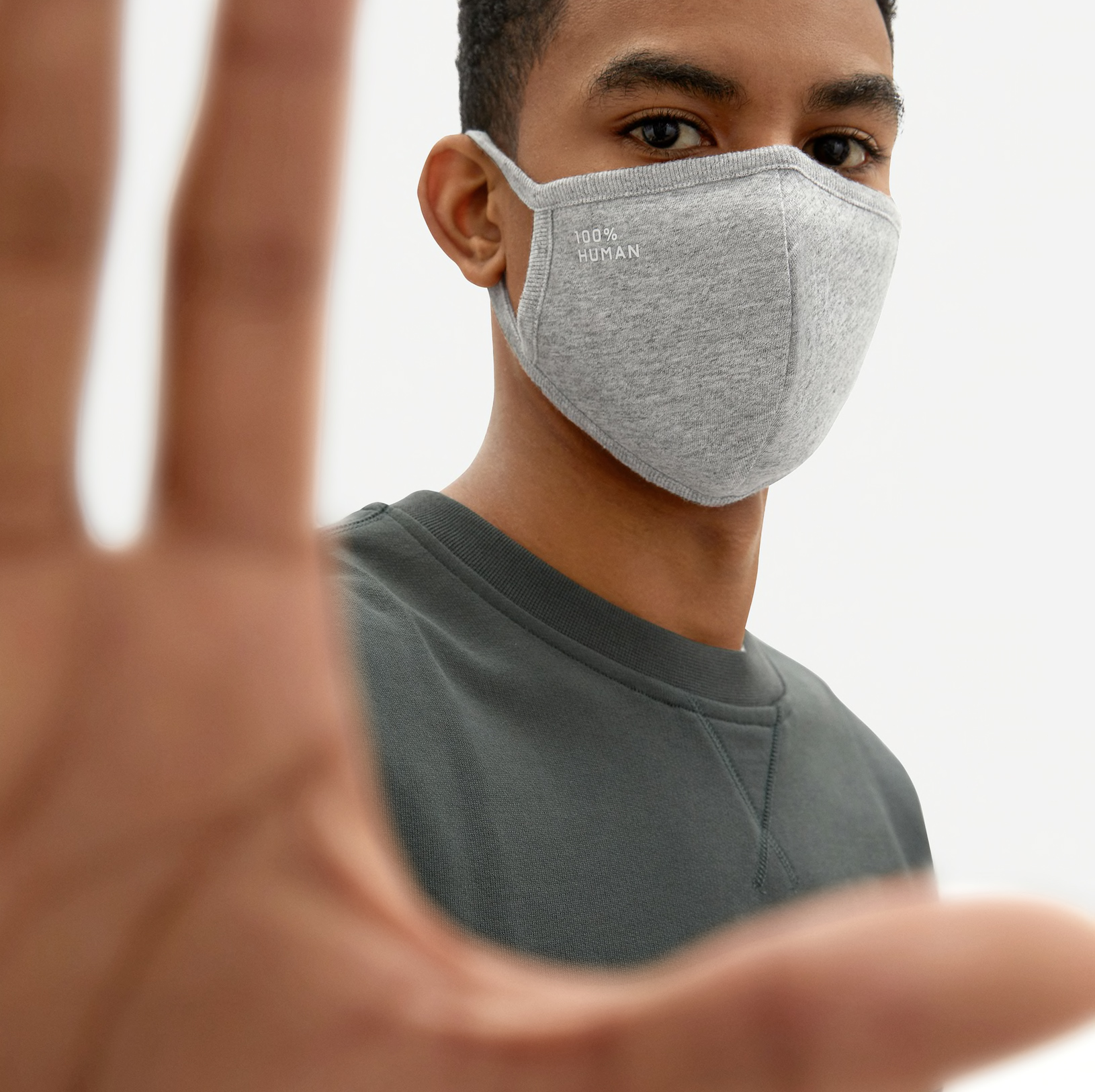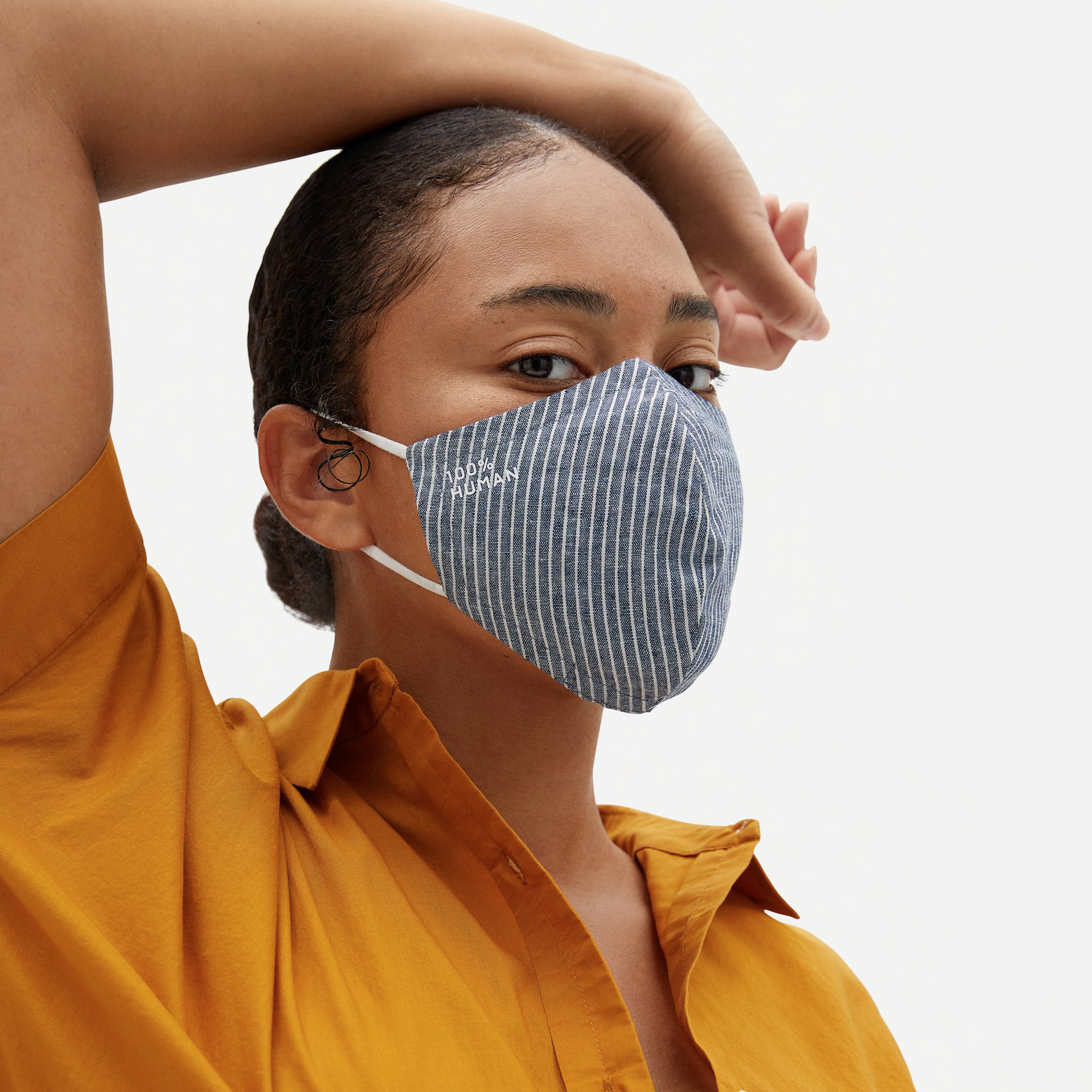 The 100% Human Face Mask from Everlane. Image courtesy Everlane.
This vision stands in stark contrast to the populist mania for pure and negative freedoms of "self-interest"—long the rallying cry of conservatives. In fact, economist Paul Krugman has argued that the right has become a "cult of selfishness," one that is quite literally killing the American people. Trumpian rhetoric (whether on immigrants, health services, or anything else) circles around the denial of connectedness, of the mutuality of care and consideration for other beings. The individual "choice" to un-mask is not merely callous; it is understood as the political position of self before other. The external threat of the so-called "Chinese Virus" operates very differently for this crowd: they come together in their belief that togetherness is not a thing.
At the same time, the mask cannot be separated from the image of social protest and the acceptance of otherness. In the USA, this was suddenly brought home in para-militarised responses to the George Floyd rebellion. Protesters in "blue" (predominantly Democratic) cities overwhelmingly wore masks and goggles, to protect against multiple exposures to tear gas, as well as Covid-19. On many masks were written "I can't breathe," the dying words of a man murdered by police, with the latter enjoying broad support among anti-maskers. In another telling symmetry, both left and right were protesting for the right to breath. For one, this was an urgent matter of justice. For the other, the freedom to inhale without impediment is, in effect, a modality of white privilege.
The symbolism of progressive revolt itself stands against a backdrop of cultural bias. When white Western heroes mask, their mouths are left uncovered. The costume of Captain America—an apt example—is an almost perfect inversion of the mask. The exposed mouth equates heroism with unfettered speech, pronouncement, command. Euro-America, moreover, continues to ride a wave of anti-Islamic sentiment that has seen the covering of the mouth as feminine, Orientally other, and unfree.
The polarisation effect of the mask dramatises a vast historical irony: that this virus itself arose directly from a crisis of connectedness. It is the product of the intimate, and increasingly pathological, relationship of humans to the natural world and each other. Scientific opinion now holds that the destruction of wildlife habitat and consumption of endangered animals created a pathway for the spread of new pathogens from bats and pangolins to ourselves. The explosion of Covid-19 made clear, also, the radical speed and extent of our globalism, with lines of air travel, tourism, and capitalist production linking Wuhan to nearly everywhere else. Even the most recalcitrant right-wingers referred to the virus as "Wuhan Flu," demonstrating precisely its origin in a world of relation and perceived risk.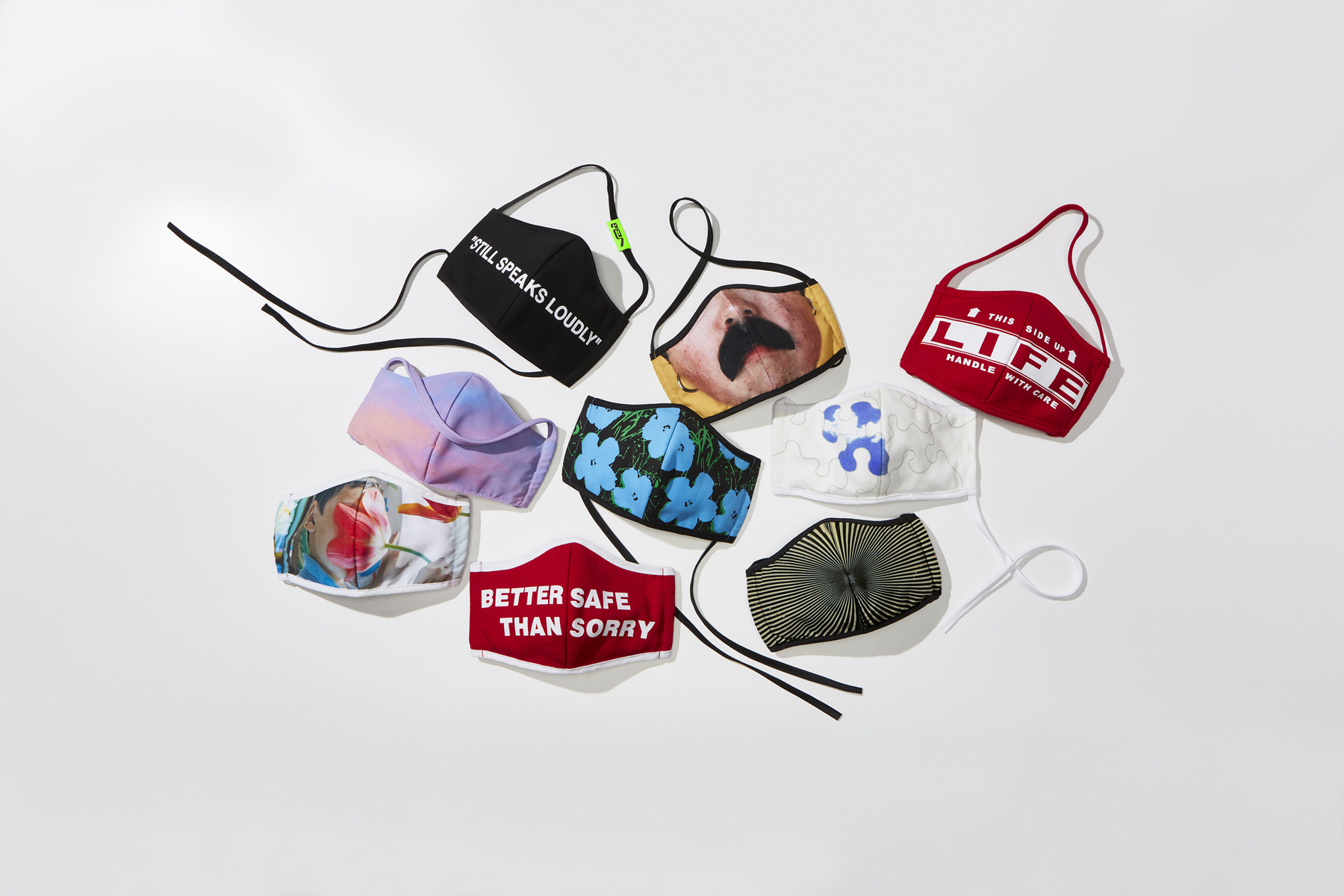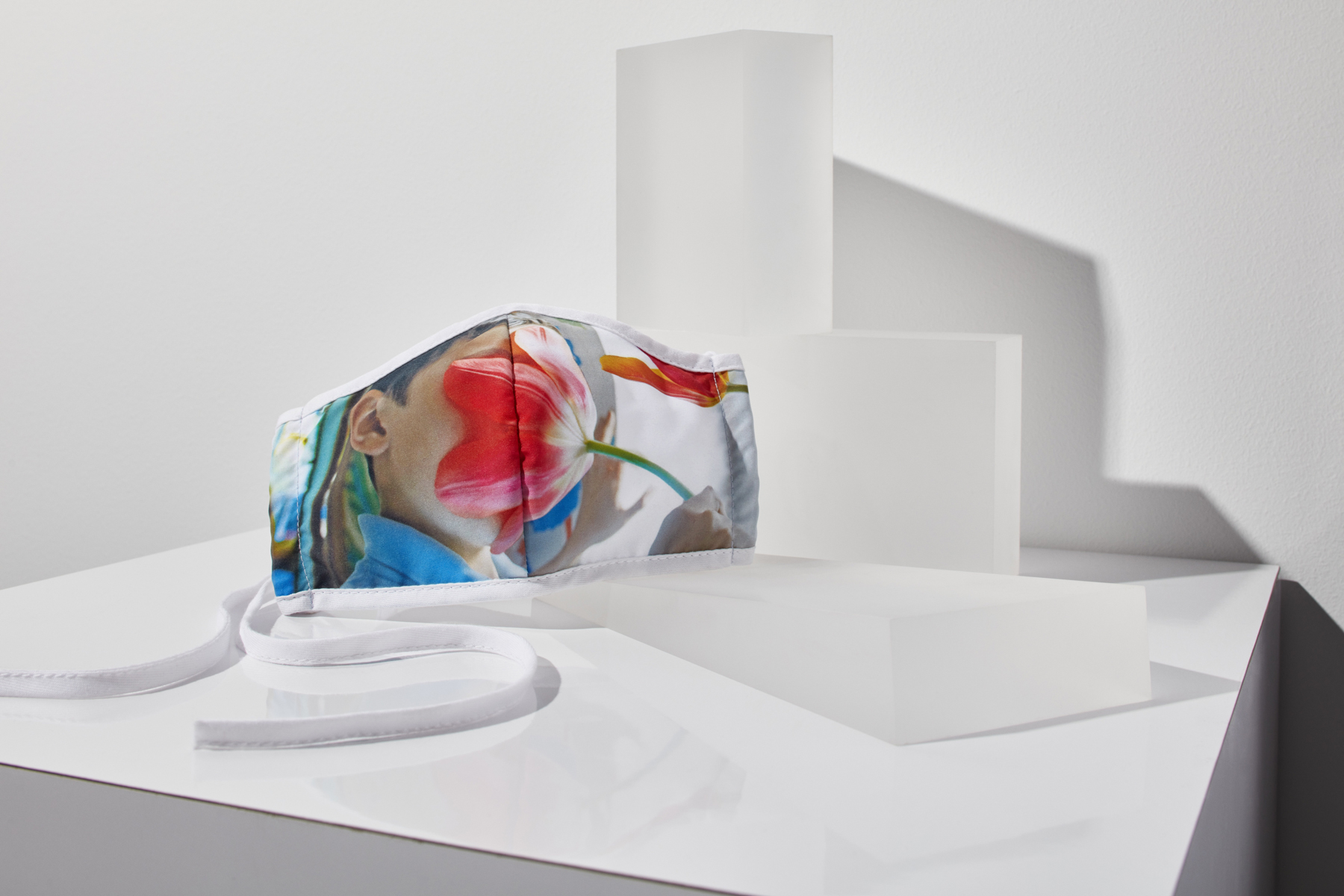 MUSEA MOCA Masks. Image courtesy K11 Museum, Hong Kong.
2.
Certainly, the mask articulates the re-territorialisation of the world "out there": the political space of relatedness, or its opposite. At the same time, there is a more intimate re-partition taking place, one of the body itself. Through the materiality of the mask, we experience ourselves anew: breathing differently, signaling smiles and expressions as we have not done before. Through the privatisation of new parts of our bodies in space, we redraw the borders of intimacy and consider the boundary between body and world in another light.
The act of covering privatises new parts of our bodies in a shared space. It redraws the borders of intimacy. For much of the world, the mouth is a site of high ambivalence. On the one hand, it is the most public interface between the world and the interiority of the self—a place of potential power. It is where we ostensibly exercise the most fundamental of our freedoms, that of speech. It is the aperture of respiration and nourishment. And clearly, it is highly sexualised, the place of manifold erotic acts. In 2020, the mouth is suddenly a source of great danger, on top of other cultural associations.
Masked, the mouth becomes private space. When Instagram-model Lela Contois wears a mask that matches—in color, fabric, and ornaments—her bikini, the sudden reassignment of the mouth alongside other private regions becomes shockingly clear. It both hides and re-sexualises, creating a place that cannot be seen and a place of renewed desire. Through masking, also, we gain a strange intimacy with our own mouths, re-breathing our exhalations, and sensing the smallest movements of skin against cloth. The mask puts us in new relation of heightened contact with ourselves, in the moment that it re-creates our modes of contact with others.
Such a reassignment makes clear again what anthropologists have been saying forever: that the territorialisations and classifications of the body are culturally and historically contingent. The mouth has long been a space of privacy for much of the world, as it is now for us as well (albeit rather differently, and with deep ambivalence). Again, the shock of this change holds within itself the germ of new realisations, accommodations, and reciprocities. We are learning—some of us, at least—new ways to be together and with ourselves, new modes of concern and self-fashioning. At the same time, however, it is becoming abundantly clear that the "issue" of the mask is the issue of the future. We must re-partition the individual, in order to once again, hesitantly, relate.