The Wonder Facility is an expanse of white walls and mobile cubicles marked apart by translucent film. There's a productive Zen as we sat down with Hunn Wai, one half of design duo Lanzavecchia + Wai, at the communal table bench to talk design. It's a trade accused of having set its conceptual cart before the horse. But Lanzavecchia + Wai's recent collections offers surprising predilections.
Hunn, a graduate of Design Academy Eindhoven, was awarded the 'Young Design Talent of the Year' at the Elle Deco International Design Awards in 2014. The following year, the studio launched their first designer collection PLAYplay Furniture Collection in collaboration with Journey East. Their work has also been exhibited at major design platforms such as the SaloneSatellite, Fuori Salone and the Triennale Design Museum in Milan, Italy.
"We were looking to do something with Southeast Asia, since we are half and half," Hunn said, referring to his Italian partner Francesca Lanzavecchia. "We got Scandi-fatigue, and we wanted SEA as a springboard. It brings to mind night markets, the colour, the fruits—my goodness—the confectionery, we can point these out, but how come we don't use them?"
The catchy name is matched in the verve and duality of the collection, each piece tinkered with to reimagine the 21st century (and beyond) individual. It is actually impossible to imagine only a single person inhabiting them. Instead, you are drawn to wonder about: functional space, urban communities, and adaptable identities with authenticity.
Such festivity brings up the notion that our physical accoutrements become our cast. The regular use of a single position or passive body positioning in and amongst our daily objects builds our daily patterns. By designing the epigenetic factors of movement and position, active sitting or standing turns into the freedom to move and be. These designers could be seen as subtle architects of the minds and communities they cater to.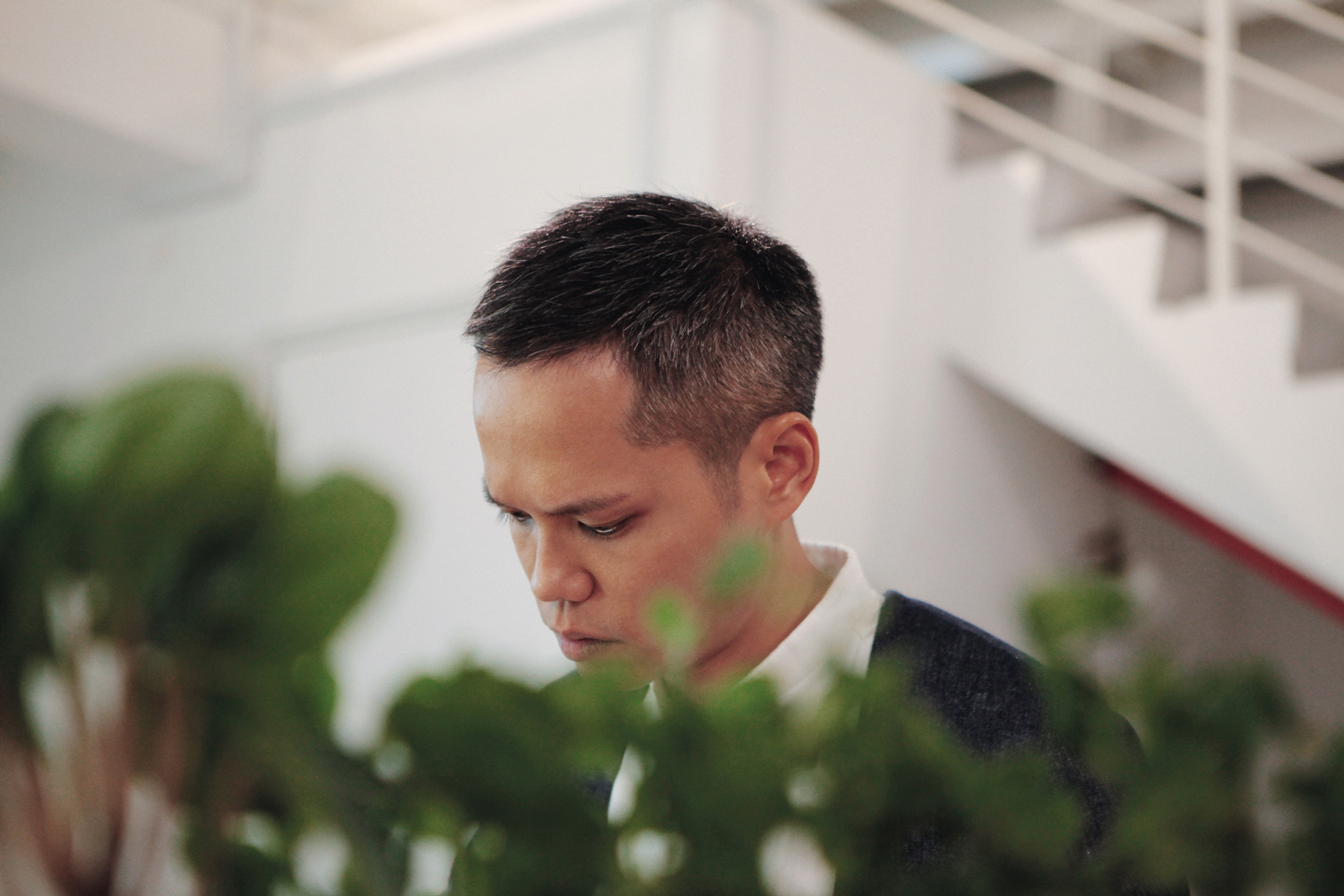 Hunn explains, "whether for a baby stroller, a helicopter or a healthcare device, ask: where is it, and where does it need to go? What kind of invisible questions have not been asked? If you keep asking stuff in the same way, you get the same answers. You need to be equipped with new lenses to do that for design to be meaningful. That's how we work."
Hunn is particularly interested in these contexts of design. He plunges into an urgent exploration of why design matters, and how to make it matter where it should. He pulls out his iPhone to show you pictures, zooming in on them as he considers them with you. His sentences have a habit of extrapolating upon themselves. And it seems similar to the philosophy he embraces at Lanzavecchia + Wai.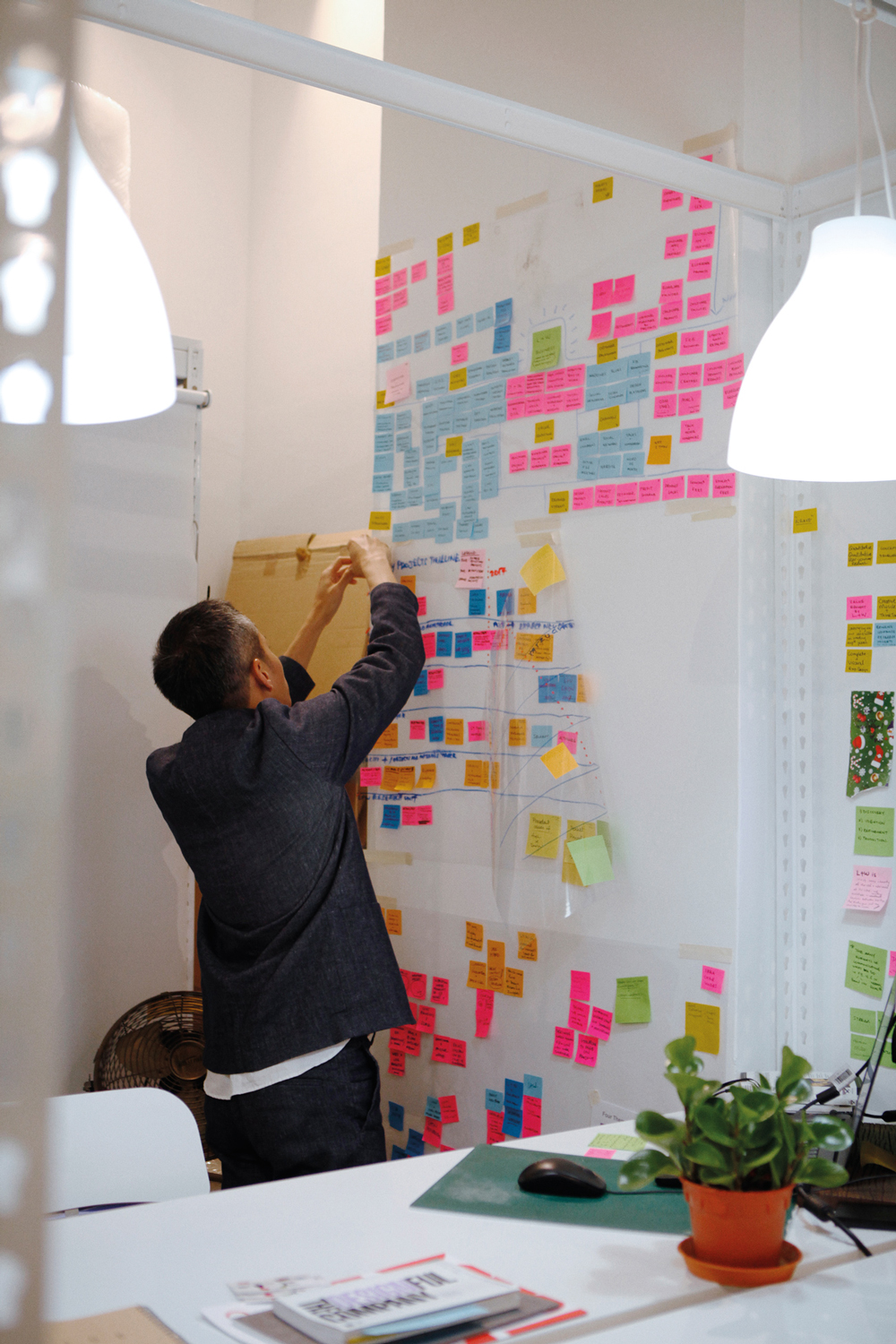 Hunn wears blazer, top and trousers from COS S/S 2016.
"Our houses are becoming smaller—why are our archetypes still staying the same? The sofa hasn't changed for 10,000 years. Why not have a new dining chair, which fluctuates between work and dining?"

He acknowledges market demand. "Manufacturers are running out of ideas. We are drawn to the object," he explains, "it adds another layer of meaning in how it relates to a person's life, which we find out through qualitative, quantitative, observational research. Then we have a logical framework—not a crushing one—but one we can base decisions off.
At some point, there needs to be innovation, in terms of material or mechanism. We take the malleability of the work in a disciplined way. We define our problem, and we solve it. These two pillars are extremely important to do things that are both meaningful and innovative."
This 'archaeology', as Hunn calls it, culminated in an intimate setting in 'No Country for Old Men'. The collection adamantly insists on living over mere mobility. Each item accommodates the natural decline in movement in the ageing process, but never ostracises the user. Instead, it updates their surroundings in practical pieces that gracefully support a different perspective of life.
"

We define our problem, and we solve it. These two pillars are extremely important to do things that are both meaningful and innovative.

"

Hunn Wai
The conversation with Hunn Wai ranged wide. We invite you to contemplate the seat you take as we share part of the transcript:
At Lanzavecchia + Wai, you point out that you are equally researchers as well as designers.
We start with understanding the context of usage. At the end of the day, if it's about the experience of water, it might not need to be a showerhead. It could be multiple things: a shower tool or a bath rubber ducky. We familiarise ourselves with our domain. For example, we are always interested in healthcare, doctors, the elderly... but the basic question always arises from personal interest. We always asked questions that we felt dear about. Soon lationships with stuff, how do we insert triggers and properties into these things that are so close and yet so far? 'No Country for Old Men' got a super amount of press and interest. No one had thought about this before.
How was the response?
It was good. We had interest but at the end of the day, it came to a stalemate because these things sell anyway.
Because people need it medically.
There's a bloody waiting list for it, this ugly stuff. In 2012, our third showing in Milan was a satellite event at the expo itself. As a design, these elderly aids have the sensibility of good design. They must look good beside, say, my Eames lounge chair. The function is there, only hidden within. Some things we couldn't touch because of liability. We went into this naively, but we wanted to.
You built a space for it too?
Yea, we got to IKEA and got parquet flooring, the whole domestic setting. We got a lot of attention. Everyone just kind of stays away from this issue, but I think our training at Design Academy Eindhoven prepared us to provoke and speculate. We did a yearlong research and got invited to conferences, healthcare forums... That sparked our idea that we could go away to different contexts. That design can cure loneliness. That became the ultimate challenge. This market is not ready for it as there's only so few manufacturers. But it is the next stage.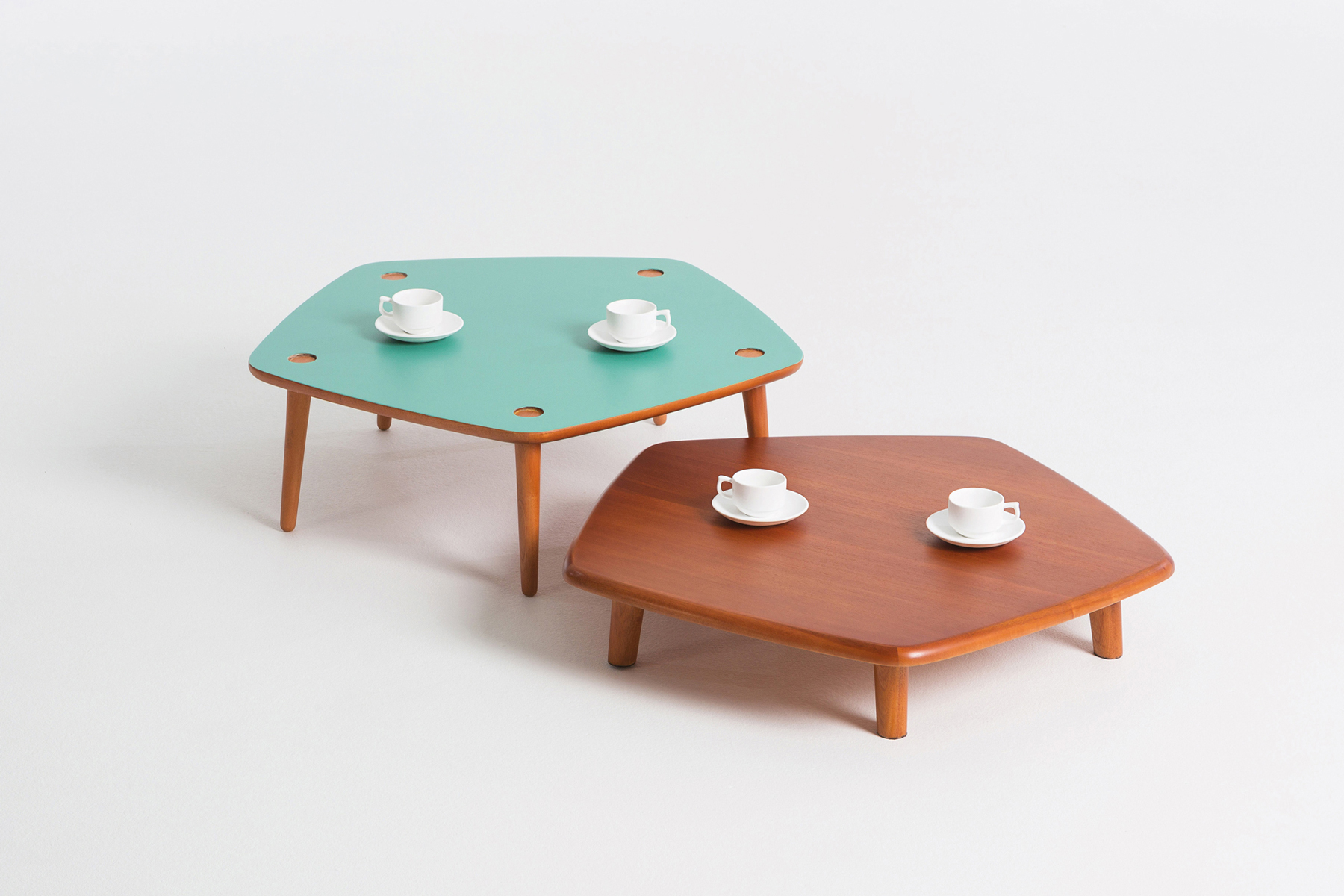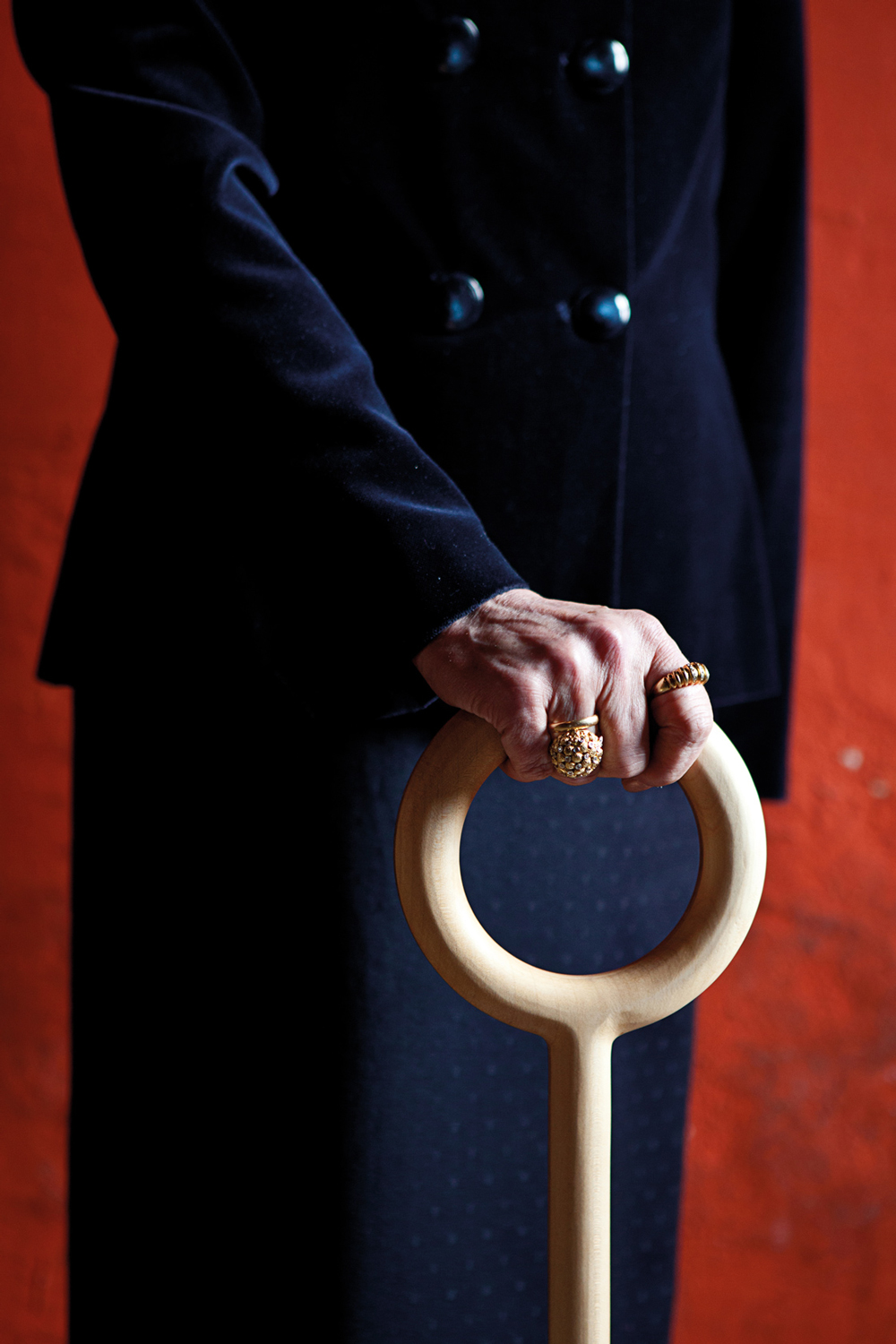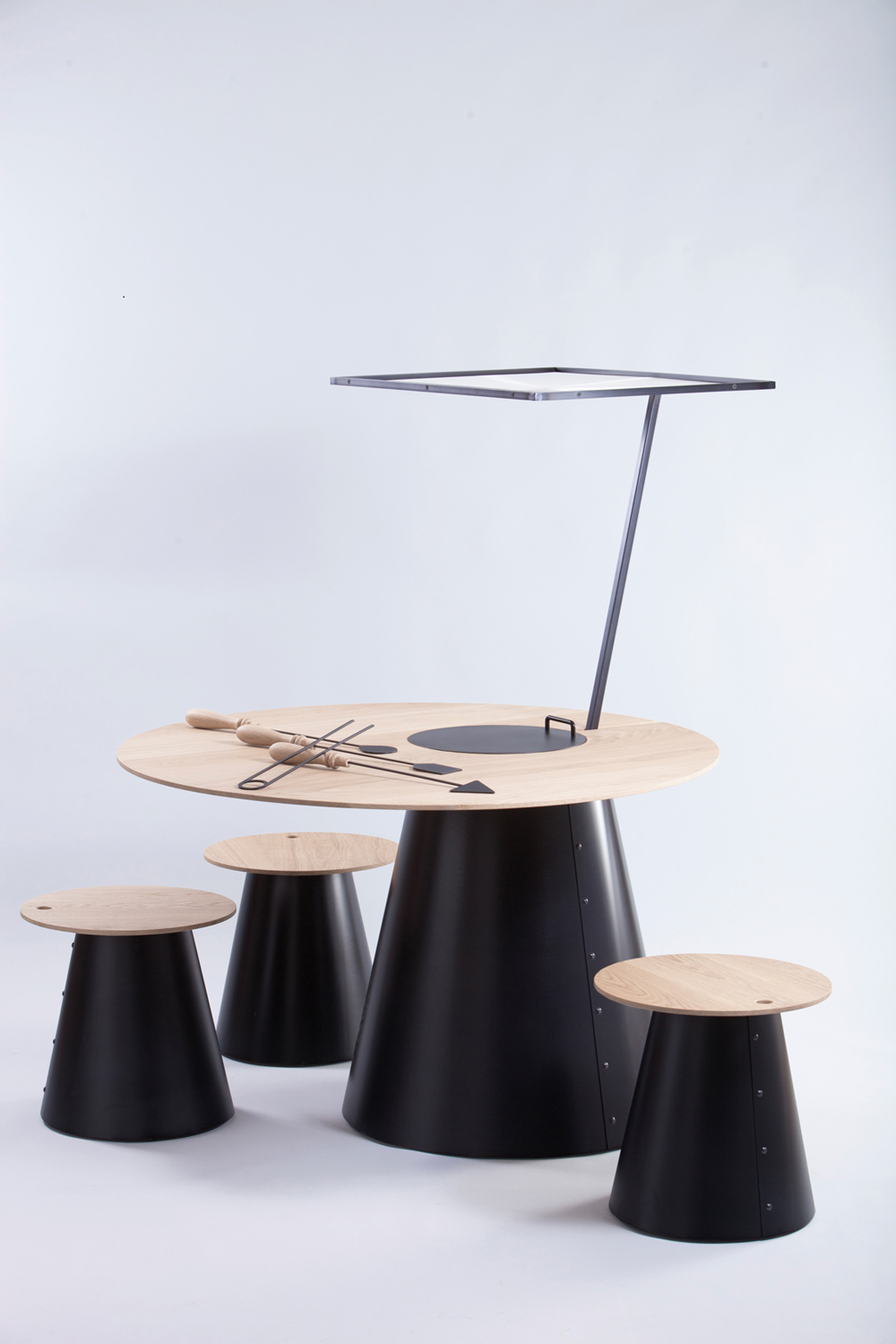 No Country For Old Men by Lanzavecchia + Wai. SUNplace by Lanzavecchia + Wai.
Do you think local stories and being responsible locally is the gap that is missing today for better products and design?
Well, you used to have no choice. It was all you had. Today, the choice is between something on Taobao and something that is responsibly made. I'm not sure if there's a critical mass yet. The reason why Zalora and other huge sites exist is because people still want simple stuff. Or mass stuff.
Maybe they can't afford the other stuff.
Yes, maybe.
Or do you think they do not appreciate the value of these?
If there's enough demand, then that's enough reason to supply. Cost will drop. It's the law of supply and demand, right? I don't know—I think it's (also) about a mindset. You just be responsible. Not so much of what you are given but what kinds of lenses and filters that you choose to consume by. Like coffee—there's roasters everywhere. I do not need to go to that one kopitiam to get my coffee... But I do feel that because of logistics, because of the supply chain, the ultra-efficiency now of some friends in logistics and robotics in warehouses—how Amazon sorts its stuff is nuts, how they fly a drone to you—these kinds of things are becoming more common. New economic systems will arise.
I could grow something on my balcony. Load it up—"drone, bro, coming in." And everything is done online, Paypal, whatever. Right now, though I hate to use the word disruption, things are being torn apart and put back together again. New ways. It's going to get really interesting. For sure, there is a tendency towards hyper locality. If I go to Sydney, say, I expect to consume what is of that place that I cannot get anywhere else.
Are there any local contexts that you personally find inspiring?
Travelling's always inspirational. And just being locked up there in the sky for six, seven hours is meditative.
That doesn't make long-distance air travel sound so bad actually.
I get to read or just watch a movie. When I go to an AirBnB in Milan, I get to see how locks work there. Or that doors push in from the street instead of out. Simple things like that shake your habituation, which is important for a creative person, for anyone. You then observe what's going on deeper in those places—what is family? What is love? What is conviviality? In Vietnam, seats are low and they have beer over pho. Here (in Singapore), I'm totally mall-averse right now. I'm not snobbish, but I can't deal with the crowds or pay for stuff that people don't care about. I rather bring my money to a kopitiam, to someone who cares. It could be high-end or low-end, but that's just a form of measurement.
I think that phrase 'keeping it real' is crazy. It is so essential. There's no bullshit. But I'm also empathic; I'm not bull-headed about my way. How do we bring everybody to the same page? To me, that's extremely important.
—
Kopitiam, or a coffeeshop. An example of the hyper-local culture.