At some point in your life, you've thumbed through an IKEA catalogue and felt your heart flip because there it was—the sofa you've always dreamt you'd come home to and loll about in, stuffing your face with chips and ice cream. The sofa you'd snuggle up to as you slowly forgot all about the crappy thing that happened at work. Suspend these thoughts for the time being—British designer Faye Toogood doesn't do furniture for lolling about in. In all of her Assemblages—the term she uses for her collections of furniture and objects—she manages to build paradox into every piece, combining the untouchability of art and the tactility of hand-formed metal, wood and even earth.
The result: furniture that could never mindlessly occupy a room, that you could engage with but never throw yourself onto. There's no question of any of Toogood's furniture being relegated to the class of casual bystander either—every piece, gently or forcibly, requires your full attention to appreciate each carefully laid juxtaposition, of the crude and the fine, the heavy and the light, the elemental and the rarefied. This is clearly the effect of every object being conceived, not in silo, but in full awareness that it will share a space (an Assemblage!) with other objects. The pieces are therefore perfectly capable of holding their own in a room and playing well with others. The Roly Poly dining chair, though chubby and child-like in both name and form, can be well-behaved and dignified, even when surrounded by its playmates. Ditto the Roly-Poly dining table, which balances out the heft of the chairs and saves the space from being dwarfed by its inhabitants created with fibreglass.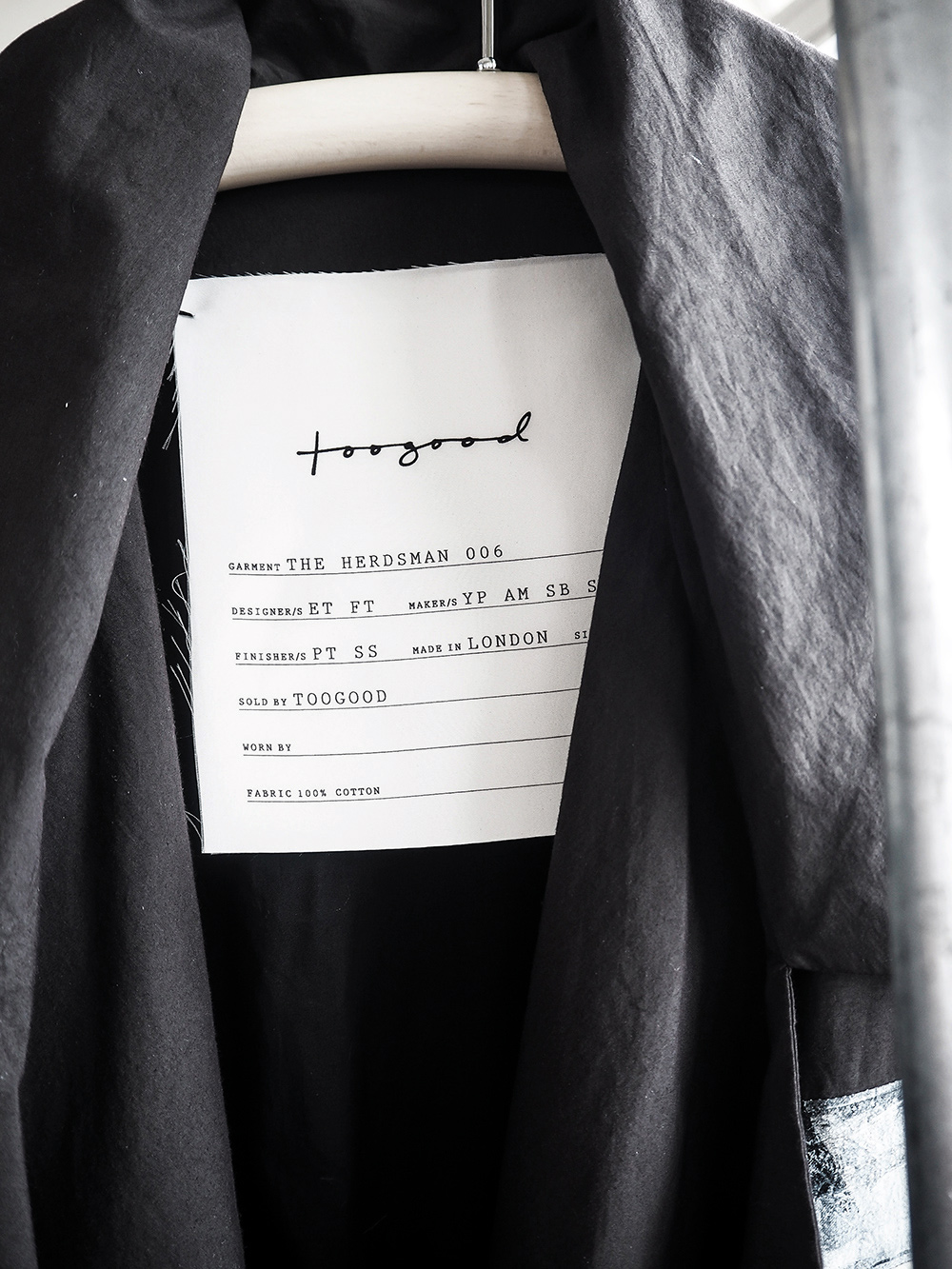 Faye Toogood's experimental, inclusive take on design extends beyond interiors—Toogood, the outerwear label she co-founded with her younger sister Erica in 2013, has released seven collections of uninhibited, uninhibiting garments. Like the workwear they are inspired by, the pieces are all unisex, with clean, sculptural lines that defy gender. But unlike their industrial counterparts, the Toogood iterations are far from uniform—the fabrics are protective and practical but often high on drama (previous collections have featured rubberised black canvas, waxed cotton, padded foil), each languid silhouette taking on a different personality depending on the wearer. The clothes, like the elder Toogood's furniture, end up an odd marriage of opposites—on the one hand, accounting for all human forms and figures; on the other, wearable only by those unfettered by convention (how many people do you know would wear a full-length canvas coat finished in rubber?).
In any case, there's no lack of ambition in the label's efforts to redefine and elevate workwear, collection after collection. Collection 006 takes on the task of reinterpreting the farmer aesthetic for modern living—farmers' checks and patchwork are refined and sharpened, crisp lines softened by lightweight fabrics with a homespun look, everything lifted from the ordinary bucolic by that bright, distinctly un-agrarian red.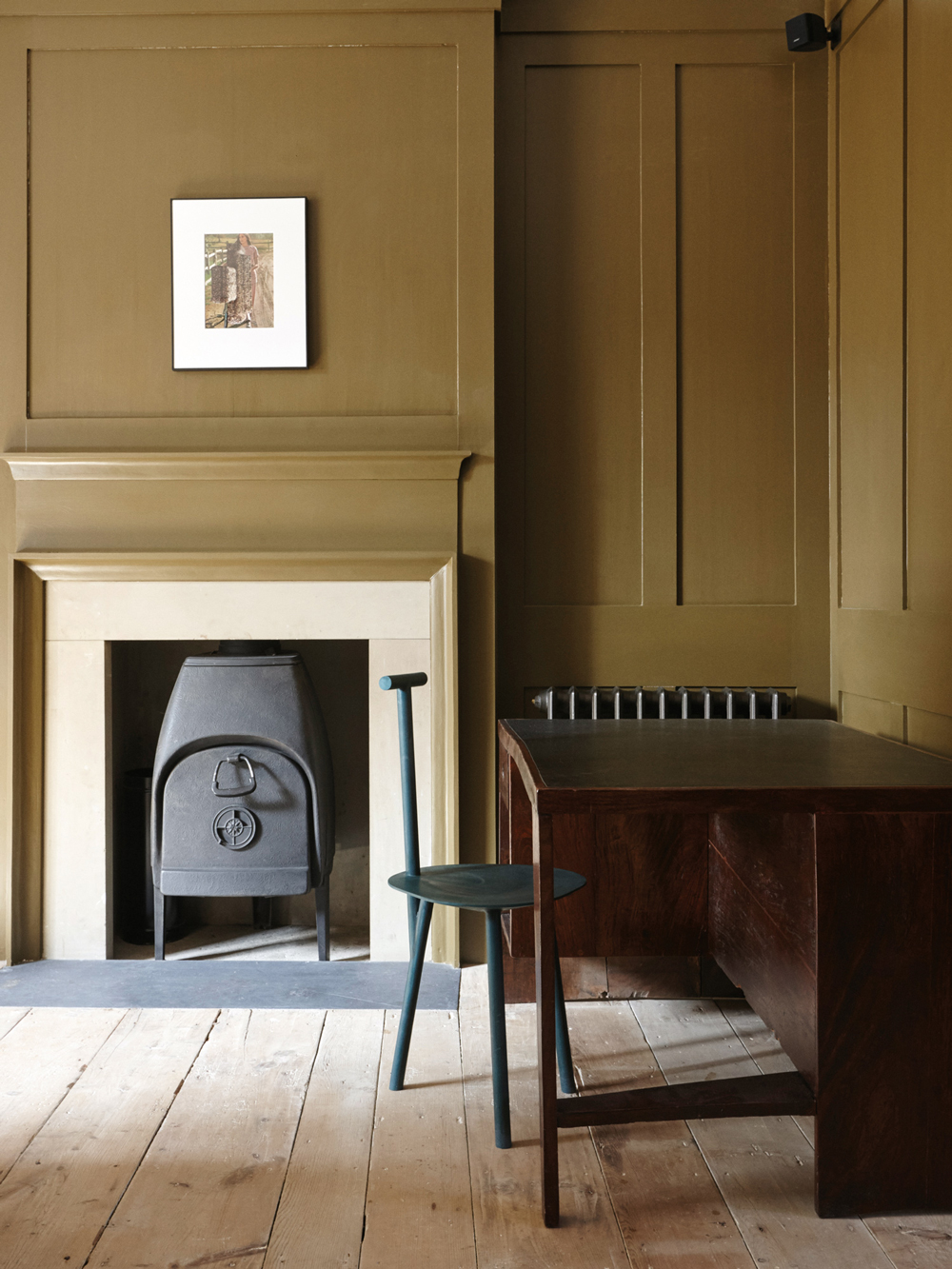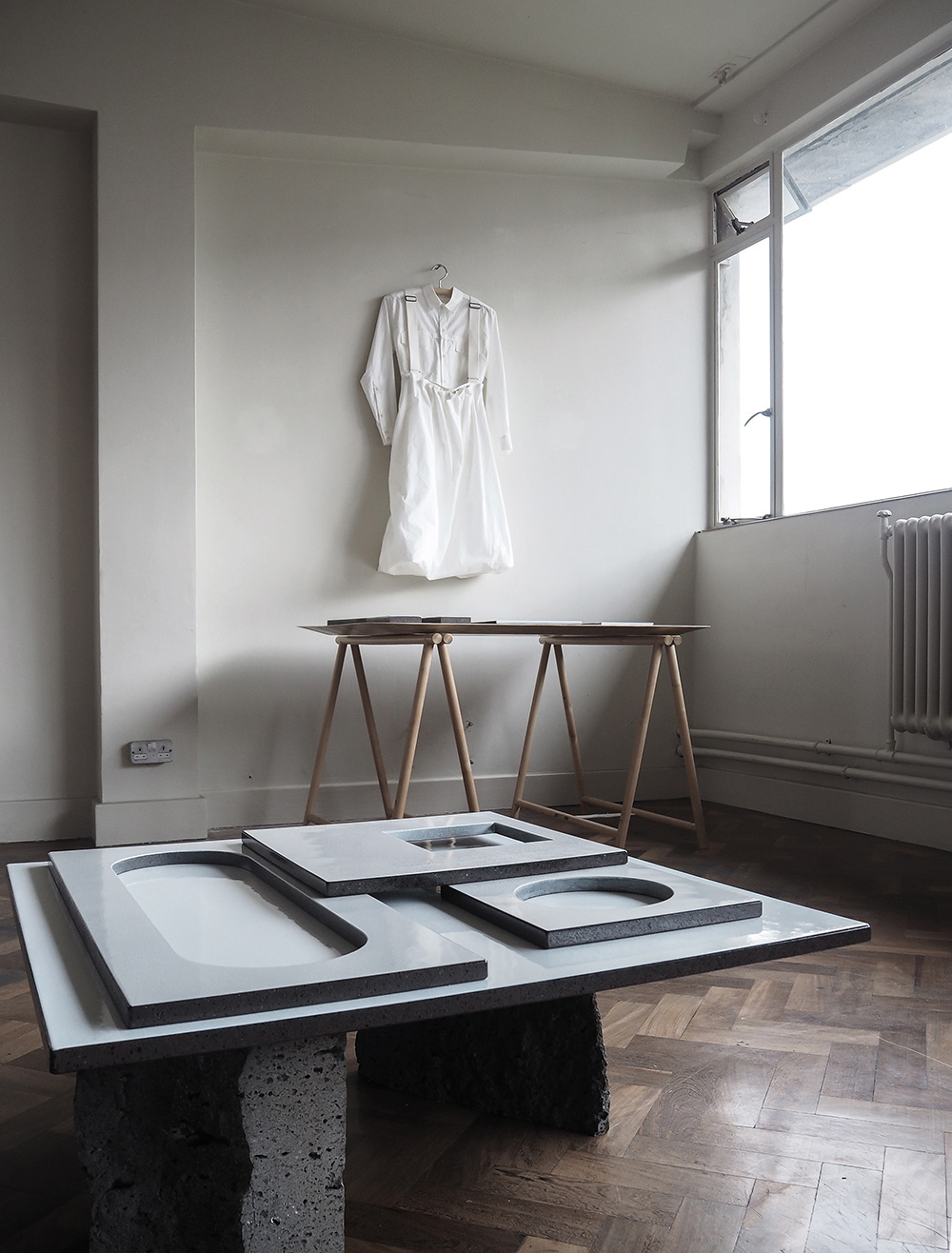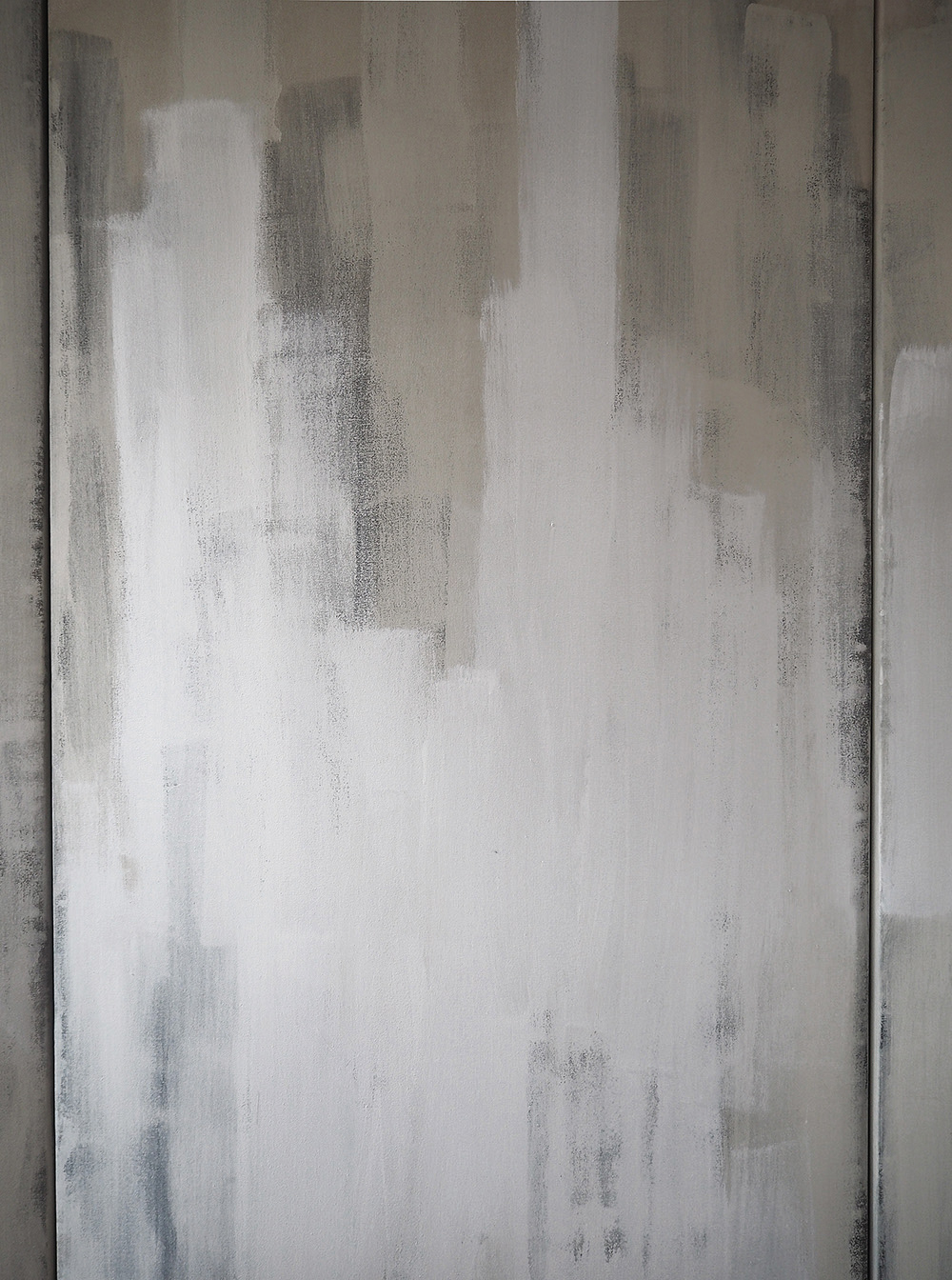 Faye Toogood Spade Chair & Roly Poly Dining Chair seen at Hostem's New Road Residence. Image courtesy of Toogood & Hostem.
The unifying factor in everything Toogood puts her name to, in fashion or furniture, is a near-monomaniacal propensity to repeat and tweak, to hammer out an idea or form ad infinitum ad nauseum. Every time Toogood creates a form she likes, she pushes out iteration after iteration of it—it gets rebuilt in different materials, with different finishes, sometimes taller, sometimes not, sometimes with changes so minute they have to be pointed out.
Her skinny, three-legged Spade chair has been made in wood, bronze, aluminium, with and without a back, reimagined as a stool, even wrapped in fabric for an installation. The Roly Poly chair, which started out in Assemblage 4 (2014), has evolved into a pivotal point in Toogood's most recent collection Assemblage 5 (2017)—reiterated in materials that range from the elemental (bronze, cob composite—think primitive mud huts) to the high tech (lithium-barium crystal—a material that Toogood has described as the clearest, most optical, finest glass possible). Likewise, in every outerwear collection, there is that long, big, billowy A-line coat that keeps popping up—with an oversized collar, with a tiny one, with large lapels, with a hood, with cuffs, without cuffs... you get the picture. But every time, though slight, the change is thoughtful and thought-provoking, connecting the dots across Toogood's explorations of space, form, material and structure.
So. Toogood: too good? Well, no—we all need clever little (or large) objets d'arts doubling as furniture or a coat now and then. A thing of beauty and joy and all that (you know your Keats, don't you?). And the charm of Toogood's things of beauty is that they aren't too precious to be enjoyed—sure, you can't throw yourself onto any of the chairs, but you could as easily curl up on any of the Roly Polys as you could on that IKEA sofa. Either way, the ice cream isn't included.