Lauded as the 'godfather of modern perfume', Frédéric Malle built his success around a collaborative spirit of unearthing talent and working with the best. His scents convey meaning and emotion with great precision. By inviting the best perfumers to create their scents under the Editions de Parfums brand, he has brought many now-famous perfumers such as Bruno Jovanic and Dominique Ropionto to our attention. Malle is not simply an artist or chemist experimenting with a variety of scents, but also a curator, polishing and perfecting without losing the original composition. Each fragrance starts out as an idea, an 'olfactive sketch', before distilling to convey a specific emotion or feeling. Malle is essential to that creative process.
Above all, Malle is a critic who believes in forging a path of perfume making through originality. Beyond showing the world the uniqueness of independent perfume imagination, Malle's scents are a response to the lack of creativity which has bogged mass-market perfume. More importantly, he has brought us scents that will accompany us through life. After all, Frédéric Malle is not interested in ephemeral creations.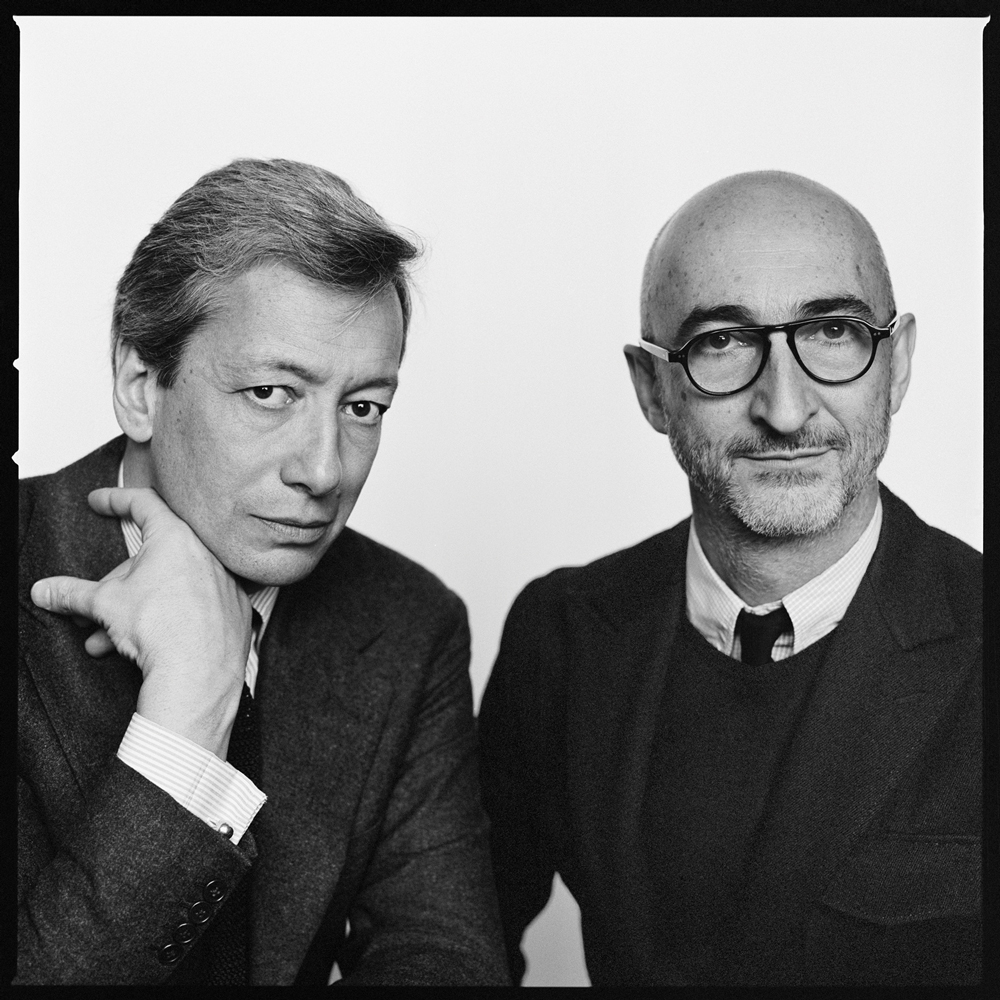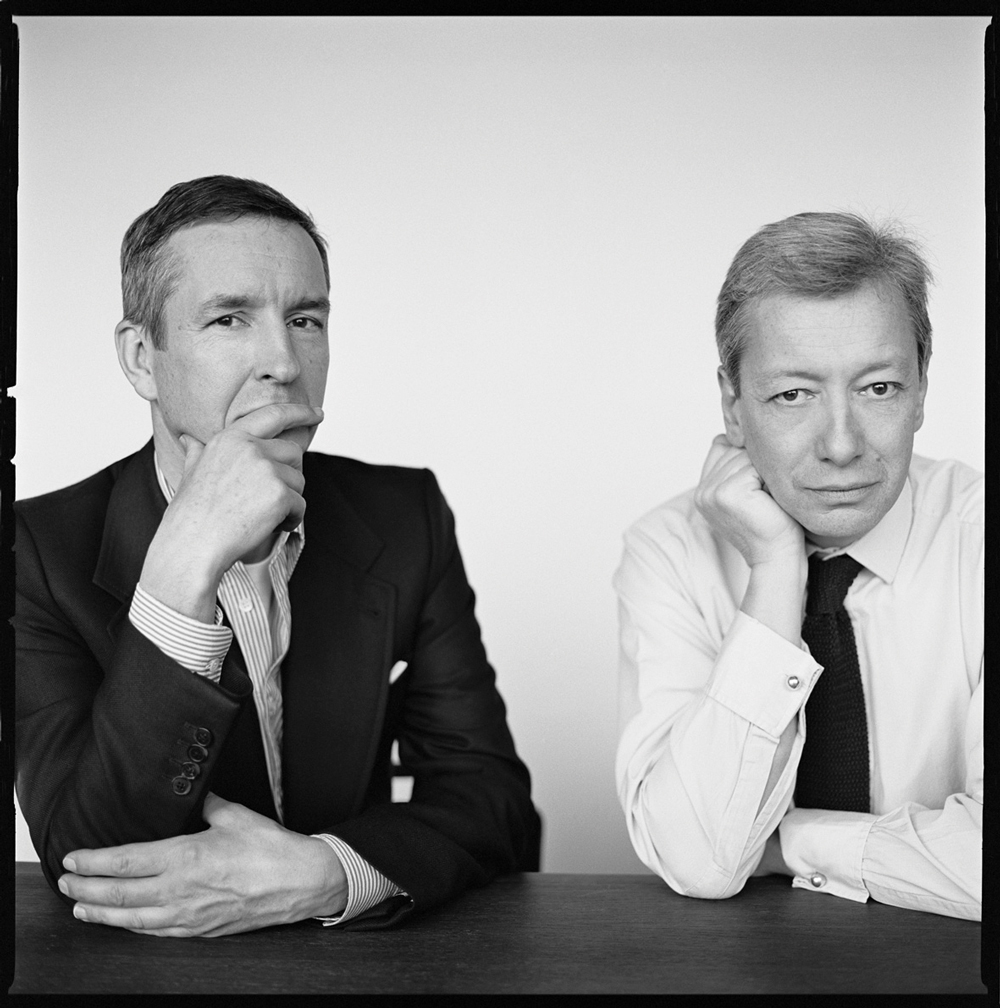 From left: Frédéric Malle with Pierre Hardy and Dries Van Noten for Editions de Parfums Frédéric Malle.
What is in a scent for you? What elements are essential for you when selecting or crafting a scent?
I always look for innovative scents—whether they are totally new types or reinterpretations of existing structures—pared down formulas for maximum impact, and perfumes that fuse with one's skin. These are the three things that I am always looking for.
Tell us about the process of imagining the scent–take 'Portrait of a Lady' for instance. How do you start developing this scent? Were there specific steps that you take to imagine the scent?
We first discuss with the perfumers, and together we decide exactly what we will be trying to achieve. We either begin from an existing accord, such as a flower, the smell of an object, or we decide to work from a few raw materials that we assemble together to generate an unusual accord.
After a few trials, we have a sort of olfactory mock up that enables us to evaluate our idea. We then decide whether to go on with the project. If we decide to move forward, we proceed to the refining stage, during which, trial after trial we work out every detail. Finally, we reach our goal and make a finished perfume. We very rarely move away from our goal during the refinement period. It is very conscious and we redefine our goal if we have to. One must be very rigorous to come up with such essential, streamlined perfumes.
What was one of the most unique sources of inspiration that you have encountered when developing your scents?
Our sources of inspiration are always pretty much the same: new raw materials, or old ones that we want to mix in a new way, existing smells—flowers, woods— that we want to take a detail from and turn into something else. Like most arts. perfume making is very down to earth, it is never intellectual. The most extravagant starting point was a molecularly distilled tuberose absolute, that we are the only company to use, as it is so expensive, which is the base of Carnal Flower. This unbelievably precious natural but high tech raw material, that only a handful of star perfumers have access to, was the starting point of that scent. It is what makes this perfume so extraordinary.
We also recently based a perfume on pure Oud oil, called The Night in Arabic. This perfume contains probably the largest amount of pure Oud oil of any existing perfume.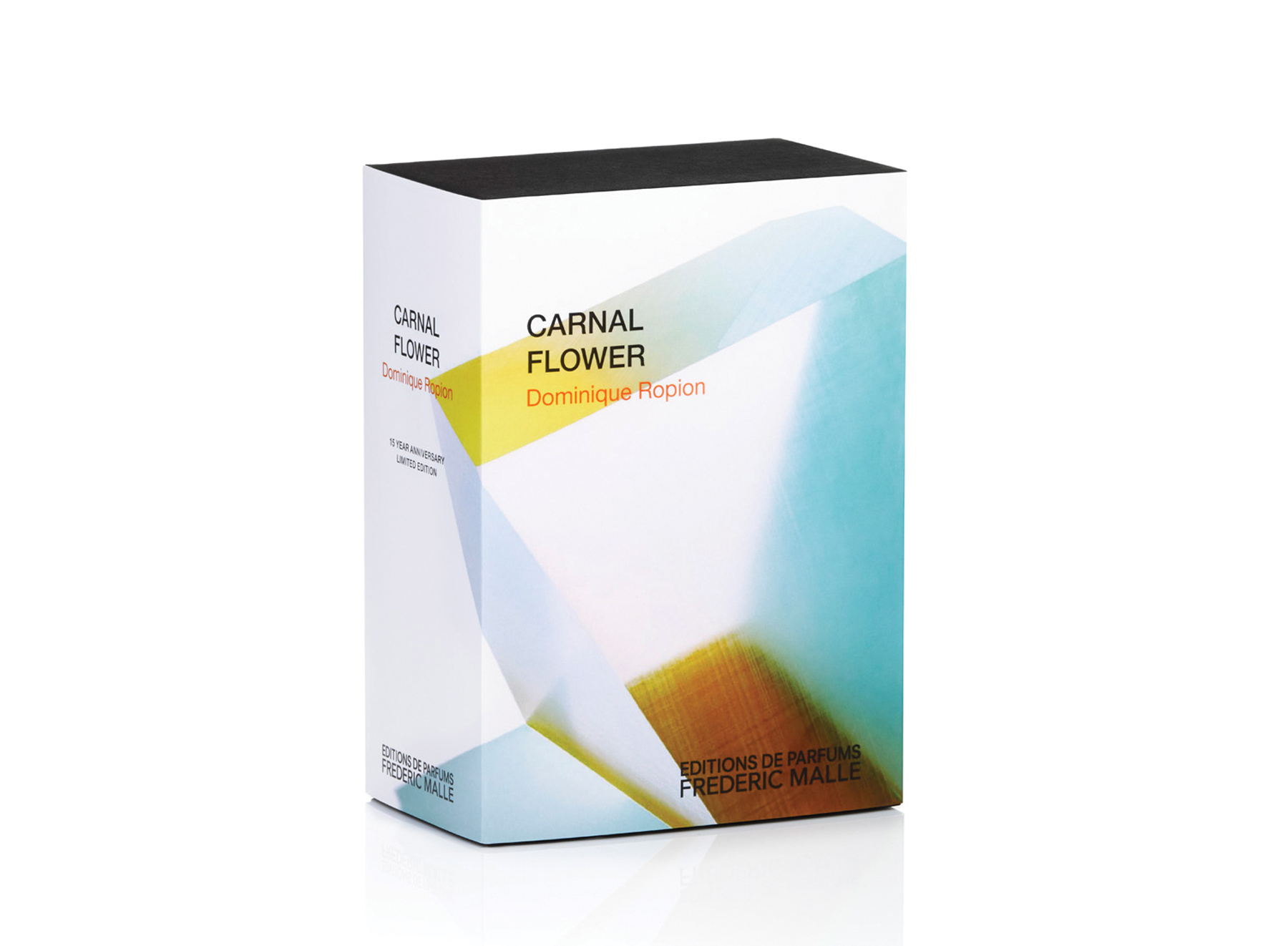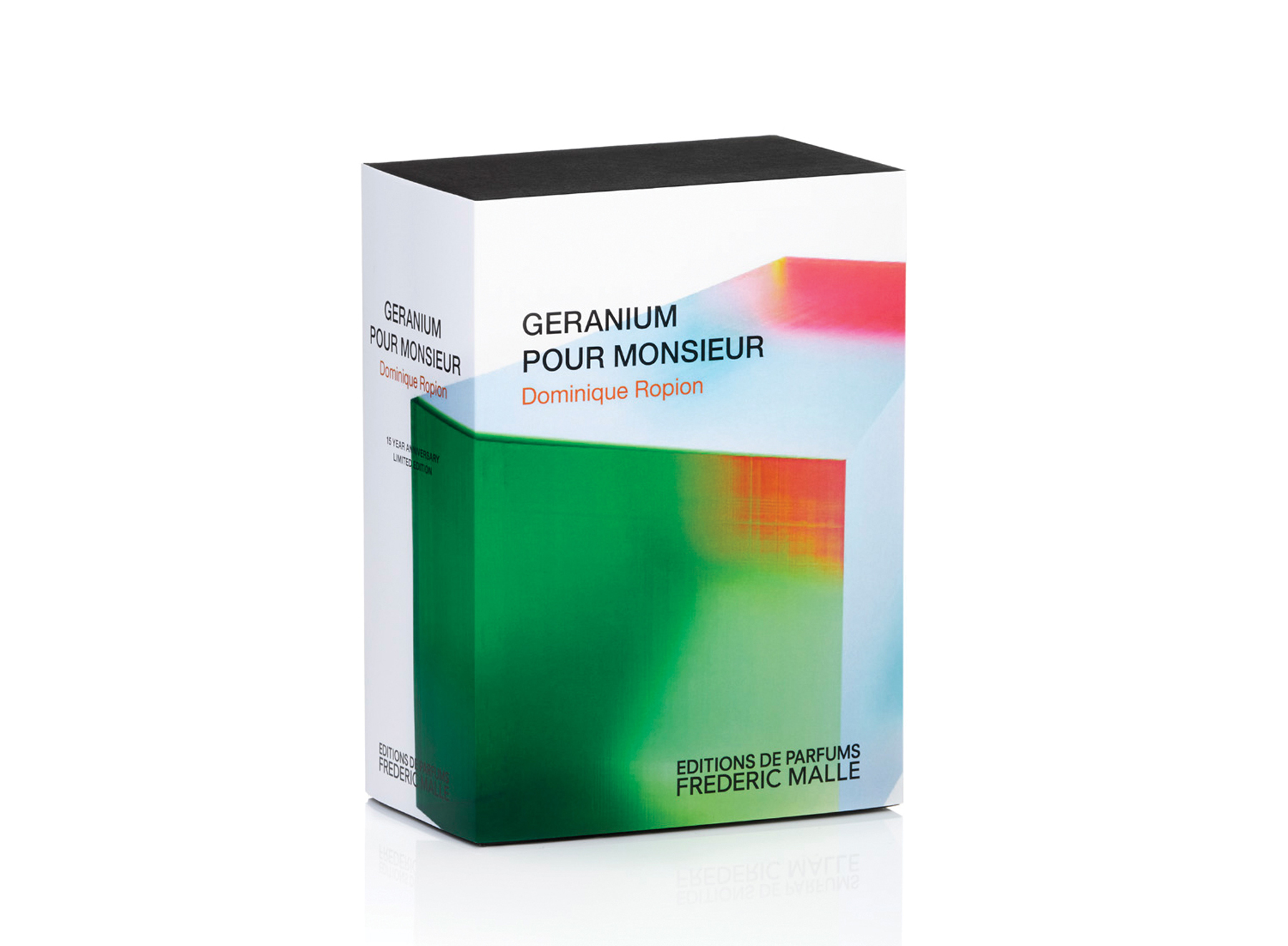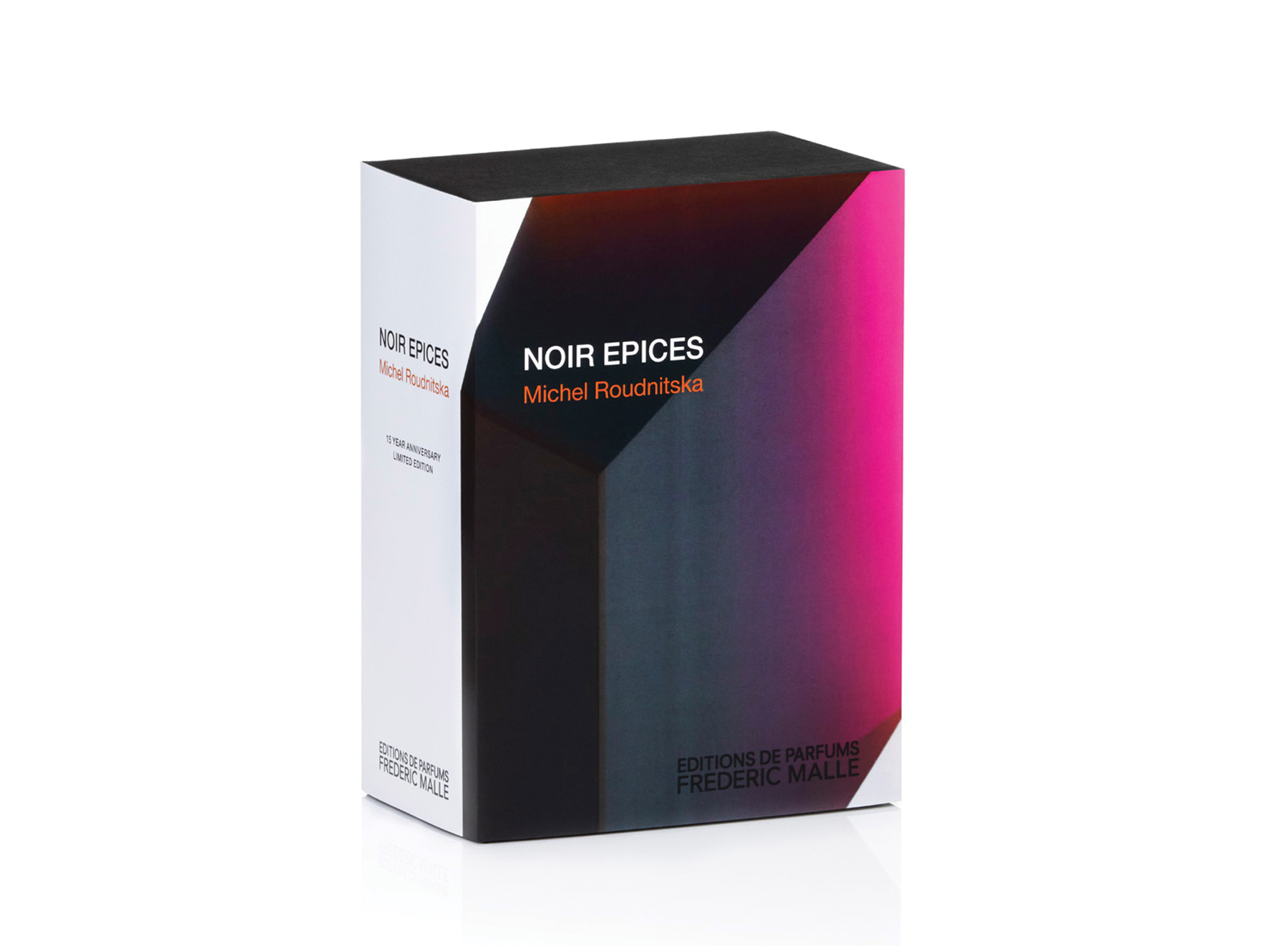 From left: Carnal Flower and Geranium pour Monsieur by Dominique Ropion. Noie Epices, by Michel Roudnitska.
What is one ingredient that you have not used which fascinates you the most? How do you think it can be weaved into a scent?
Honestly, I give such freedom to perfumers, we use whatever materials we fancy.
Let us turn to your critique on perfumes in the mass market—you spoke of creating 'extraordinary perfumes without turning to the past'—do you think scents in the market echo each other and if so, why do they do it?
Mass market perfumes can be very interesting when they are inventive, you know. They are not necessarily all bad. Most of them are not interesting, as they are bad copies of one another. This phenomenon is due to the fact that the marketing people behind them often know nothing about perfume, and always want to copy existing success, rather than taking the risk of creating something new. Nothing can be done about this. It has been going on for years. There is a public for such things.
Why do you think fragrance companies and brands avoid looking at the complex realities of scent development but instead choose to communicate a simplified image of fragrance?
The fact that mass perfumes are often sold in self-service environments encourages the people working on them to make fragrances that have very little personality. So, to make up for that, and to appeal to as many people as possible, they have to create a powerful image to make these boring perfumes interesting.
Strong images are designed to draw people to the stores and give a personality to these very banal products. This is also something that marketers feel more comfortable with than perfume, which is totally foreign to them. My company works in the opposite direction, with no visual image but very specific and creative perfumes. It was, initially, a reaction to this marketing phenomenon.
What do you think is the scent that represents the perfect balance between mainstream culture and originality for the everyman?
Great classics, such as Chanel No. 5, which were designed as very exclusive, creative perfumes, and became world blockbusters over a very long time. Time is a very important factor in this. The problem is that marketing wants instant gratification. This doesn't allow creativity. The idea is to do the job, be creative and hope that progressively, people will appreciate the product and make it a classic.
"

Time is a very important factor in this. The problem is that marketing wants instant gratification. This doesn't allow creativity. The idea is to do the job, be creative and hope that progressively, people will appreciate the product and make it a classic.

"

Frederic Malle
We often do not see scent development or 'editing' as you might put it, as a sort of creative process, one that is so elusive and faint. How do you hope to change this paradigm?
I just want to do perfumes in the most uncompromising way possible. What others do is not my business. That being said, many companies have followed our path since I started Editions de Parfums in 2000. Many of these new collections are great. This creates a real alternative to mass-market perfumes, and I am happy to have influenced this movement.
You often speak of being an 'editor' of perfumes—how does collaborating with other artists work and what is your aim and role as an editor of the scent?
My goal is to come up with the best perfumes possible. My hope is that many of our perfumes will stand the test of time to become the classics of tomorrow. Asking the best perfumers in the industry to work for us, offering them my experience, giving them total freedom and meaning it,is my way to do it.
What are some scents that you would dress to impress with? What do you think are scents that evolve the best after continued wear?
My aim with 95% of our perfumes is to last for 8 hours, diffuse, and evolve beautifully during the entire length of this evaporation. They are all good in that sense, apart from light Eaux that are not really designed to have this sort of long term performance.