"Remember, this is the brush you chose."
It is sometime in the evening after 7.30pm. Comfortably seated on a bed, I am in a three-bedroom apartment in Brooklyn. The space is clean, cosy, and also empty of personal memorabilia.
Accompanying me is one of Whisperlodge's collaborators, Pamela, who regales me with a story of unspoken desire turning wayward—as a child, her desperate wish for a guitar amplifier dissipated the moment she spotted one under the Christmas tree. Pamela barely whispers, and amidst the occasional siren of a passing ambulance or her rumbling stomach (which she acknowledges in good humour), the stillness is deafening.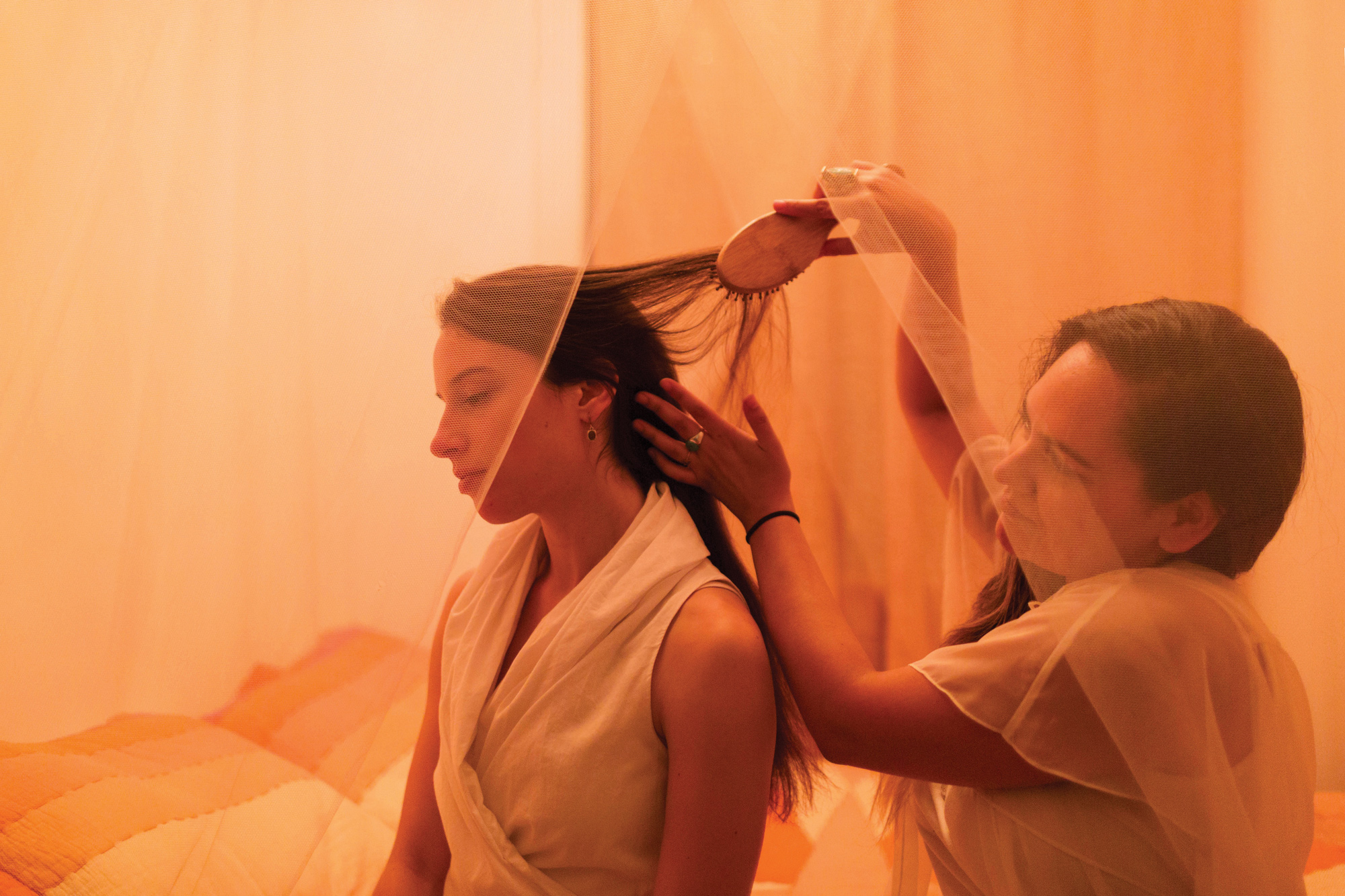 She opens a set of make-up brushes—pristine and new in their plastic covers—and asks me to pick one. I am invited to listen to the gentle swish of the plastic sliding past the brush's wooden handle, and Pamela's hard flicks of her finger against the brush. She asks for permission before running the brushes on my hands, encircling my palm and exploring the grooves between my fingers. Who knew the sides of one's fingers ever felt anything beyond a grip?
This is part of Whisperlodge's 90-minute show, where individual participants move from room to room traversing the arcs of the show, with each space themed with a narrative and a set of sensory stimulations. Whisperlodge refers to this on their website as "visual, auditory, and haptic treatments designed to relax the body and mind". Started in New York by co-founders Melinda Lauw and Andrew Hoepfner in 2016, Whisperlodge bills itself as an ASMR spa, which stands for Autonomous Sensory Meridian Response, a term describing the sensory phenomenon of pleasurable tingles from specific triggers, mostly aural. ASMR first gained traction online in 2007 and encompasses various sensations, giving name to the comfort on your scalp when your hair is washed at a salon, or when the hair on your body stands because the music is 'that' good.
Throughout the show, I meet with different collaborators and undergo distinctive 'treatments'—it is not all crinkling paper or soft voices near my ear, but a fully tactile and mesmeric encounter. In one room, the session with Chia Lynn reenacts a doctor's visit, as she gently checks my ears and eyes before using a buzzing device with a metal tip to measure my 'klemtemptrons' in the nook where my neck meets the collarbones. She remarks that my measurement is way too high for an adult, and is in the range of a small child's. Her smiling eyes remind me that I am fundamentally undergoing a series of roleplays. It is surreal how satisfying the strange can be, yet it is far from asinine; in trusting my body to lead my responses, whether consciously or not, I find myself awakened to responses, feelings, and situations I never thought to consider.