What is the place of the video medium in all this?
We've been talking about the living spark that is in all people and the things they create, and video speaks in the language of sparks. Its image is not a fixed imprint on a piece of paper or chemical residue on a physical strip of celluloid, but a living, vibrating pattern of electrical energy. It exists solely in the present moment. We call it "live." Turn it off and the image vanishes without a trace. Nothing remains—only an empty shell of cold hardware. Like a musical chord, it is made up of varying frequencies that must be set into vibration to resonate in harmonic order for the system to function. A video signal travels at the speed of light, the speed of your thoughts, and this allows it to be transmitted and multiplied virtually instantaneously anywhere around the globe, yielding its most commonly perceived form, television.
However, as an electrical signal it can also be recorded, and here's where the connection to traditional culture comes in. With a home video, you are capturing a chunk of continuous time in the form of a sequence of scanned images and sounds. In playback, this gets lifted out of the present moment and reinserted into the time flow at a later time and place. People then re-experience this window of displaced time as a symbolic representation, a kind of perceptual memory, re-inhabiting it and usually experiencing it at the pace in which it originally occurred.
The dynamics of this process, an original event being codified into symbolic form and relived at a later time, mostly by people who were not there, bears a close resemblance to the function of ritual in traditional religious practices. It also embodies the idea we've been discussing of memory as an active component of the present moment. Now if only some useful content could be transmitted in this way, then we'd really have something!
What has been the most useful aspect of your work with video in terms of spiritual practice?
Most people wouldn't think of electronic technology as having an intrinsic spiritual aspect, but I feel it does. Spirituality is a field condition of life, not a special case limited only to a unique situation, a specific religion or a certain object. There is a teaching present at every moment, an opening. Thomas Merton said, "Being spiritual is something most people worry about when they are so busy with something else that they think they ought to be spiritual." This is why the experience of the spiritual foundations of reality is described as a "realisation" or "revelation," that is, the awareness of something that already exists. Most spiritual disciplines are founded on the desire to teach the individual how to recognise this condition, which is primarily accomplished through retraining the faculties of sensory perception and mental awareness.
To work with video is to work with a surrogate system of sensory perception and memory. Knowing that the images I was recording were merely configurations of electrical impulses, scanning in sequence on a light-sensitive surface, freed me to see the perception of life itself as a series of artificial images. In reading the extraordinarily moving story of Ani Pachen in Sorrow Mountain: The Journeys of a Tibetan Warrior Nun, I came across this statement from her guru, Gyalse Rinpoche: "The nature of mind is pure light, and our experience of the world only passing waves on its surface." These words should be emblazoned on the first page of every video operation manual as "Step 1."
Right from the start with video, I never fully invested in the independent ontological status of the image. How could I—when the first thing I saw looking through the viewfinder of the camera was a black and white image of the world, live on a tiny video screen, not the familiar direct view through the optics of the lens? Life was immediately translated into an artificial image, one step removed from direct experience.
Reordering and manipulating the recordings later in the dark confines of the editing room further reinforced the idea that these images were merely symbolic representations and could never be endowed with full authenticity. This was incredibly liberating artistically, since video images had by then attained the generally recognised status of realism in our culture, thanks to the mass media. The freedom to manipulate and even undermine images that corresponded so closely to people's familiar perceptions allowed me to probe into the overlooked corners and invisible seams of our common experience.
However, it didn't take long to recognise that the so-called "direct view" I had lost by staring into the electronic viewfinder was itself a tiny projection of light on the photosensitive surface of my retina, prone to misinterpretation and further manipulation by memory. This then brought up the questions, "Who is doing the looking?" and, "What screening room are they in?" I am still searching for the answers to these questions.
When you are shooting video, do you try to hold your mind in any particular way?
That is probably the most important question in media art practice, but unfortunately it's not part of the standard film and video curriculum. Personally, the writings of Takuan Soho, the sixteenth-century Zen master and sword instructor, were helpful in this regard. Many artists of the camera, regardless of formal Buddhist training, describe a certain state of mind that comes over them when they are shooting their best pictures—a sense of detachment or loss of deliberate intention—resulting in a kind of calm that descends over all actions, where the shots seem to be making themselves. When it's over, you seem to wake up, and all the little details and decisions become self-conscious again. This is a fundamental, ancient state of mind for human beings, one that probably existed long before it was formalised into specific rites and practices. Tanaka Sensei would often suddenly cry out, "No technique! No thinking!"
As far back as grade school I've always had this ability to "get lost" while drawing, as my father called it. But it wasn't until much later that I realised that "getting lost" had a well-developed, precise, technical vocabulary, formalised in diverse spiritual traditions around the world. On my first trip to Japan in 1976, I felt a strong inner sense of comfort and familiarity, even though the outer experience was new and strange. We all contain certain natural propensities within ourselves, lying dormant like seeds waiting for the right conditions in order to sprout, and part of the effort in life's spiritual journey is simply to get yourself to the right place so that the fruit can grow by itself. Ibn Arabi, the thirteenth-century Sufi master, said, "If you engage in travel, you will arrive."
Do you feel that the unique quality of your images is a reflection of your own experience as a perceiver?
Absolutely. Towards the end of university I had my first artistic crisis. I had been expending a huge effort to master the technology, which is correct since one has to first give oneself completely to the instrument involved so it can eventually become intuitive. But with all these machines around, something felt incomplete. I finally realised that I was studying only half the equation, and that the missing part was the viewer, absent and invisible when I picked up the camera, but essential.
The technology I urgently needed to study now was the human hardware, the doors to perception—especially sight and hearing, along with cognition. I did my best with the materials at hand, mostly science books and some audited classes at the Institute for Perceptual Research on campus, but it wasn't until I reached Japan that I deepened this awareness, primarily through Buddhism.
Before sitting in zazen, I never fully recognised that I had a mind to place somewhere, let alone misplace. When sitting for extended periods with an experienced teacher, sentience became palpable. Like a fish slowly discovering water, I had occasional glimpses of mental awareness itself, as opposed to the contents of my mind. In my language, I was learning to see the screen, not the image. I thought of the Italian painters of the fourteenth century I had studied in art school, people like Giotto, who first recognised that the entire volume of space in the piazza they were painting was filled with light, even though they couldn't see it.
In zendo, during fifty minutes of silent sitting in a room of solitary individuals, time opens up in an extraordinary way. Space becomes active; breath is its measure, and sound its dynamic form. The chirping of a little bird becomes an event of great magnitude. A minor itch, an unsettled stomach or a runny nose becomes either a curse or a blessing, depending on how we choose to reward it. Time as the clock tells it becomes irrelevant. Slow motion and high speed become relative terms, as does the notion of a "successful" meditation.
One day out of the blue, Tanaka Sensei blurted out, "Buddha was not perfect!" Kira and I were shocked. My Christian upbringing was telling me that they would burn you in the Piazza della Signoria for a comment like that, but then I thought about what Tanaka was saying. We are all imperfect; this is why we try so hard. It is the knowledge of our imperfections, the realisation of suffering, that is the vital first step on the path. Prince Siddhartha was a failed son, never to be the successful, wealthy ruler, the inheritor of the family business, that his rich father hoped he would be. This drove him to seek enlightenment. As Rumi said, "The wound is the place where the Light enters you."
I think I became a better cameraman after my experiences with Zen in Japan, better able to accept images, to be vulnerable to them, instead of simply "taking" them. I also learned how to work from a position of weakness, even though the masterpieces we studied in art school invariably gave me the impression of strength. Self-doubt has always been a part of my art practice, amplified by the expectations of my teachers incessantly echoing in my mind: "Not good enough!" It's been rare that I've received a complete inspiration and worked effortlessly with great confidence to realise it. Making art has always been a struggle, and it took a while to recognise that this conflict was not due to my ineptitude but to the battle for control between my conscious and unconscious selves. I had to learn to have the confidence to get out of the way. The most difficult thing to reconcile, in life and art, is the gap between the depth of one's feelings and the limitations of one's abilities.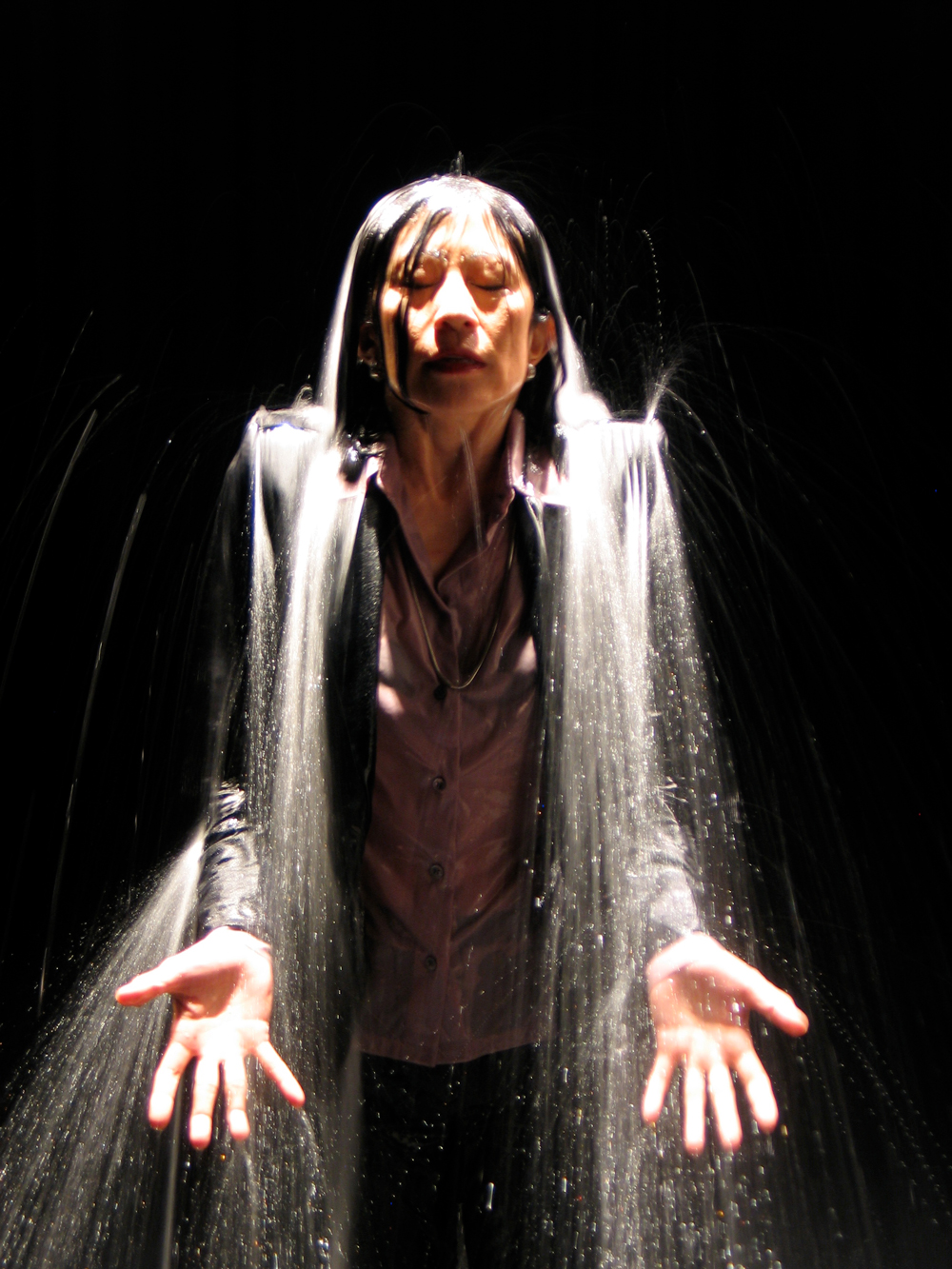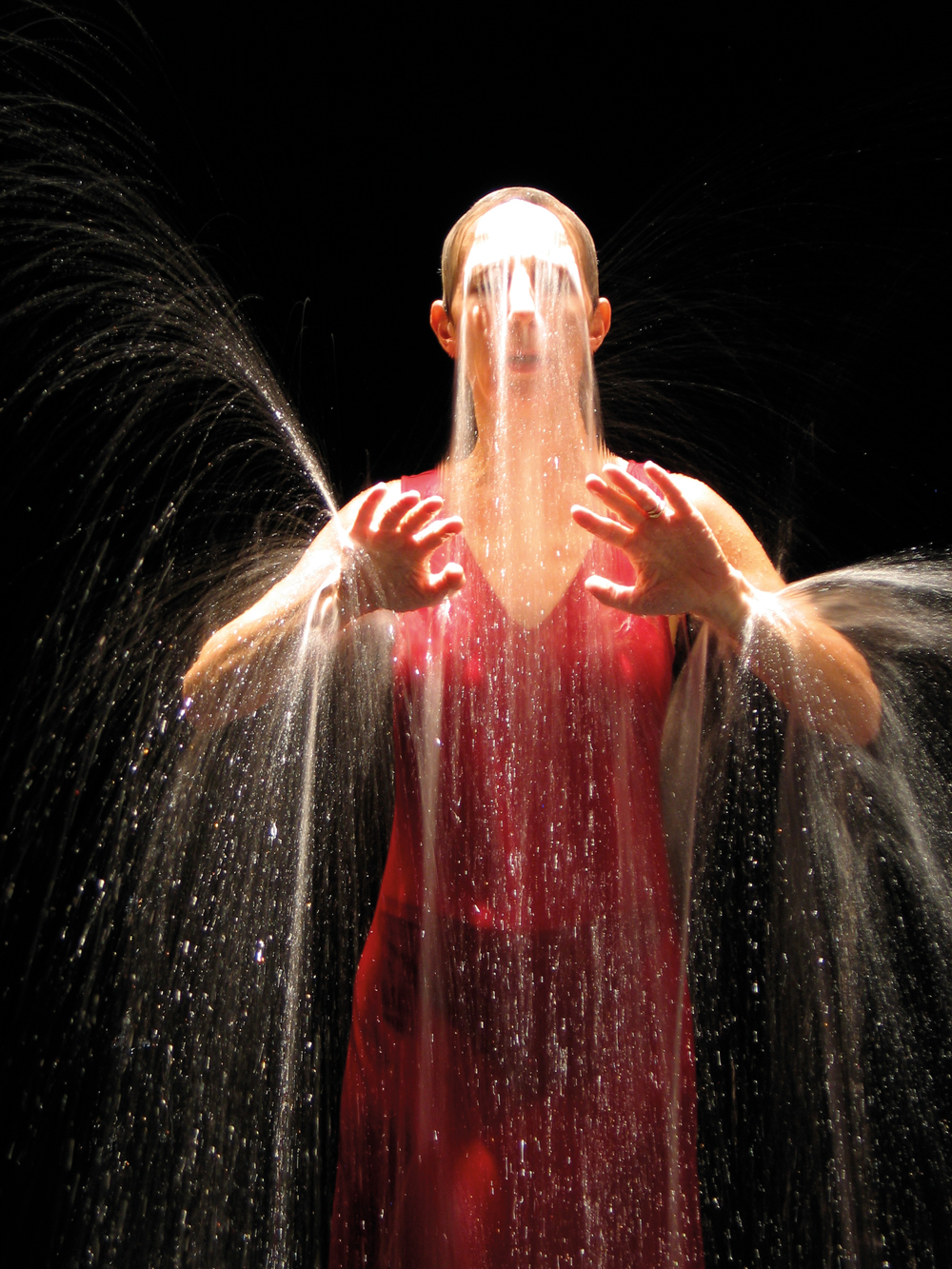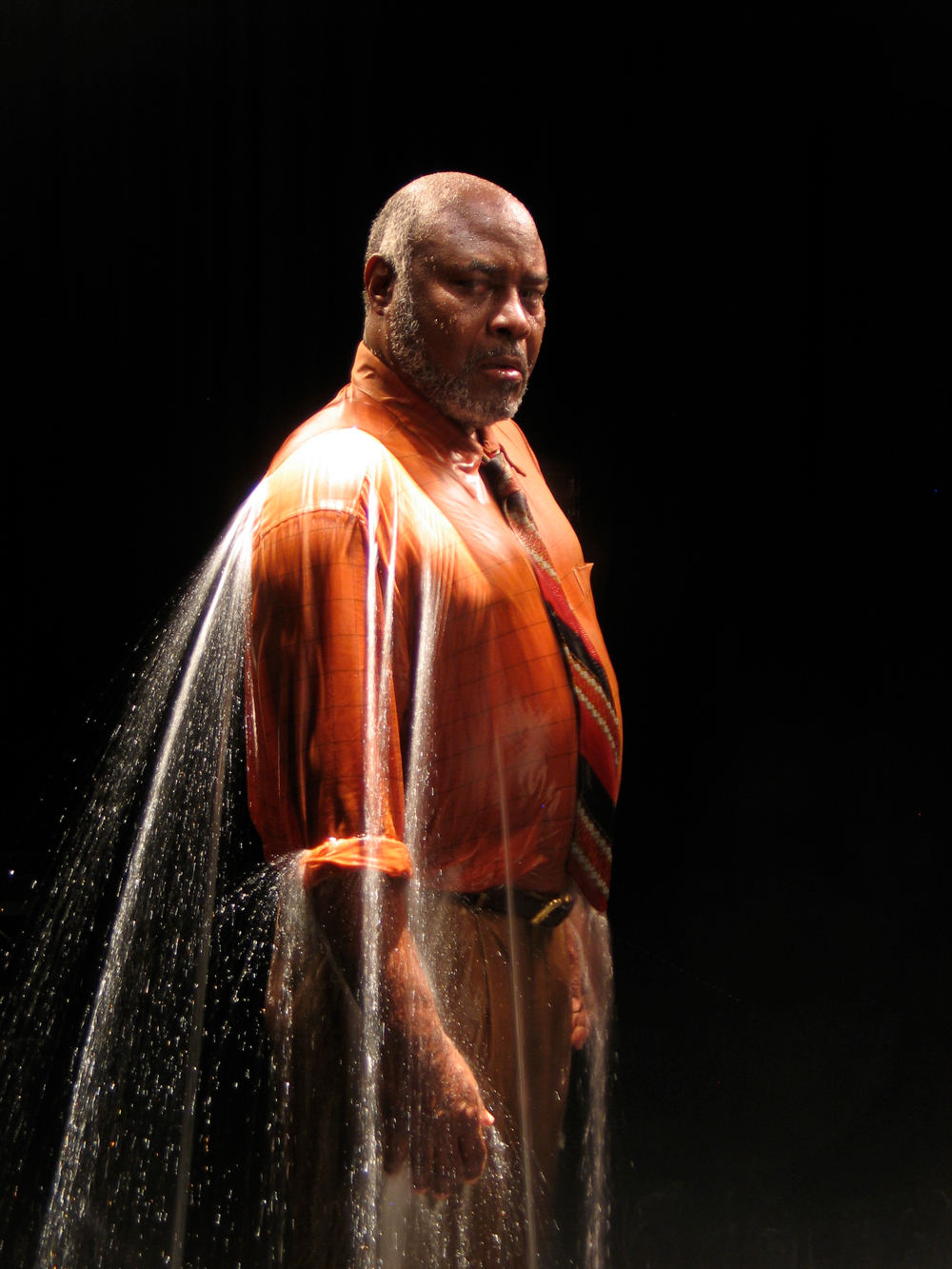 Bill Viola, Ocean Without a Shore, (2007). Color high-definition video triptych Production stills. Photography by Kira Perov.
Please talk about what is distinct about video as an artistic medium.
As a visual artist, it took me a long time to recognise that the video medium was always showing me invisible things: the moment I first looked through a video camera, my first son's first steps, the back of my head from across the room, an undesirable intention (a rejected image), a person as they appear at this moment on the other side of the world, the laughter of a long-departed loved one, the thought that prompted these words. All images became less like the optical record of an experience and more like a vision, that is, a combination of perception, feeling and memory. In other words, I was after an image that looked like how an experience felt to be inside it, and not how it appeared to an outside observer.
Hollis Frampton, the great twentieth-century avant-garde filmmaker, described film and video as "the mimesis, incarnation, bodying forth of the movement of human consciousness itself." The movement in the moving image as consciousness itself—that notion has stayed with me. In many Old Master paintings you can feel in the still image the bristling of time arrested, on the cusp of being released.
With video there is no still image—its nature is to be always moving, an incarnation of Heraclitus' dictum, "Everything flows," and the embodiment of Buddha's "All life is change."
Just as the limitations of drawing and painting were becoming apparent to me, the new technology of video arrived in my life, and along with it came a rush of creative possibilities. I now had a medium that could represent the space before the thought arrives, watch it manifest as a turning-over on the surface of the mind, and then witness its aftermath: the resulting change and transformation in a scene and within an individual. This remains one of the fundamental aspects of the practice of cinema, as well as the essential point of most spiritual disciplines.