However, Britain's relation with India had not always been characterised by such bitter acrimony. The pioneering generation of Englishmen who arrived in India were not violent conquerors, but merchants and traders deeply enchanted by the colourful civilisation they had set foot in. These men most notably, Charles Stuart, actively embraced the Indian way of life. Stuart was noted as having taken baths with the locals in Calcutta's Hooghly River, encouraging his fellow Englishmen to adopt the Indian way of life and to grow a luxuriant moustache like the locals. These early traders of the East Indian Trading Company were often fond of mixing business with pleasure; indulging themselves in the company of locals, some of them even "marrying Indian women" and "adopting the traditional way of dressing" while mixing it with Western clothing. Identifying his works as being "concerned with the sociopolitical landscape of Britain", Skelton's reference to the past is in part, a response to the here and now. Living in a political climate that is increasingly obsessed with defining the self against the other, Skelton was drawn to the harmony of cultures exemplified by these early merchants and "evidence that different cultures can coexist and mix without losing their own identity".

Yet, in an age of social media policing that cries foul at cultural appropriation, an impossibly fine line lays between tasteful referencing and inarticulate appropriation. Notably, Marc Jacobs found himself tangled in controversy following his Spring/Summer 2017 show in which a predominantly white cast of models took the runway in rainbow dreadlocks, to which he responded by stoking the flames, saying "I respect and am inspired by people and how they look. I don't see colour or race—I see people."

However, Skelton remains unfazed while tightroping a precarious and unforgiving climate. He believes that the pertinence of the collection lies in the "benefits of mixing cultures" rather than viewing the characters as "separatists or oppressors": "One of the most touching discoveries for me was that the cotton mill workers of Manchester... supported Ghandi's cause, standing in solidarity with him and against their industrialist employers. These workers could relate to the working classes of India who faced starvation as the result of mass exports of raw Indian cotton. The British Empire is often brushed under the carpet in Britain, it's ignored, it's not taught in schools. This was something I wanted to explore, to fully understand, and most importantly acknowledge it in the hopes that it will not happen again."

In constructing his narrative, Skelton's clothes work like poetry—a loose economy of words imbued with deliberate meaning and rife with references. Despite the clothes' worn out quality—thick brown hemp coats with threads that look as though they were unfurling, roomy white jackets cut in a loose fit—the cut and silhouette of the collection evokes a quiet elegance and easy refinement; from the way the lengthy coats hang on the body to the way the crimped A-line trousers flutter in the fall wind, a delicate romanticism permeates the collection's historic narrative. While adopting silhouettes and sartorial notes from the Maharajas and the Victorian man, Skelton pays homage to the oft-overlooked weavers and spinners, opting for up-cycled materials in place of decadent mainstays such as luscious silk and ostentatious brocades. Using linens, hemps, and cottons dyed with rusts and leaves, he creates beautifully weathered shirts and suitings that look like heirlooms unearthed from the days of yore. In a sense, they are. For Collection II, Skelton experimented with burying the clothes to give them a worn and aged quality, allowing them to acquire a raw idyllic appearance. He also partnered with renowned milliner Stephen Jones to produce hats for the collection, one in particular, is a Ghandi cap fashioned out of newspaper, adding to the collection's reference-heavy quality.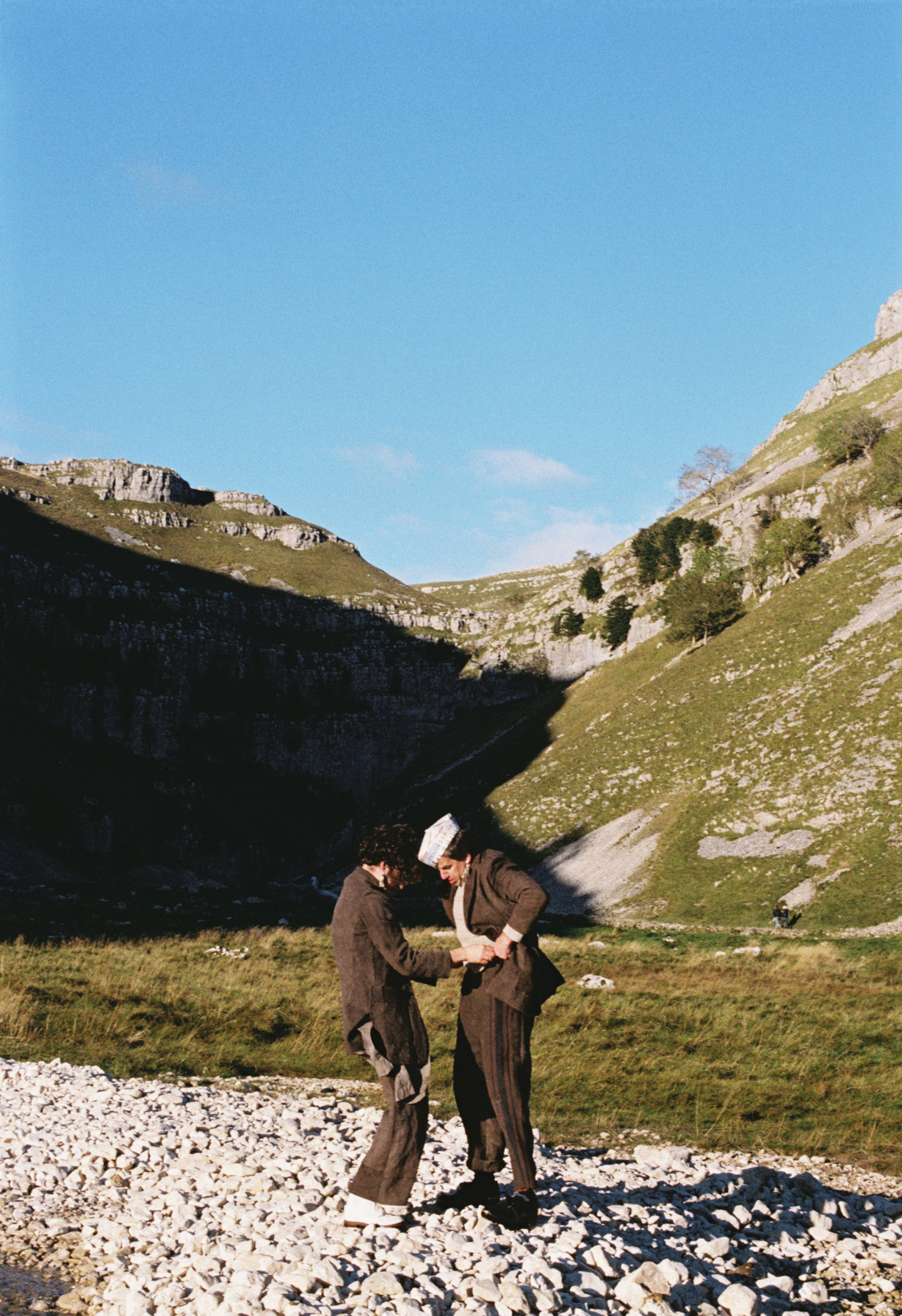 Skelton's choice of fabrics and materials reflect not just a down-to-earth outlook on clothes, but also a commitment to environmentally sustainable fashion. In this sense, paying homage to Ghandi and the Khadi movement was a serendipitous marriage of beliefs held by the two:

"Gandhi's Khadi movement and his attempt to stop the export of cotton to Britain to create a self sufficient society... holds many parallels with my stance on sustainability, rejecting mass manufacture and creating an autonomous industry."

Skelton's use of repurposed fabrics and eco-friendly means of production in all his collections speaks to an aversion to fashion's heavy carbon footprints, revealing a designer who understands that change is needed in the industry. Through the lens of seeing "clothes in their excess" and an "awareness of the impact the fashion industry has on our planet", Skelton evinces a strongly-held conviction that sustainability should not be overlooked in place of economic benefits.

One of the greatest ironies of history is that it often comes full circle; in an attempt to extend her reach beyond her own shores, a growing British economy and increasing connectivity inevitably brought the world back to Britain. Much of Britain's identity has been built on a multi-cultural platform and shaped through interaction with its colonies, most notably its adoption of the chicken tikka masala as a national dish. This cosmopolitan existence, so crucial to Britain's ascendancy to great power status, ultimately resulted in a wave of immigrants arriving to seek better prospects and a better life, inciting backlash against growing displacement of locals. In a climate of growing xenophobia and anti-immigrant sentiment, Skelton reminds us to take stock of history, to look back into the past and celebrate the marriage of cultures. It is in this reflection, that we can perhaps come to realise that we are often times better off thinking in terms of harmony rather than separateness.