In this period of Covid-19 related disruptions and lockdowns, almost every familiar aspect of society and human life has been jolted by this minuscule virus. With this protracted battle against Covid-19 revealing vignettes of us being seemingly outsmarted, losing our "normalcies" and lives to the coronavirus, what could it now mean to be human alongside other humans and Covid-19?
Western philosophy posited what it meant to be human alongside the non-human, for example, alongside "Nature" assumed as passive, mechanical, and a mere backdrop and resource for Man to tame and master. To be human is also understood alongside embedded assumptions of modernity and progress: from an evolutionary point of view, to be human is to think that having agency, consciousness and intention are abilities that distinguish us from the rest of the living world; humans look forward along historical teleology, while other species live from day to day and are dependent on us. Categories and assumptions of progress live with us every day and everywhere materially and mentally as we imagine their objects—growth, science, wealth, technology, to name a few. These are embodied in the cities I live in—Singapore and Hong Kong—which are constantly in a state of construction, reconstruction and renovating, erecting shopping malls, housing estates and airports; the aspiration of working toward a forever-increasing GDP and being a "smart nation" through science and technology—all these in turn demand that bodies, labour and time be offered as tributes to progress.
Perhaps such notions of progress make us think little of an unseen virus. Progress and growth rely heavily on capital, also an unseen form that continually seeks and maps new terrains to infiltrate, control, manage, transform, regenerate, and expand. This symbiotic nature of capital and growth could be seen to parallel the viral assemblage and its mode of infection in our human cells: the infiltrating, controlling and managing of the host's immune system, yet sustaining the host's life enough for transforming/mutating its own viral DNA to regenerate and multiply. As Covid-19 makes stark the realities of bodies being disrupted and life ebbing away before our eyes, similarly capital's hunger for territorial expansion and sustenance (literally and metaphorically) also ultimately exhausts its host(s). In other words, the often unseen underside of progress is a macabre waiting period of life-exploiting-life to the point of death, or a kind of "walking dead," otherwise described as necropolitics.
Necropolitics finds its echoes as early as colonialism alongside imperial expansion, with colonial masters deciding how some people may live and die under precarious living, where some humans are placed closer to death than others. In 1918, colonial Malaya/Singapore encountered the Spanish Flu which affected all groups in British Malaya. However, the Indian migrant population was the worst affected in terms of death rates. One of the explanations offered was that the disease most probably came from the Indian subcontinent through migrant workers, as their inherent "racial weakness" and failing health coupled with their "unhygienic" eating and bathing habits made them more prone to diseases. For Singaporean scholar Liew Kai Khiun, this racialised analysis did not occur in a vacuum but reflected the perceptions of British colonial administrators and plantation owners toward Indian migrant workers in Malaya, and that paternalistic authority ensured these "inherently unhygienic habits" be removed.
More than a century later, modern Singapore's manifestations of progress—from constructing gleaning skyscrapers, countless shopping malls and new public transport infrastructure, to our dream homes—still depend on predominantly South Asian migrant bodies' labour. When Covid-19 hit Singapore, large number of cases occurred in the invisible-hence-overlooked migrant workers' dormitories in Singapore's outskirts. As of mid-August, cases within dormitories stood at 52,657—about 95% of all Covid-19 cases in Singapore. In other words, for every 10 people in Singapore with Covid-19, almost all are migrant workers. Despite a century of "progress," racialised analysis unfortunately persists: In the midst of furor on how these migrant workers could have lived in existing living conditions for so long, comments on media platforms also blamed these South Asian migrant workers for their backwardness, lack of hygiene and bad habits of living. The same proponents posited that the workers hence ought to be grateful for Covid-19 testing and arrangements of better living accommodations. To date, Singapore demarcates and broadcasts the number of daily Covid-19 cases between those "within the community" and those who reside in the dormitories.
Like viruses, these marks of colonialities alongside race, class, and hierarchies in society have not disappeared but survived till today. Ironically, it was the intervention of an unseen virus that made visible the otherwise invisible and unlivable living conditions of these marginalised communities (albeit temporarily), and finally sent the leaders of the city-state madly scrambling for Covid-19 testing and finding alternative accommodations for these migrant workers. This intervention interrupts progress and reveals how these migrant workers crucial to Singapore's marks of progress are cold-bloodedly excluded from progress. In pondering who or what we are alongside the idea of race, class and progress, these precarious communities consistently find no space to dwell within such a framework of progress because they are treated and perceived as less than human.
Our current times have also been described as one fraught with precarity. A precarious world is without teleology. As such, in Anna Tsing's words, this precarious world is of time that is ripe to sense precarity, as well as imagine possibilities aside from progress. While I do not want to romanticise the role of the virus and the Covid-19 situation, I hope to ponder how the virus has interrupted some of our "normalized" notions of being human understood alongside progress, as well as highlight the various colonial underside to this progress. Viruses also do not always succeed in taking away life. The shared site between host and virus is also a site of contestation for who gets to live. I share Madina Tlostanova's hopeful acknowledgement that while "modernity deadens with its commodifying touch all forms of knowledge and subjectivity, there remain the stubborn islands of resistance and re-existence which on many levels work for the liberation of being, of consciousness and of knowledge from the zombification of modernity."
Under this prolonged period of disruption, I yearn for a "new normal"—a simultaneous coexistence of many worlds based on parity, where everyone is equal and different. This reimagination and working out of what it means to be human would require both epistemic and sensorial adjustments—an epistemic adjustment of intimacies with "less-than-human" communities that asks for me to swim against the tide, for we cannot assume natural affinity to these communities as long as we desire progress premised on coloniality; and a sensorial adjustment to not merely look ahead and live, but to look sideways, behind, below, above and outside ourselves for what has been ignored because these (still) never quite fit the timeline of progress.
Tsing's work on the matsutake mushroom provided much insight for me to further consider what looking around rather than ahead may look like in learning coexistence with humans and non-humans. Matsutake were one of the first living things to have emerged from the devastated landscape of Hiroshima's atomic bomb attack—a landscape wrought by the hands of us humans with huge potential to destroy the livability of the planet. The matsutake not only put up with us for the mess we create, but are able to further nurture pine trees in devastated landscapes through the soil matsutake made out of digesting rocks. This fungi-and-pine symbiosis allow the pines to flourish eventually. In turn, pine forests maintain atmospheric oxygen essential to both humans and non-humans. This coming together of fungi, pines and humans constitute "multispecies worlds," revealing how non-humans are as capable in making life-worlds and have been doing so around and with us. Not everything about the matsutake is rosy though. Despite being considered a high-end good, the matsutake also has an underside: its commerce in America has hardly led to dreams of progress for matsutake foragers comprising of Southeast Asian refugees, Native Americans, undocumented Latinos and disabled war veterans. Rather, this commercial enterprise exemplifies their precarious livelihoods, alluding to how they just do not fit into modernity's "progress."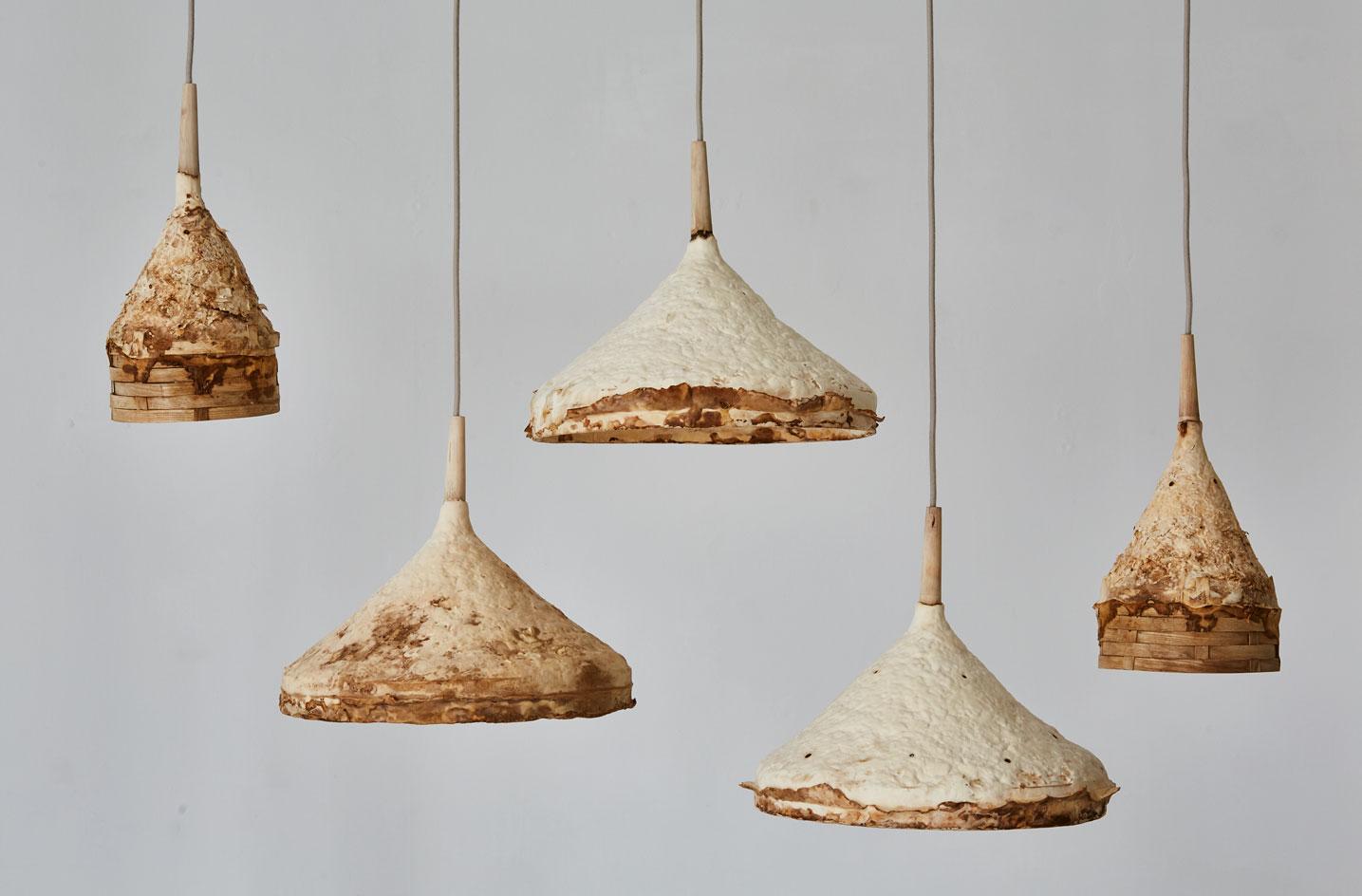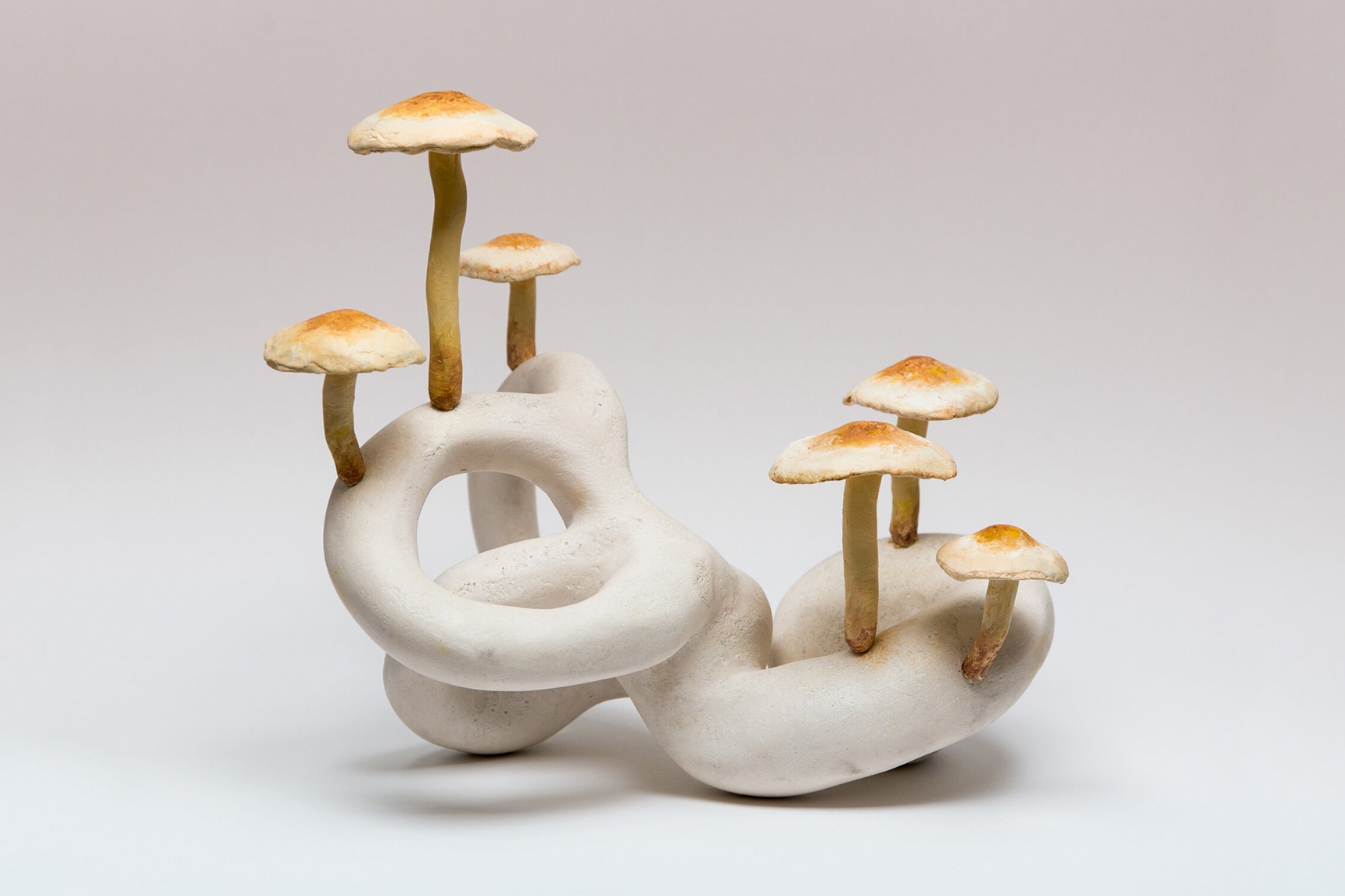 From left: Mycelium & Timber, by Sebastian Cox & Ninela Ivanova. Image courtesy Petr Krejci. Hamish Pearch, Cochlea Brick Tuft (2020). Courtesy the artist
Precarity is also an acknowledgement of being enveloped by vulnerability, something Covid-19 has made many of us who may usually not feel as acutely, feel so now. At the same time, it has also exemplified communities that have been vulnerable for so long. In the face of vulnerability, there is perhaps an instinct for us to survive—to save oneself by fighting off others and maintain a kind of "self-preservation." However, looking to the matsutake and how they create and coexist in the multispecies worlds to survive and flourish in devastated landscapes highlight a need to solicit assistance and collaboration of entities different from them. This kind of survival and collaboration works not across self-containment or a notion of keeping things pure (such as traditions, fields of knowledges or maintaining spaces demarcated by class, race, gender and species), but across differences. It is a kind of survival hallmarked by "contamination" (again in Tsing's words) in encounters which create worlds greater than the sum of its parts.

"

This kind of survival and collaboration works not across self-containment or a notion of keeping things pure (such as traditions, fields of knowledges or maintaining spaces demarcated by class, race, gender and species), but across differences.

"
In thinking about precarity, survival and collaborations for future co-existence, I wonder, why "contamination"? For is it not possible that one's "contamination" could be another's "diversity" or solidarity? Perhaps the perception of what makes contamination is relative to our site(s) of privilege and/or comfort of status quo (or lack thereof). For those of us who perhaps until now, may belong to groups that have been able to survive in enclaves, protected from larger struggles in society, or fit rather well into what we perceive is a stable society, "differences" that need to be confronted are seen as disruptions or threats to status quo—in other words, a contamination. For some of us already marked as less-than-human via our skin colour, the jobs we hold or geographies we were born into that may have not fit into imaginations of progress, differences to status quo may mean that as per normal, we grit our teeth, adapt to situations and work with anyone that makes us feel we are not less-than-human alone.
With the pandemic as a prolonged context, we could perhaps look to the virus as a parallel to matsutake for insight: learning how it survives (largely via contamination of its own genetic code!), the kinds of lifeworlds it is in, how it creates, thrives and threaten, how these worlds intersect with ours, and the different kinds and extent of disruptions it has on different communities. While the virus is no prized commodity, its effects are felt across various aspects of society, igniting both a desire for change and yearning for normalcy. Aware that I'm mostly writing from a position of privilege, I'm cautious yet optimistic that if we dare to be contaminated, there may just be a chance to see pockets of lifeworlds emerging not out of precarity or instinct of self-preservation, but "new" and wider scopes of collaborations. May we then hope to be like the matsutake, not so much that we desire to progress towards being a commercially prized item, but that we learn to co-exist with pines, devastated landscapes and other kinds of entities. More importantly, that we flourish together, taking our reference from other human communities and non-human entities, not in spite of differences, but because of our differences.