Many have claimed to have contentment captured, in a bottle no less. Even more have professed to distil the primordial drives that come before it. After all, no contentment without achievement. When it came to creating their seventh fragrance, Humieki & Graef continues their spin on extreme emotion—this time of contentment. Clean and streamlined, Bosque does away with primordial urges.
The subtle floral scent play on primrose notes, which symbolise both contentment and new beginnings. Narcise Absolute adds intoxicating undertones while the unusual combination of buffalo grass and musk notes is reminiscent of the smell of warm skin. It all wraps up in grapefruit, vetiver and saffron notes, completing the sensual warm yellow tones that give Bosque its radiant grace. No clutter, perfect pleasurable equanimity. It could indeed be the sacred grove where gods lay.
Bosque was produced in close collaboration with two of the world's top perfumers Christophe Laudamiel and Christoph Hornetz (aka Les Christophs). In their own brand, designers Tobias Müksch and Sebastian Fischenich chose the maiden names of their respective centenarian grandmothers. The luxury brand became a fragrant memorial to two extraordinary women. Vulture sits back with Sebastian Fischenich, one half of Humieki & Graef, and asks about being content.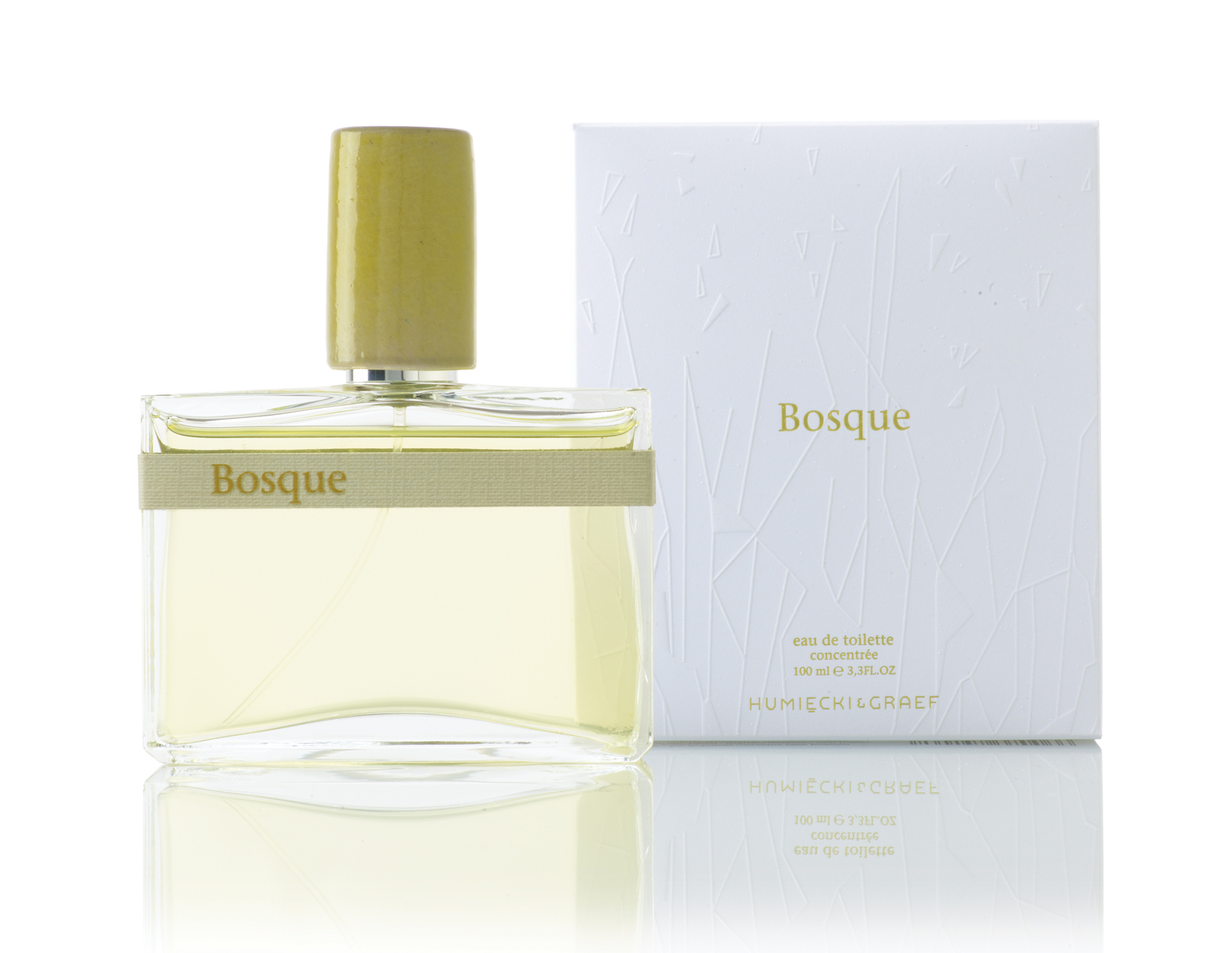 What inspired the concept for Bosque? Was it a personal experience in particular from the designers?
Bosque describes the idea of contentment, the moment of arriving. To be at a place or a situation, a moment where you feel like coming home. There was this particular feeling while moving to Zurich for me that I suddenly had the feeling this is the place where I feel like arrived. During that period, I developed the perfume.
So are there particular "stages" of contentment? Does Bosque offer a particular definition of contentment?
It's the moment to feel at ease. This could be with somebody or on a place somewhere you feel relaxed. You could also describe it like the moment after sex—the moment when the world stands still.
Are we, as a society, are lacking in 'contentment' now? Or is it the reverse in fact, that this self-contentment is what we are recognising now as most important?
Since ages, the lack of contentment is a motor for innovation. Therefore we need it. We need a lack of contentment to create the new. On the other hand, we always need more than the moments of contentment to experience what we are longing for.
Could you explain the choice of ingredients used in Bosque a little more? Buffalo grass and musk do sound like an interesting way to evoke human skin.
Buffalo grass is a smell from my childhood. It is usually used in a Polish vodka. I like the dry sunny, bit of sweet smell in it. It's more to evoke the idea of sun on your skin, this warm and halo effect—this we support in Bosque with saffron, narcissi, primrose and grapefruit.
Were there any accidental surprises, or epiphanies in developing this fragrance?
Yes, of course. Like always if you receive the first sample. This is exciting and it makes you curious. When I smelt Bosque for the first time I knew that was it. It fits the concept perfectly and it made me more than content. (Smiles.)
There's an incredible nuance and detail in each fragrance coming from Humiecki & Graef. Clemency looks at a fierce dignity from the maternal angle, while Eau Radieuse channels desire, but with the bright colours of tropical references. In a marketplace overrun by archetypes, is this a conscious desire to seek out the "different"?
I think to plan to create a difference is always the wrong way. It's not about planning. It's about doing the right thing for you. You should be conscious about what you are doing and if you stick to your ideas and your dreams, then you always create something different. Therefore I believe in strong concepts which should lead your path of creation. With our fragrances, we try to keep the path of our vision of a twisted traditional perfumery with a strong emphasis on culture and modernity.