Khaled Sabsabi knows all about living on the margins. Born in Lebanon, the Lebanese-Australian rapper-turned-artist was a product of turbulent conflict that we have unfortunately come to associate with the Middle East. Before he turned 12, Sabsabi's family fled to Australia during the Lebanese Civil War in the '70s as a result of the clash between the Maronite Christians and the Muslim Arabs.

Becoming an immigrant as a byproduct of war, Sabsabi experienced the painful traumas of living on the margins of society when he moved to Australia. In a personal reflection, Sabsabi wrote:

"Coming to a new land I felt out of the ordinary—everything was different and unfamiliar. People didn't understand me and I didn't understand them. In the first three months on arrival, fellow school students mocked and teased me and I'd wonder why. I was bashed in the playground and was once abducted by a group of older Anglo-Australian boys who tortured me by putting out their lit cigarettes on my arms while shouting at me, 'you fucking wog, go back to where you came from'. After a while I started to make friends with other children who were mainly from migrant ethnicities also."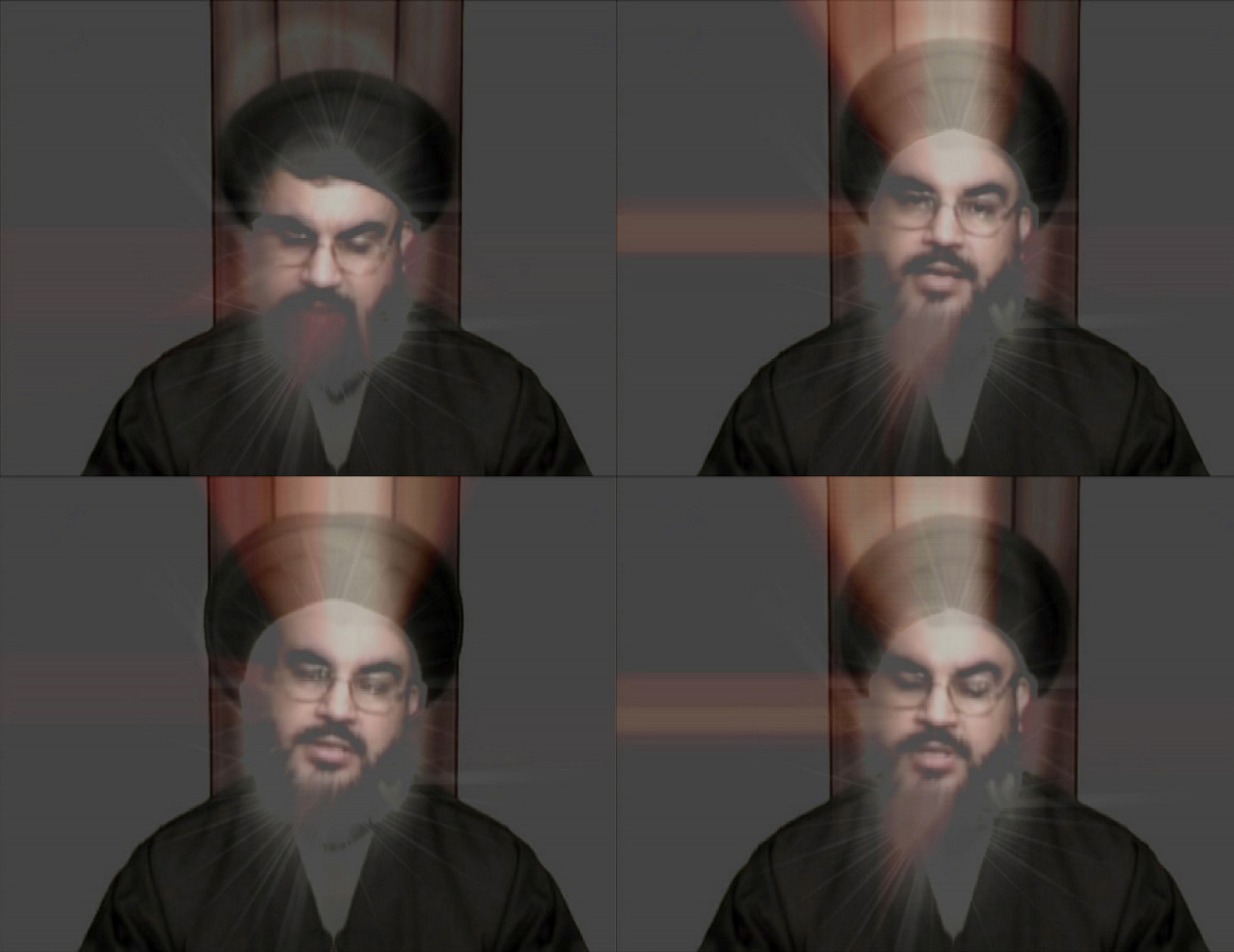 As Sabsabi grappled with the feelings of otherness, he acquainted himself with dissenting figures of the black Civil Rights movement and grew attracted to the defiance embodied in hip hop music, a genre teeming with dispossessed voices. Among other rap acts, Sabsabi was particularly struck by rap group Public Enemy, known for hit singles like "Fight the Power" that were indicative of their broader political diatribes against the powers that be. This affinity with hip-hop music and its subversive nature ultimately inspired Sabsabi to try his hand at it, renting out a house with a garage which he used as a studio. From there, he grew a collective of young rhymers, mostly of Arabic and Aboriginal descent, who gathered to "sit, listen and get educated about hip-hop". Yet even in their private acts of resistance, the crew, which calls itself COD was met with pushback in the form of police complaints from racist neighbours who were disgruntled and discomfited by the gathering of 'others' in their neighbourhood. This racism was taken to the extreme when their house was "fire bombed in the middle of the night" causing them to flee for their lives. The perpetrators were never caught and no charges were ever filed.

In an interview with Antidote, Sabsabi revealed that his engagement with hip-hop "was about a platform for demonstration and offering an alternative voice". As such, his progression into visual arts as a medium was but an "extension and a continuous evolvement" for him. This is particularly evident considering Sabsabi's oeuvre of work ranging from documentary, films, handpainted 'photographs' to immersive installations, revealing an artist who switches masterfully between different media in order to best express his thoughts. Indeed, Sabsabi eschews purist fixations to form and medium, believing instead in "utilising whatever means and media you have" as a social norm in producing art.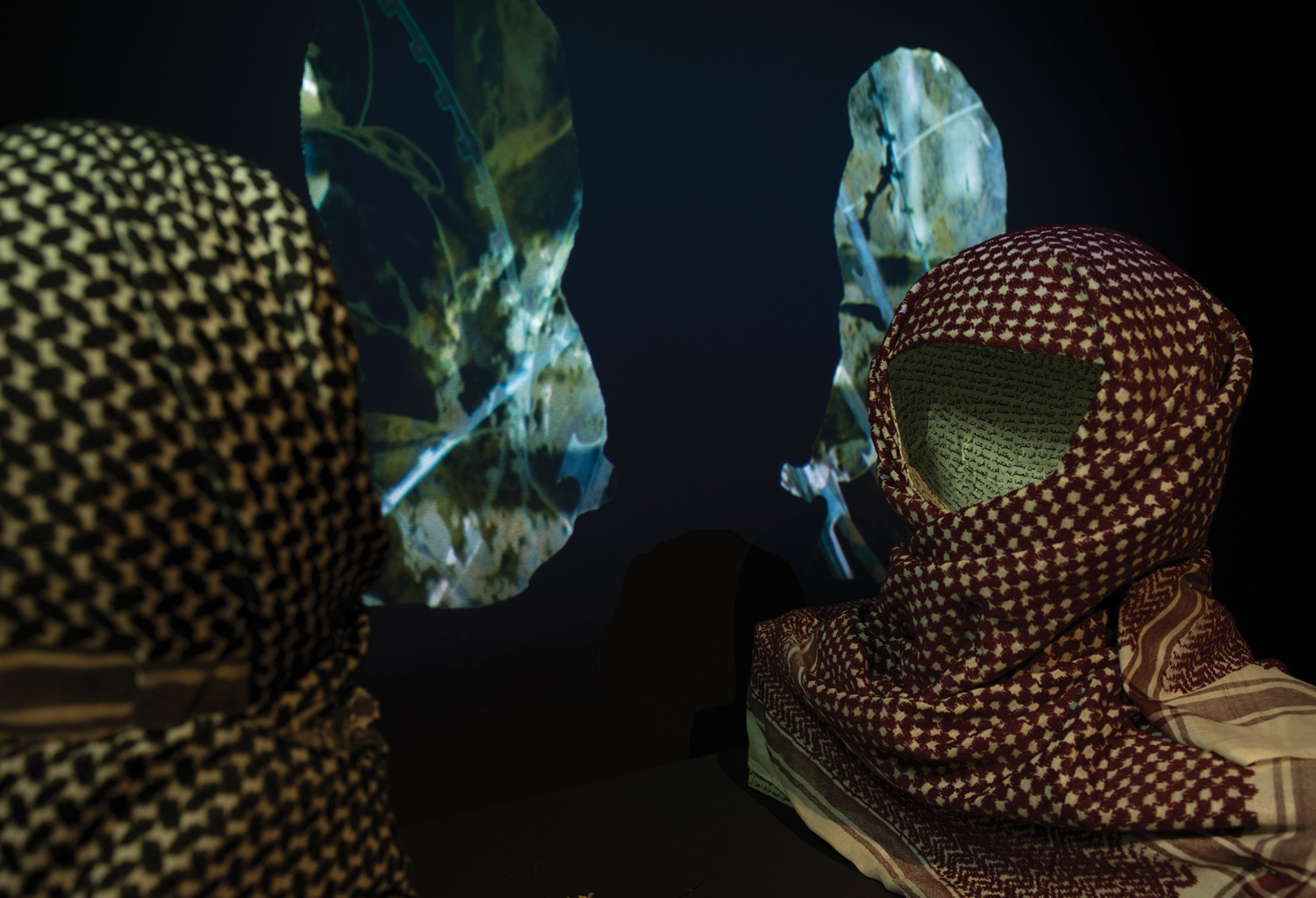 Having been exposed to the violence of ethnosectarian warfare as a child, Sabsabi finally returned to Lebanon more than two decades after his initial escape from its violent clutches. Although he had travelled back in a professional capacity to delve into Arabic Hip-hop as part of a fellowship he received from the Australia Council for Arts, Sabsabi's dual experience of familiarity and uncertainty drove him into deeper reflections about his motherland. After living three months in Lebanon, Sabsabi admitted he was filled with a void that was much deeper than before, as he tussled with notions of belonging and his sense of being displaced by the war. Yet his feelings of displacement were not simply a product of war—they were also a result of the feelings of otherness while living as an immigrant in Australia, in particular, as a Muslim in a post-9/11 world. This sojourn from one locus of trauma (the war-torn Lebanon of his childhood) to another (the virulent Islamophobia of Australia) created a sense of a perennial failure to belong. As such, Sabsabi's art often interrogates these landscapes critically, probing deeper into their essence in search of a broader understanding of the notions of dispossession that come along with them.

In his attempt to explore the "complex geopolitics of contemporary war", Sabsabi's Guerilla (2007-2016) offers a deeper look into the traumas of war through a multimedia presentation comprising of a 3-channel video installation and 33 photographs overlaid with intricate hand-paintings, one for each day of the war between Israel and Lebanon in 2006. As three former guerilla fighters share their account of fighting in the civil war, the film is punctuated with moments of deafening silence as vignettes of interviews cut to the still images of destruction in Lebanon captured by Sabsabi following the 33 day war, wherein Beirut was pelted repeatedly by aerial bombings in response to a guerrilla campaign by Lebanese militia Hezbollah. This matter-of-fact documentary approach is tempered by the accompanying framed paintings of the scenes of destruction, juxtaposing the detached neutrality of the still images interwoven into the videos. While the photographs were not initially meant to be works of art, Sabsabi's process of reconciliation reintroduces traces of human presence through his sleight-of-hand intricate paintings. Such detailed reproduction of scenes of destruction arguably represents a rupturing; a physical manifestation of the feelings provoked by recollections of trauma. In puncturing the mechanical documentation of these still images, Sabsabi believed that "if you destroy... the essence of the image," as Sabsabi indicates in an interview with Artlink Magazine, "the core of the image, what the image represents, not the physical picture, but that image of violence and hate" then the political symbolism of that image would die. Yet, ironically (or perhaps intentionally), Sabsabi's hand-painted facsimiles of destruction are simultaneously a reminder and recognition that these sites of destruction are man-made, prompting a deeper reflection on the messy complexities of war.

Trauma exists not solely within the extremities of war and conflict, but also through the lived experience of a Muslim immigrant in an increasingly Islamophobic world. In the face of a primarily white Anglo virulence targeted at Muslims in Australia, Sabsabi was prompted to dig deep into his roots, interrogating the fractious politics of Islam and delving into the introspective world of Sufism. In You (2007), a victory speech by Hezbollah leader Hassan Nasrallah, is digitally augmented and repeated over two channels, across a screen that fragments into a bricolage of smaller images. On top of the hypnotic repetition of Nasrallah's words, his face begins to duplicate, the images growing increasingly saturated and the ambient voices becoming louder before subsiding again. Sabsabi augments the video by superimposing bright beams of light over Nasrallah's face, eyes and mouth to intimate notions of divinity, highlighting a sense of reverence bestowed upon Hezbollah in resisting the Israeli Defense Force.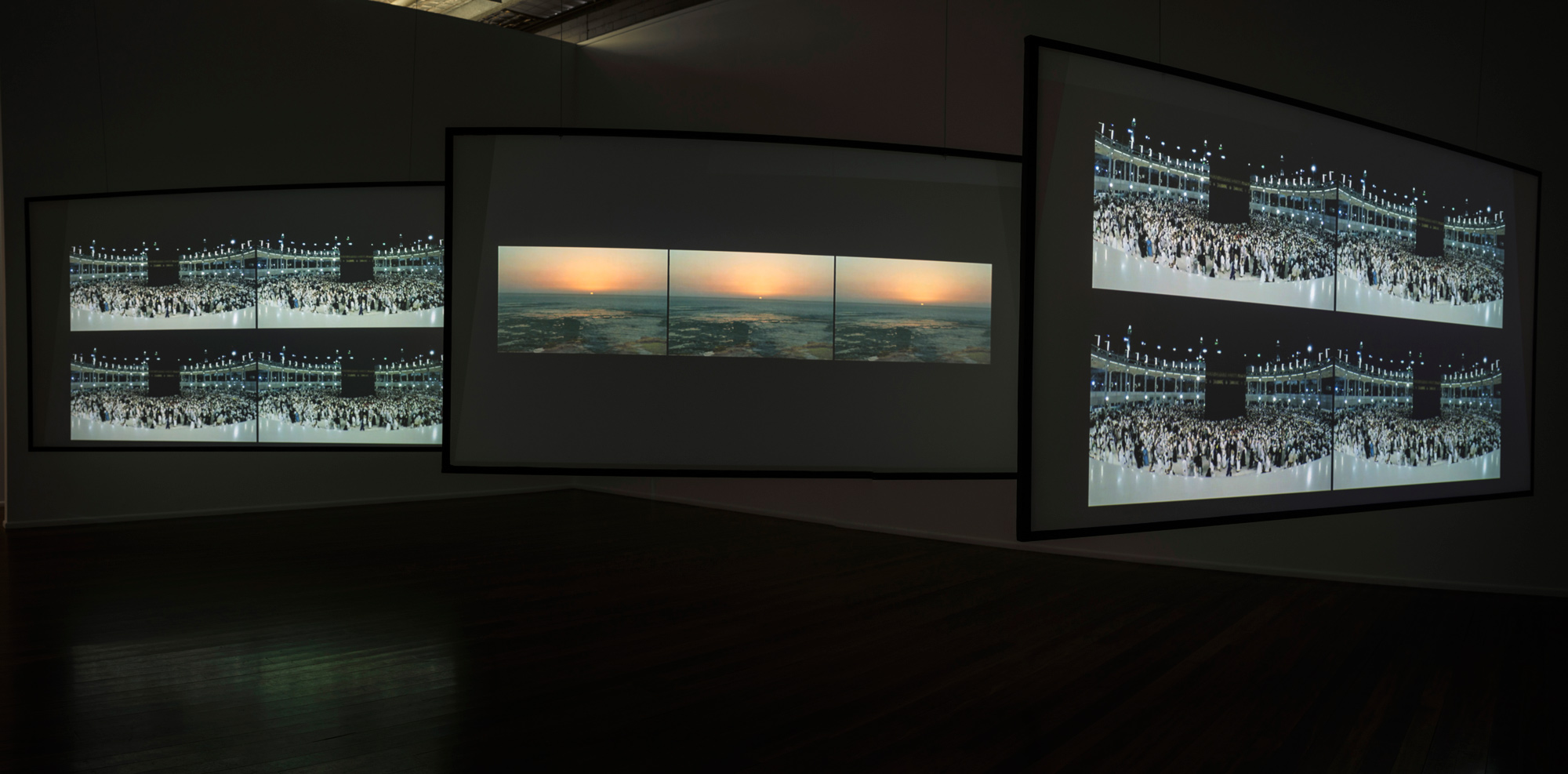 In We Will Kill You (2016), Sabsabi sought to develop a broader understanding of the beliefs and principles behind extremist organisations. Consisting of 6 channel video installations, 2 cloth and wood sculptures and 11 hand woven and painted works, We Will Kill You was inspired by a poem of the same name by Syrian poet Nizar Qabbani. In the poem, Qabbani highlights the problematic (mis)intepretations of the Quran, writing "We've got a nice book... but we're not good at reading", intimating a failure to truly understand the religious teachings of the Quran. Through this incapacity to grasp the ideas and lessons offered by the Quran, a lack of consensus has resulted in the splintering of the religion into competing denominations of Sunnis and Shias. Sabsabi explores the historic divisions within Islam, with differing beliefs resulting in the historic killings of Husayn in the 7th Century, commemorated by millions of Shias all over the world till this day. On the other hand, Arab Sunnis "govern their countries on the doctrines of Husayn and Ali's killers". By taking on such a historically-loaded religious division, Sabsabi aims to provide an open space for "project[ing] their emotions and thoughts", and perhaps "articulat[ing] their differences and find[ing] common ground".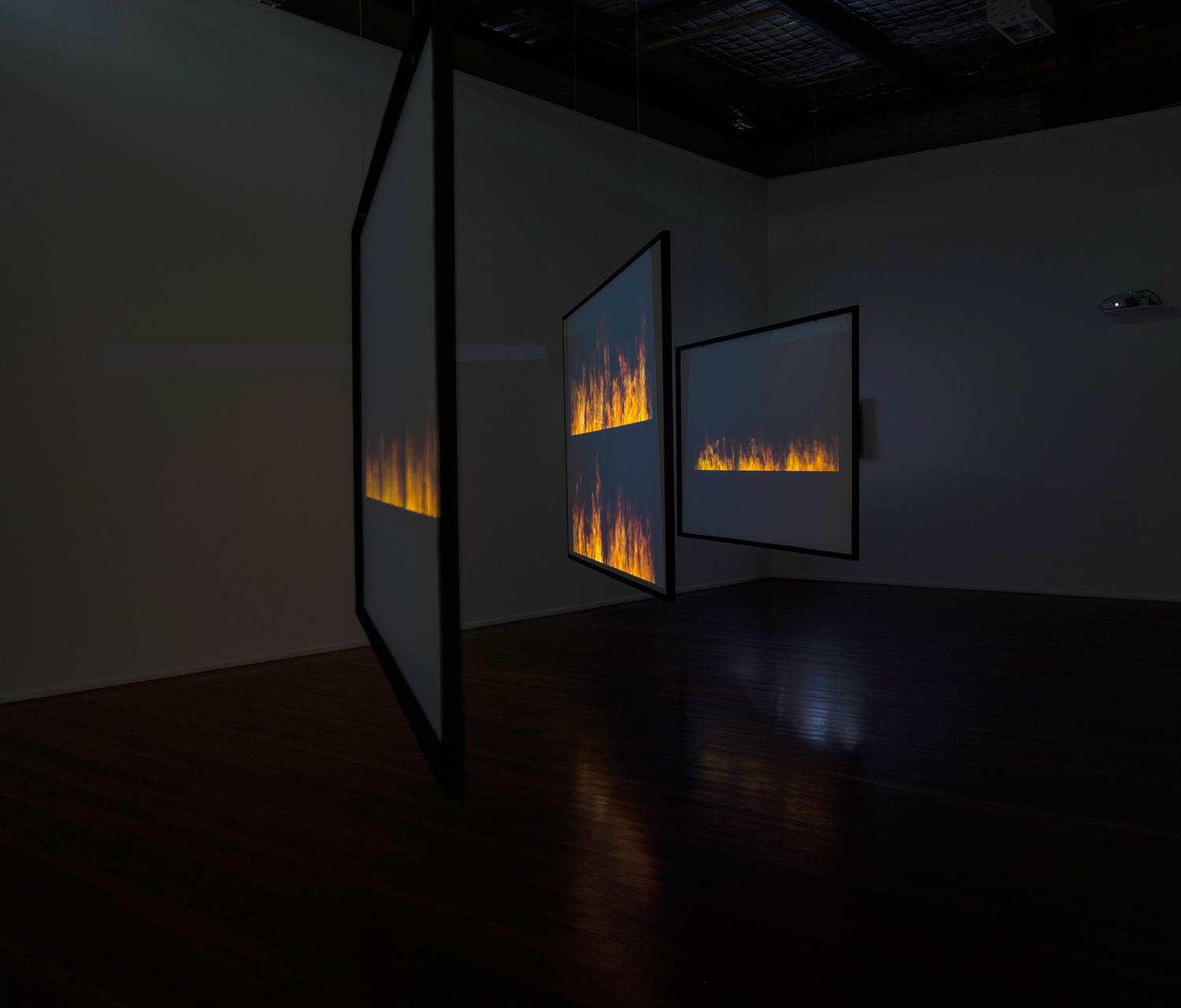 If Sabsabi seems to suggest that these divisions within Islam raise a problem, he offers a panacea elsewhere, albeit controversially, through the infusion of Sufi mysticism into his art. As opposed to sectarianism, Sufism refers to the mode of worship undertaken by devotees, promoting an inward search for God in the realm of the infinite. While viewed by fundamentalists as a form of apostasy, the ideas of love, peace and tolerance it embodies may offer a salutary balm to the current controversies that plague the religion. Sabsabi attempts to delve into the esoteric realm of the infinite in 70,000 Veils (2014), based upon his interpretation that "[the] Prophet Mohammed says there are 70,000 Veils of light and darkness separating an individual from the Divine and an individual is drawn towards the Divine according to their relationship with the Divine".Making use of 3-D image technology, 70,000 Veils is an immersive experience displayed through a 100 channel installation. In some senses, 70,000 Veils is reminiscent of previous art works like Mush (2012) and Syria (2012), in which everyday cities are refracted to compose geometric shapes that recall Islamic tiling and architecture, the specificity of each building obscured by its fracturing and reappropriation. A similar pattern of collapsing and reappropriating specific sites is attempted in 70,000 Veils, as Sabsabi incorporates, amongst other memories, his entire 2006 Lebanese War archive as well as the sounds from Guerilla (2007). However, the original images are obscured through the overlaying of animation and sounds, and the devastation is represented with past and current poetry in both English and Arabic. All three works take on a spiritual dimension by offering "a quest to explore the parallels between the certainties of the physical and the uncertainties of the human and emotional, capturing adaptation in action, and the ebb and flow of cities and culture over time." Yet, through his deft inclusion of sound mixing, 70,000 Veils takes things one step further by amplifying a finite collection of images into the realm of the infinite.

Even as Khaled Sabsabi's impressive body of work spans the banality of war to the spiritual projection into the infinite, his art is guided by his feelings of dispossession, created by the arduous process of shuttling between sites of trauma. His experience as a community art facilitator also provides him the empathetic lens to produce deeply emotive works of art. It is also this experience of being on the margins that perhaps draws him towards the inclusivity of Sufism, despite the persecution of Sufists under the hands of fundamentalists. Rather than pursuing dogmatic ideas of what it means to be Muslim or bigoted perceptions of what it means to be a citizen, Sabsabi's intimation that the infinite, and by extension, God, exists within the inner dimensions of ourselves suggests that our earthly, finite experiences of marginality can never truly displace our central role in our own search for the infinite.