The year was 2017. Priya Ahluwalia was in Lagos, Nigeria. The London-based designer, then a final year student pursuing a Menswear MA degree, was there to visit her father. While caught in a traffic jam, she noticed something that didn't belong there. It was a London Marathon T-shirt from 2012. One of the "street hawkers"—the roadside sellers who approach cars caught in jams to make their trade—was clad in it. In fact, she soon realised, most of the hawkers were wearing the unlikeliest mishmash of obscure British clothing.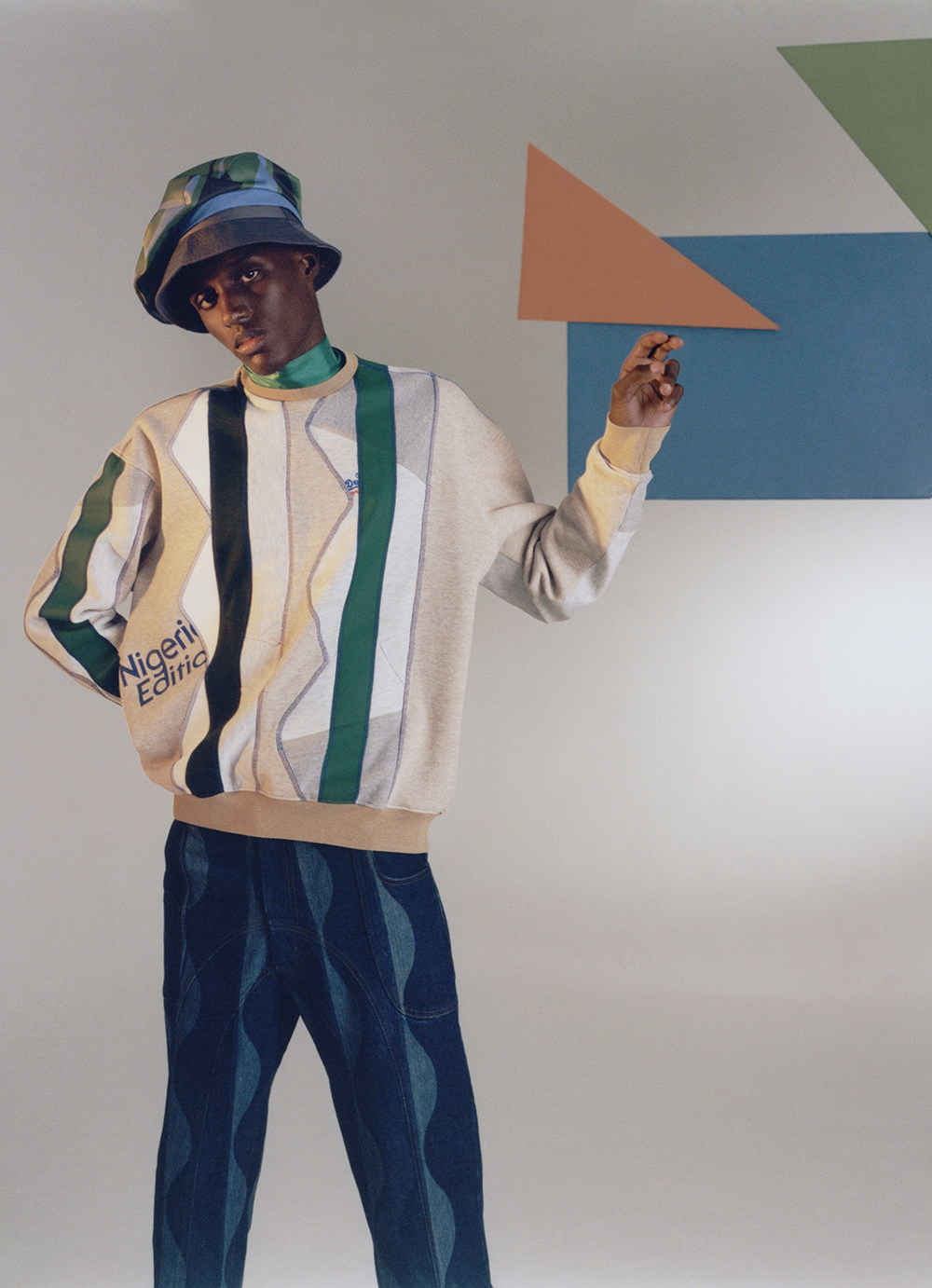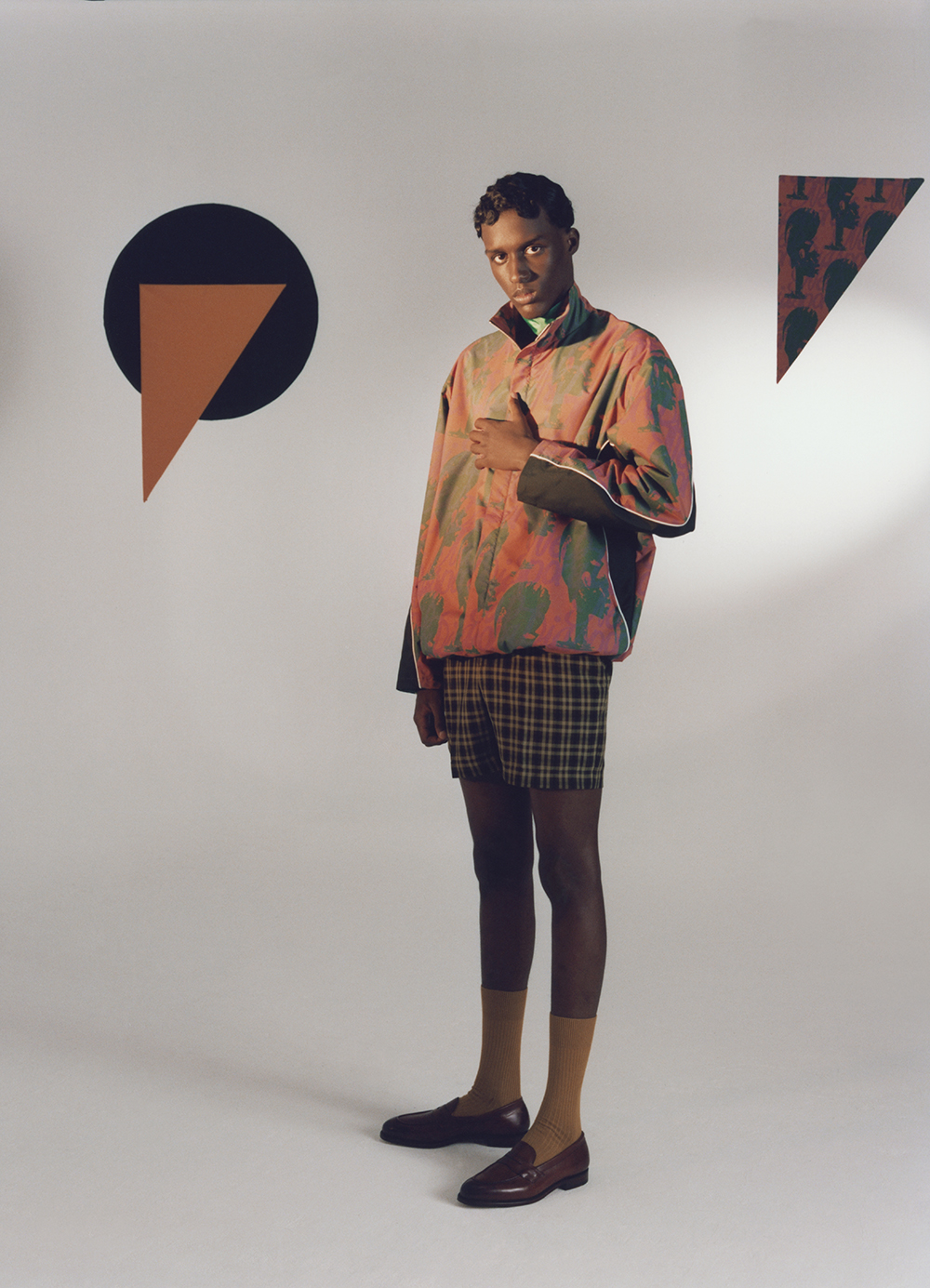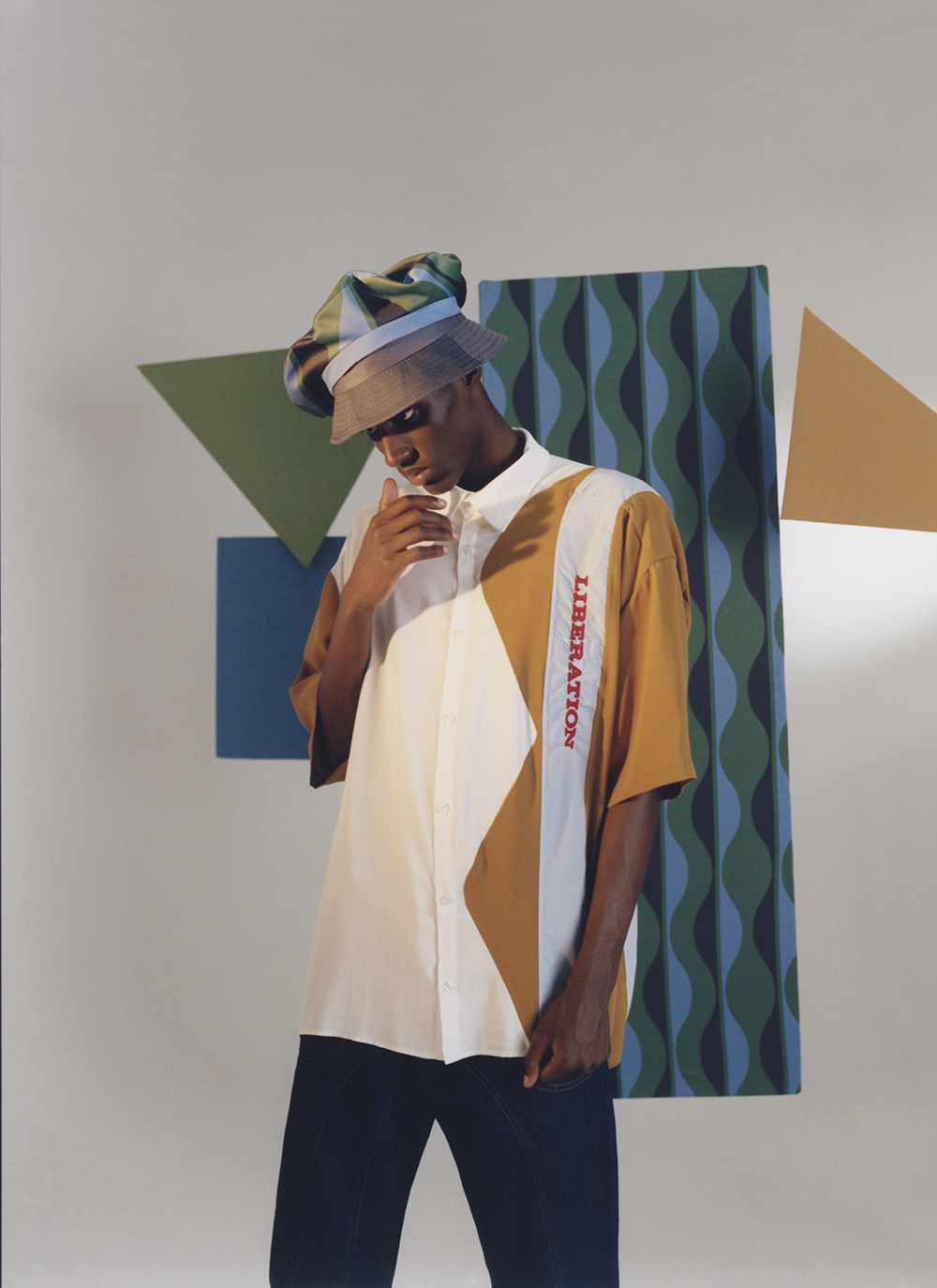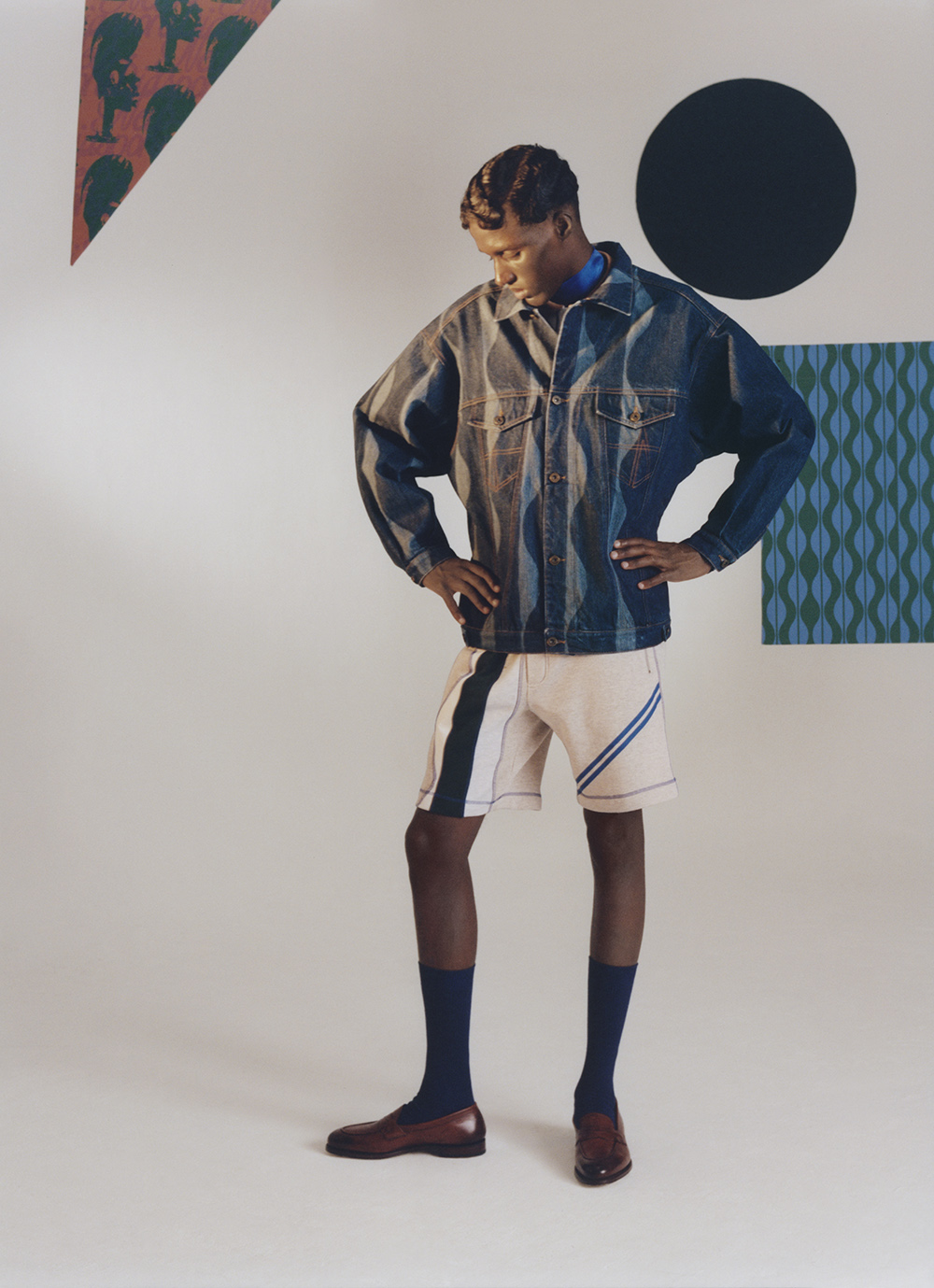 Ahluwalia Spring/Summer 2021 lookbook. Photographed by Joyce Ng
"I'm quite an inquisitive person, so I just started winding down the windows and asking people where they got their clothes from," recalled Ahluwalia in an interview last year. As it turned out, most came from a second-hand clothing market in the city. A majority of its stock was a "recycling" of unwanted donations to British charity shops, sold on by the traders for profit.
What ensued was Ahluwalia's full reckoning of an ugly truth. One that might already have been discussed and talked about time and again—now more than ever—but of which grotesque extent would never be witnessed through the eyes of many culpable to it. Fashion's waste problem is a capitalistic havoc yet to be solved, largely swept under the rug of greenwashing and non-committal corporate statements. Unwanted clothes end up somewhere, somewhere far away. People aren't quite sure where, averting their attention elsewhere. Ignorance is bliss, after all.
But Ahluwalia decided to stare it in its eyes, dead on. Following a hunch that the presence of these secondhand Western textiles in Nigeria was merely the tip of the iceberg, she booked a flight to the motherlode of rejected clothes: Panipat, an Indian city north of Delhi.
Known as the "cast-off capital", Panipat is the endpoint for tonnes of discarded textiles from around the world. Containers heaving with hundreds of tonnes of clothes, mostly the West's, arrive every day. On a normal day, long queues of loaded trucks wait to get into Panipat from the early hours of the morning. At Panipat's mills, some of these garments are shredded (usually by the hands of underpaid local women), spun into yarn and woven into low-cost blankets before they are sent off for sale in India and other underdeveloped countries. Most, however, cannot be recycled, and are instead passed onto traders to be sold on.
Ahluwalia documented what she saw. And her photographs paint a vivid visual narrative: Inside a mill, clothes, segregated into groups of colours, form mountainous piles that graze the ceiling; while outside, women and children squat on an overflowing avalanche of discarded textiles. The fashion industry's thirst for speed comes with a hidden price, at the cost of the environment and rural communities.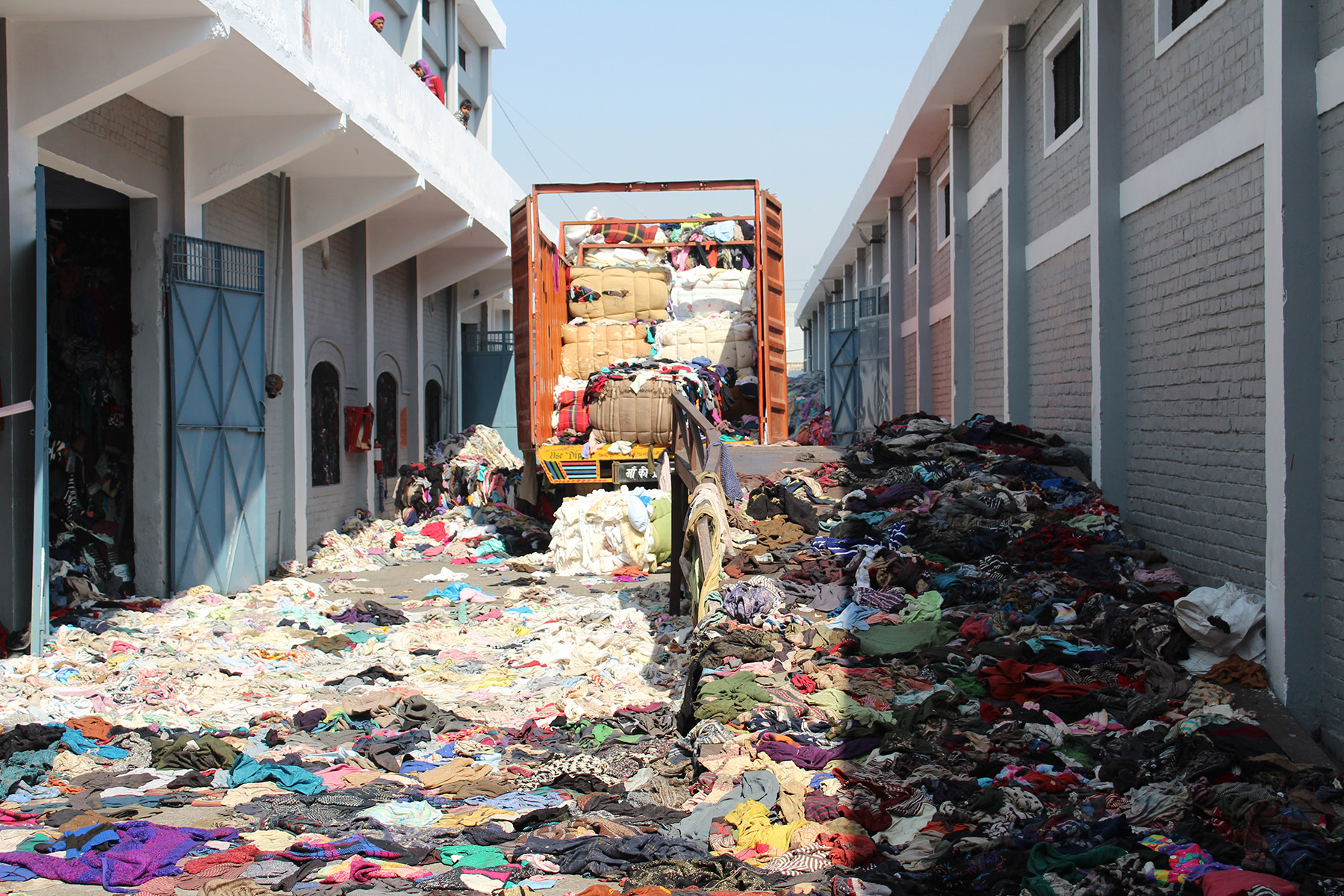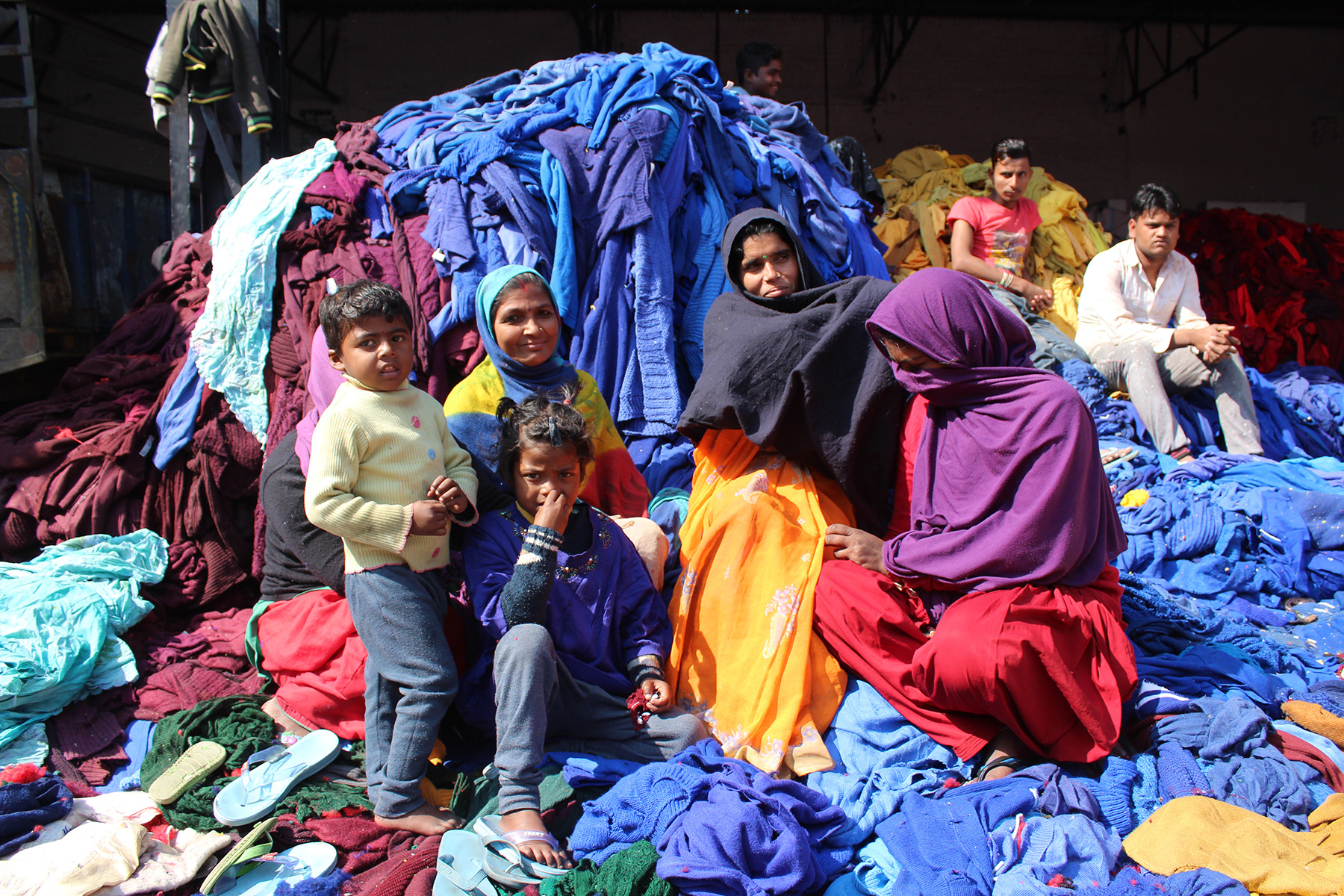 Image Courtesy Laurence Ellis & Ahluwahlia Studios
"I think once I saw that, and saw the sheer volume of what we discard," she said, "there was no going back after that." Encountering the trail of fashion overproduction led the young designer to embrace sustainable sourcing and methods of production. Six months after the trip, she launched her eponymous menswear label (though she doesn't subscribe to rigid gender conventions: "Anyone can wear anything"), operating out of a studio in South London. "If I'm going to add more clothes to the world, I can use materials that already exist," the 28-year-old said of her work to T Magazine. "Everyone knows it's the right thing to do, so why am I being asked why I do it, rather than other brands being asked why they don't do it?"
In her book, Sweet Lassi, the photographs she took in Panipat are interspersed with the editorial images of her first collection, Spring/Summer '19—the concluding fruit of her research. The book tells of a harrowing reality, but also more than that, it shares a kaleidoscopic glimmer of hope: Ahluwalia's menswear is created exclusively out of second-hand clothing, patchworked into a mosaic of characterful pieces. A hypothetical prototype of fashion's future, a possibility yet to be realised. "I think there is so much deadstock in the world that could be tapped into and developed by brands," she told i-D. "It is hard though, as everyone is very concerned with seeing something new all the time."
If it isn't blindingly obvious yet, Ahluwalia isn't after the new. She's looking for something beyond that: longevity. Her focus is on producing sustainable creations and rendering them desirable. That makes her starting point altogether different from that of traditional fashion designers. Her designs respond to the pre-existing materials that come in, rather than progressing from absolute creative freedom. Her pieces are exclusively an upcycling of the unwanted: deadstock textiles, secondhand fabrics, end-of-roll materials, damaged stocks from other bigger brands.
This is where her inventiveness steps in: Ahluwalia blends traditional tailoring with contemporary sportswear. Disparate fabrics are cut and patched together, often through piped seaming. Last year in an interview, she mentioned that she made her clothes with the help of a core team of about three people. This means each piece is never truly the same, each piece one-of-a-kind. "I hope that the idea of having something that no one else has got exactly the same as you encourages people to hold onto it," said the designer.
"

"I hope that the idea of having something that no one else has got exactly the same as you encourages people to hold onto it."

"

Priya Ahluwahlia
Ahluwalia's menswear sits at the crossover of contemporary sportswear and designer fashion: mixed-stripe shirts, slouchy trousers, jewel-toned blazers. Retro-tinged staples that are pragmatically wearable. And these aren't just clothes: her patchwork is always a jigsaw of nostalgia, through which her personal narrative of growing up in South London in a multicultural Nigerian-Indian family is vibrantly distilled.

Jalebi, her second book published last summer, is a testament to that. Writings on her experience as a mixed-heritage woman are juxtaposed with old family snapshots and portraits of residents in Southall, a major Punjabi community in London, which she often visited as a child. "So many people come to these areas, because they are trying to make a better life for themselves, for their family," she said. "But actually, they're not always treated with so much respect."
To Ahluwalia, sustainability, diversity and inclusion that cuts right through to the treatment of Black and brown people throughout the supply chain are indivisible. Her own POC-staffed enterprise practises localism and is constantly checking the individual impact of the pieces made. Outspoken and eloquent, Ahluwalia is at the forefront of London's new wave designers (among Wales Bonner, Supriya Lele and A Sai Ta) who are working to expand the range of narratives represented in fashion. Her cerebral outputs have earned her reputable accolades— she was presented with the Queen Elizabeth II Award for British Design in February, as well as the BFC Fashion Award and the LVMH Prize in 2020—but she's barely even begun. "Basically, I want to do whatever I want," she says, hinting that her upcoming projects might have to do with womenswear, interior design, youth education initiatives, book projects or a combination thereof. "I feel like now is a time when people are listening to what I have to say."