Streetwear and hip-hop have peaked in mainstream consciousness in the last decade, permeating all facets of cultural dialogue marked by landmark wins such as Kendrick Lamar's Grammy Award in 2014, Lin-Manuel Miranda rewriting Broadway history with Hamilton in 2017 to LVMH's (then bold) collaboration with Supreme in 2018. Hip-hop as a music genre finds its roots in African-American resistance culture, speaking truth to power—a turn of phrase used to describe non-violent acts that oppose perceived acts of oppression by the government—for the disenfranchised in its largely anti-establishment and anti-capitalist lyrics. It is therefore a curious but fitting contradiction through which luxury brands have co-opted hip-hop in high fashion by redefining the boundaries of power. It begs the questions—why have brands essentialised hip-hop within the luxury construct and has that changed the narrative of hip-hop?
Luxury brands have traditionally served the role of cultural mediators, actively curating themes from fringe sub-cultures into the mainstream. A former professor at the Harvard Business School, Douglas Holt argues that social media has disintermediated that role, leaving brands as laggards in this new medium for cultural evolution. More importantly, Holt claims that brands that have transcended billboards to become resilient icons have successfully done so by serving to negotiate narratives central to the human condition, targeting cultural fault lines to take a stand. This has allowed brands to redefine culture, leapfrogging the convention of their product categories to champion new ideas and create meaning for their consumers. This is noted by both consumers as well as investors—with the investment community awarding valuation premiums to brands like Gucci and Supreme (most recently valued as a billion-dollar brand) that have innovated and caught on, leaving other icons like Burberry and Coach behind.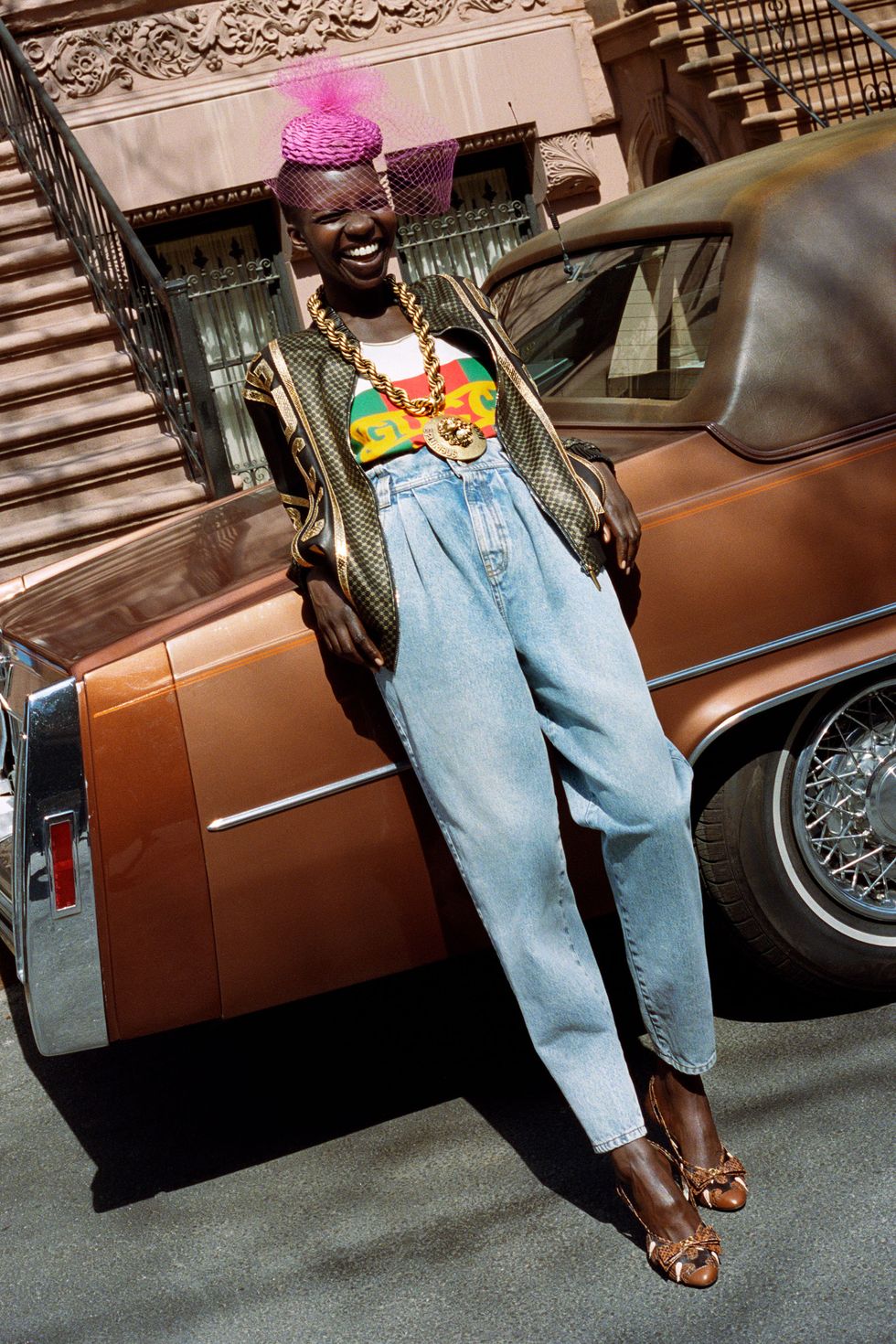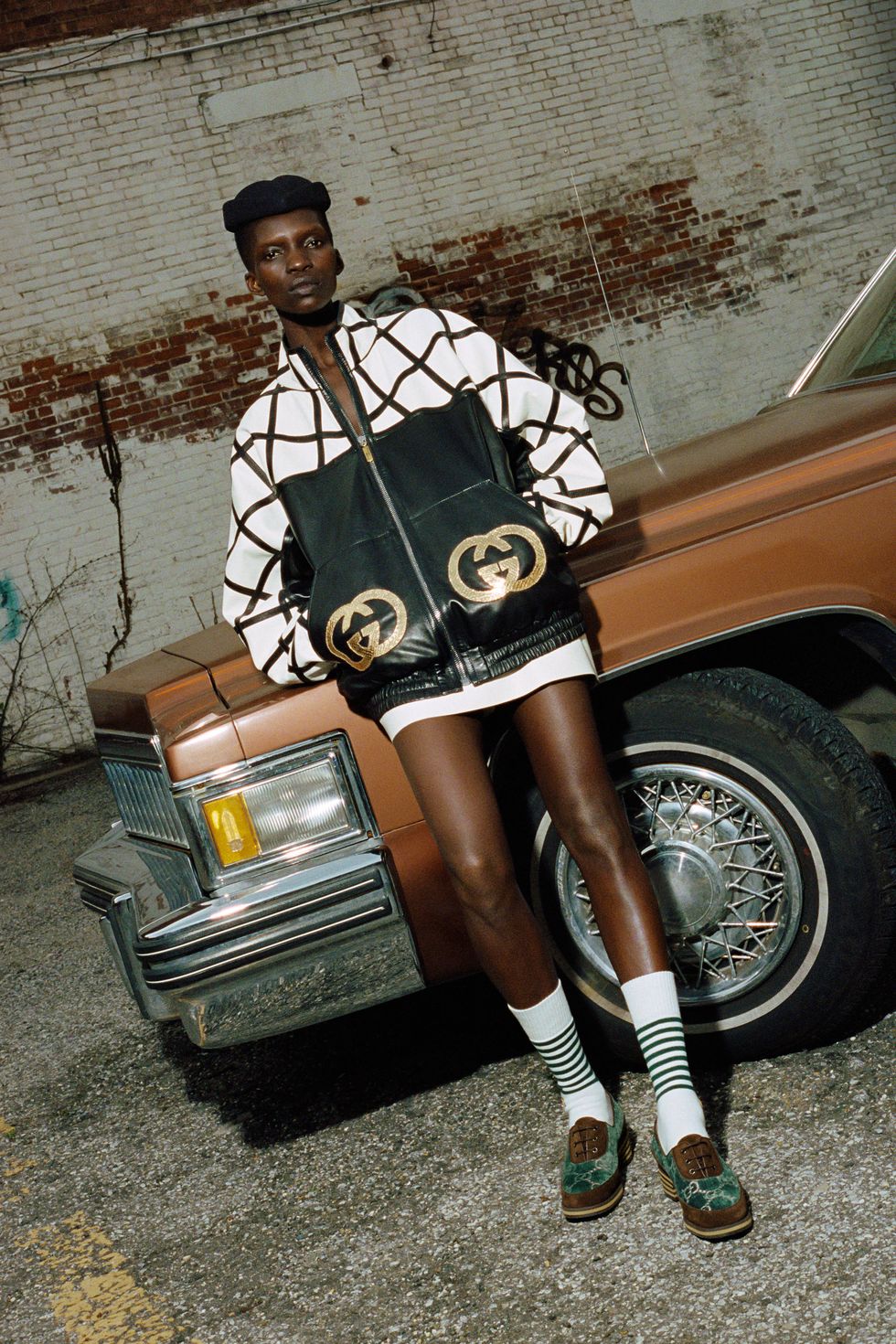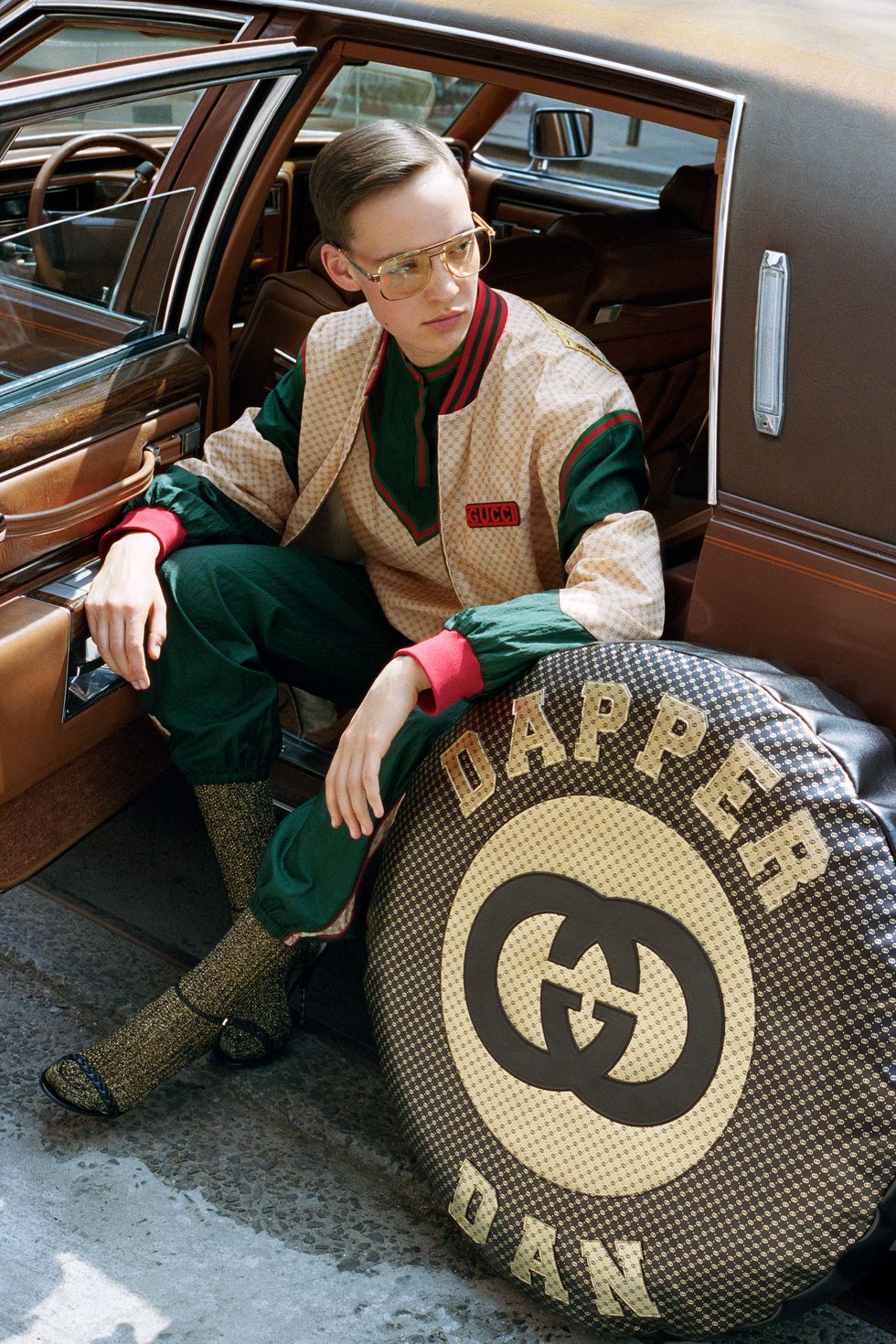 Gucci-Dapper Dan: The Collection. Image courtesy Gucci.
Luca Solca, an investment research analyst at research company Sanford C. Bernstein, explored the strategy of building iconoclast brands that persist through the waves of fashion. This was well understood by traditional luxury, balancing the "golden trifecta of perceived exclusivity, awareness and desirability." Hip-hop serves as the perfect vessel through which these icons reinvent themselves, presenting the myth of both the hustle and living large—telling a story as old as time—started from the bottom now we here. This myth is one that lends itself well to perceived exclusivity and desirability. It allows brands to extend their pricing architecture and ultimately expand into new product categories as well as consumers.
For instance, LVMH's CFO recently argued that the LVMH x Supreme collection was a defining collaboration for Louis Vuitton. This collaboration allowed Louis Vuitton to broaden its price categories and cater to a younger consumer base. Bernstein Research described this strategy of brand extension into lateral categories as key to ubiquitous brand awareness—reaching more consumers using non-core products at lower price points (such as with shoes or iPhone cases) while maintaining perceived exclusivity with Louis Vuitton's traditional haute couture. The adoption of hip-hop as a strategy to expand product offerings or to make marketing maneuverers not only allows for brand revitalization but also creates an acceptable niche that does not damage Louis Vuitton's traditional image of luxury. This moved beyond sneaker culture and atheleisure that brands like Nike and Lululemon have adopted and rode, and even entered haute couture—expanding the pricing umbrella with Dior Homme x A$AP Rocky and Kayne West x A.P.C. Brands that were once in conflict for copyright infringement, like Supreme and Dapper Dan, are now tapped by luxury houses in formal collaborations.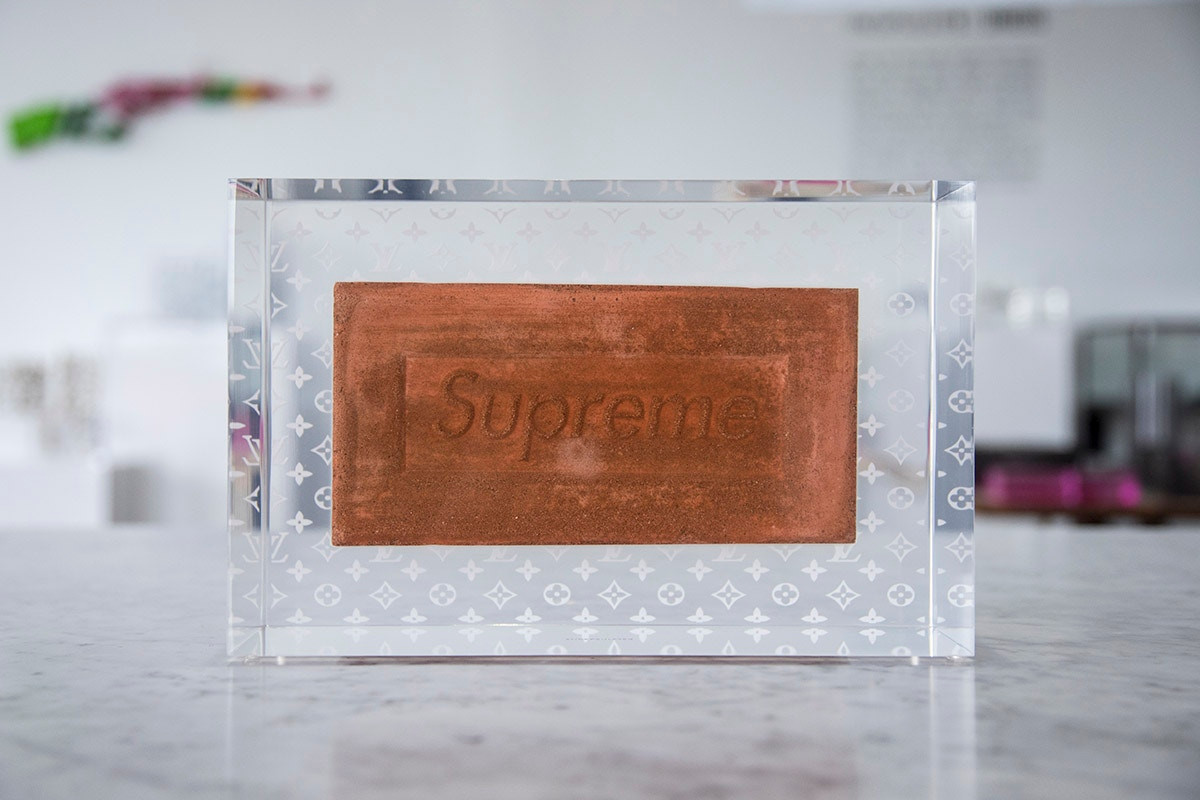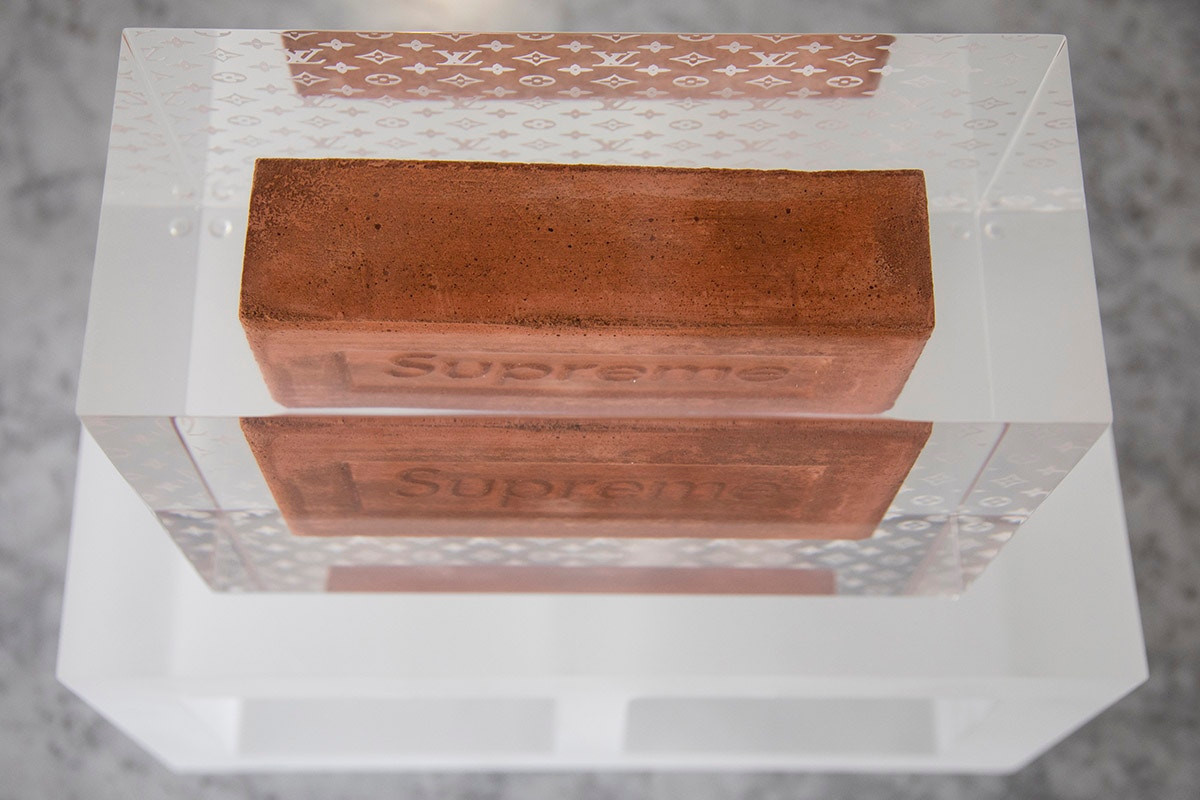 Supreme brick in LVMH casing.
Hip-hop's sense of style is one that does not shy away from ostentation, melding with Afrocentric looks from groups such as Public Enemy, N.W.A and the Wu Tang Clan which had a more militaristic style—a tribute to the Black Panther Party of resistance. It speaks volumes of both rejecting the norm core but also thriving within it. Hip-hop is created and triumphs within socio-economic and political tension. The political consciousness of the style finds its roots in music—with groups emceeing to deliver original wordplay melded in social and political commentary.

From a loose collective of underground house parties that evaded authority in the Bronx, it is now omnipresent in every Spotify playlist. A global force, hip-hop as a vessel is one that makes perfect sense for luxury brands to co-opt. But does this alter its soul?
Many have highlighted the lack of authenticity in the wholesale adoption of hip-hop artefacts as ironic and dilutive—bemoaning the loss of its essence. Indeed, hip-hop's foray into popular culture is one that reflects the struggle between dominant and subordinate classes. From J. Cole's Be Free to KRS-One's Sound of Da Police, hip-hop has served as a post-modern medium that embraces the outlaw. Imani Perry, a professor of African-American studies at Princeton University, argues that it presents an alternative version to the dominant capitalist narrative. Yet, from illegal block parties in Brooklyn to centre stage at Coachella, hip-hop itself has evolved to one that embraces the capitalist ideology, and in doing so has redefined the power holders. One might celebrate this inclusion of hip-hop and streetwear in dominant media but one cannot forget what is lost.

Luxury's adoption of hip-hop erodes and ignores the genre as a battle cry against white institutional dominance. The blindness or lack of knowledge, the fifth tenet in hip-hop, reveals itself in faux pas such as Marc Jacobs' Spring/ Summer 17 dreadlocks on the runway, Gucci's almost cyclical backlash in appropriating Black designers without credit, or the recent "turban" in the Spring/ Summer 19 collection. The popular Instagram fashion critic account Diet Prada continually points out the lack of input from people of colour and representation on runways despite the Afrocentric nature of the very trend luxury is riding on. The industry's haphazard approach to "paying homage" requires redefinition and recalibration.

In the context of luxury's half-baked response in a post-Floyd world, the community needs to do better. It needs to recall the role of the music genre and its roots. Hip-hop samples adjacent music and media to redefine and critique what we observe in society. Supreme started as a critical evaluation of luxury—actively sampling luxury logos as rap does with musical lyrics. It is a caricature of the very brands it now collaborates with. The $30 brick was supposed to be a critique, which is ironic in that the critique itself has only served to reinforce the very behaviour it satirises. The economic calculus for Supreme has changed—one might point to the involvement of private equity giant KKR since 2017 as evidence. What started out as mimicry and satire of the nouveau riche in buying what they had no knowledge of has morphed into the very body it seeks to deconstruct. We could argue that in attempting to create knowledge and critique, streetwear brands have lost their way as they graduated into norm core.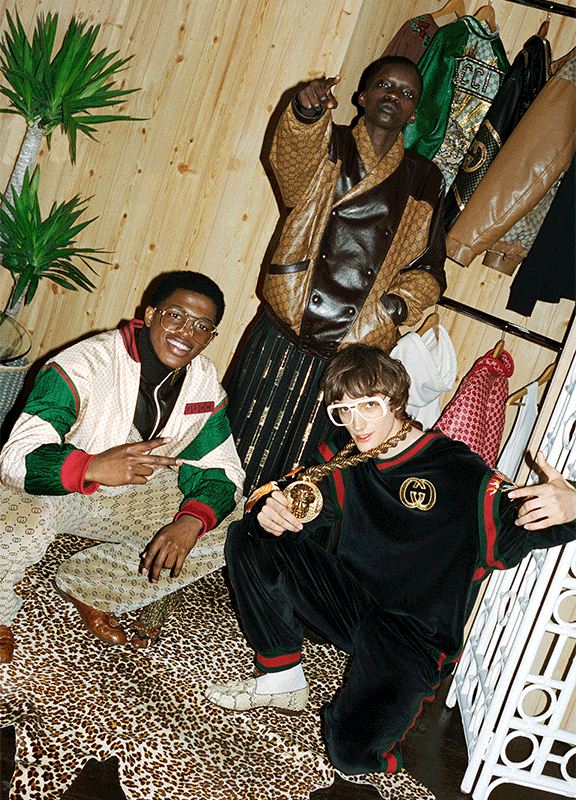 What about hip-hop's soul? Was Old Drake better than New Drake? Does every 15-year old posing on Hypebeast understand the roots and cultural contradictions hip-hop presents? While one might hope that the answer lies with the consumer—am I buying this satirically—luxury hopes not.
This piece reflects the author's personal views, and not the views of Vulture Magazine, nor the firm in which the author works for.