How do you see seeing? Two artists known for producing a sense of endlessness show us how—Yayoi Kusama grabs us along the way to infinity, while David Hockney tugs on our perspectives. An unintentional double bill (or not), we review their latest exhibitions in Singapore which overlapped during showings: YAYOI KUSAMA: Life is the Heart of a Rainbow at the National Gallery Singapore, and David Hockney: A Matter of Perspective at the Singapore Tyler Print Institute (STPI) Gallery.

Yayoi Kusama's cult status as one of the most sought after living artists today guarantees long queues at the gallery and timed visits to her installations, but beneath the social media buzz and fanfare—which she endorses in all its permutations—Kusama builds an engaging dialogue across social themes. Hers is the story of childhood trauma, of hostility overseas and in her home country during her career's infancy, of an ongoing battle with mental health which saw the artist check herself into a treatment facility where she continues to stay. It's easy for viewers to get lost in the vibrant colours and romanticise a happy rainbow wonderland while ignoring Kusama's personal struggle—silent issues of the mind made manifest and treated through her art practice. The irony is not lost on us.

Kusama's repetitive strokes and features in her work are anything but mechanical. In her Infinity Net paintings, lines criss cross to form patterns that seem to move and twitch as our eyes traverse the canvas. Each stroke is methodological yet imperfect; a subtle graduation of colours masterfully applied to evoke the slightest push and pull. Dots are also the hallmark of many works (and consequential merchandise) but a lineage may be traced to later works featuring faces and eyes that swarm the canvas and stare the viewer down. In the Love Forever series (2004 - 2007), 50 pieces of black and white drawings line the gallery's high walls, enveloping visitors in the same mesmerisation that her installations do.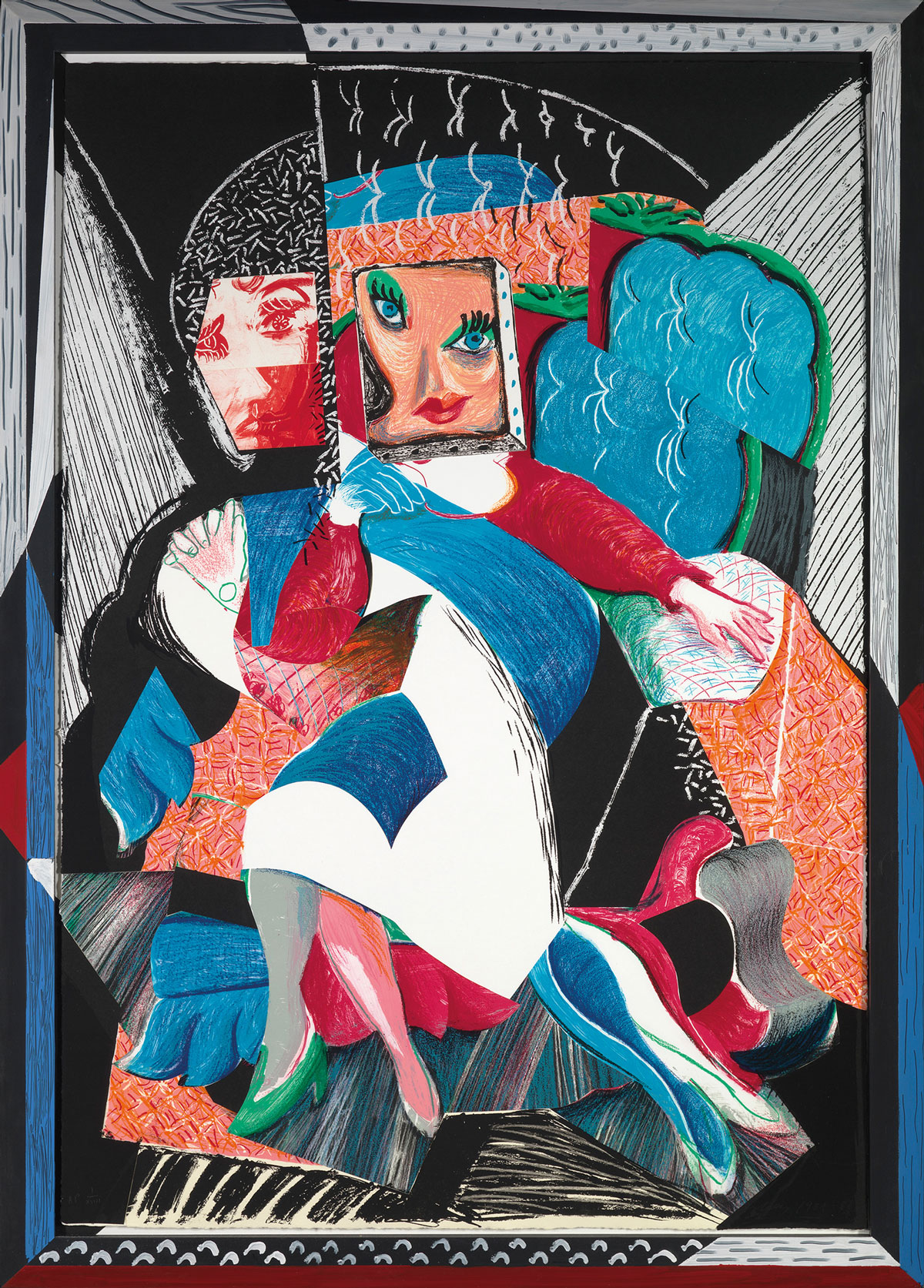 The dots are not just devices of obliteration, but sisters to the eyes reminiscent of the gazes surrounding Kusama which saw her leave the society at home "too scornful of women" only to enter the male-dominated art world of 1960s New York. Today, these dots are her tools of power as she stares back at a society that refused her. It is with these eyes that viewers are awarded entry. Constantly, we are invited to step in, take a peep, and take part. We not only glimpse her private world but become participants of, our selves obliterated in the sheer depth of her work.

Born only eight years after Kusama, David Hockney's art practice is similarly relevant to the audience today. Constantly playing with our viewpoints, Hockney thrusts viewers into a realm of perspective vortex. While the subject is familiar—furniture, faces, and places—the distortion of content builds an endless loop. In 4 Blue Stools (2014), the indoor landscape is animated. Though the points where the wall meets the floor and corners remain plain to see, static horizontal lines meet the shift and tilt of the vertical—leading our eyes in a roundabout maze past the chairs and through the gallery; at once a visual contradiction to our assumptions of how spaces should look. Hockney argues that "this may just be a lot closer to our experience of looking", a statement which rings true. Our line of sight is never linear, but altered by light and shadow, obstructed by pillars, people, and our flawed memories alike. Even after years of living in the same house, our collated memory of the space does not always match reality—table legs and chairs spring unannounced to stub toes and shoulders.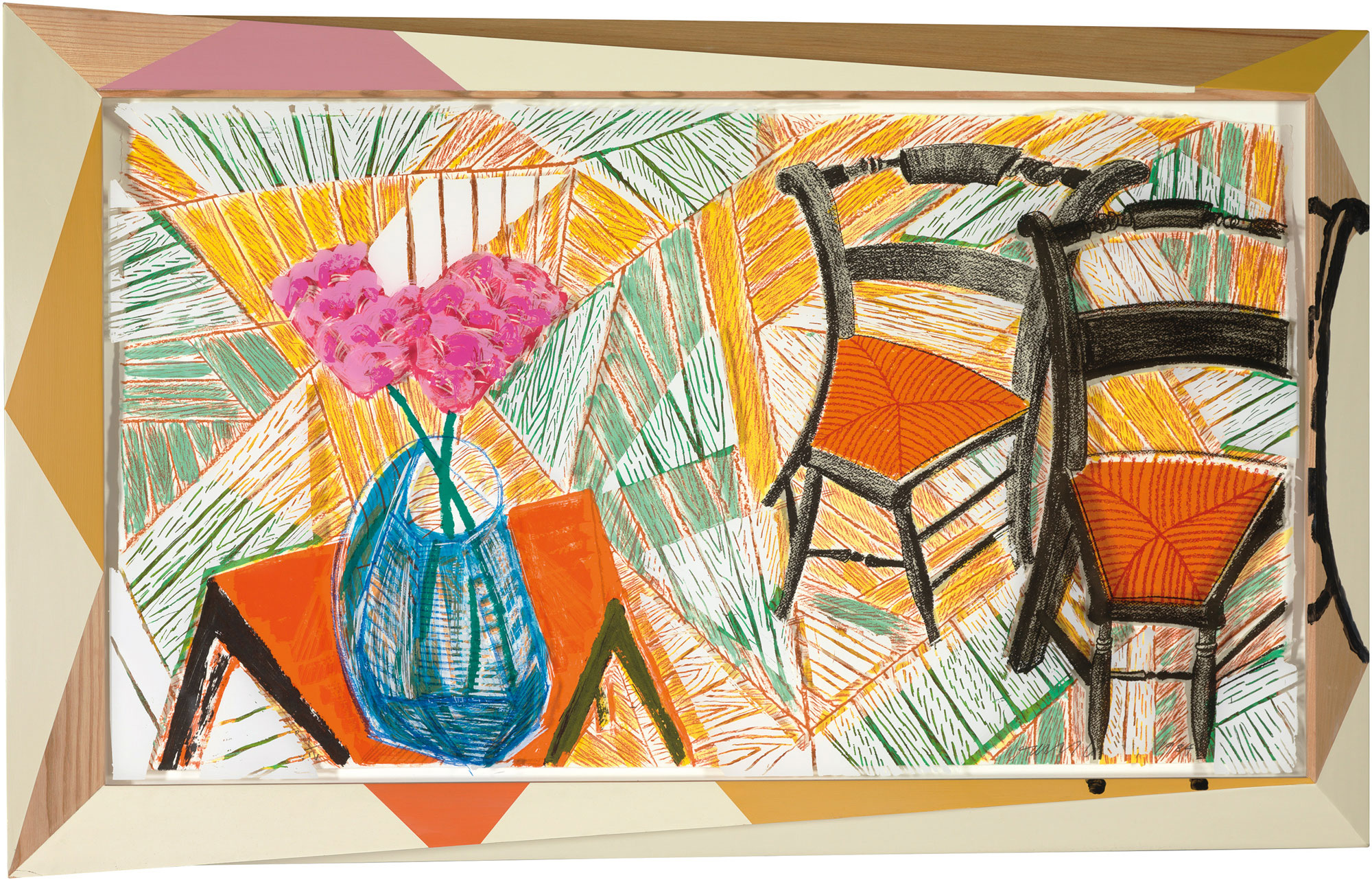 Hockney's surroundings constantly warp in response to his characters and objects. Part of his Moving Focus series, Tyler Dining Room (1985) depicts tiles that contort around a dining table, focusing our perspective on what would be the crosshairs of a camera. Even here, the painting depicted within the dining room seems to possess its own reality, and is just as eager to leap off its frame. Elsewhere in the gallery, Walking Past Two Chairs (1986) does exactly that—a chair leg boldly steps out of the canvas and a table edge escapes onto the uneven frame. The frame is painted and angled too, such that one walking past the work would see the errant chair leg before encountering the lithograph. It is almost as if the visual transformations that Hockney performs on his subjects enlarge and amplify onto our landscapes.


Perhaps both Kusama and Hockney herald a new turn in the flux of contemporary art. Kusama's immersive works are perfect for the social media age, and Hockney's relentless reinvention (cue the use of iPads) has this generation hooked. If the layman requested key performance indicators of their popularity, the artists' recent solo shows at the Smithsonian's Hirshhorn Museum and Sculpture Garden and Tate Britain welcomed about 475,000 visitors respectively. In terms of art practice, both artists are invested in the play of perspective—specifically in the examination of how seeing and sight actually work—an investigation which then translates into the final end product; when the artwork, encompassing the artists' ideas, reaches fruition in and through the viewer's eyes.

The works of Hockney and Kusama are no doubt intriguing. Detractors are quick to lament this generation's obsession with taking nice photos (and to an extent, the art museums who pander to such interests). But accessible is not a bad word. For every time a visitor holds the smartphone camera, he or she participates in Kusama's obliteration and further pushes the plane of perspective in Hockney's artworks, while answering the incumbent question: how do we see.