La Boîte-en-valise roughly translates to "box in a suitcase". It is a portable museum that the French-American artist Marcel Duchamp created between 1935 to 1940, intended to offer a retrospective look at the artist's illustrious career. Each brown leather suitcase, in all its 300 iterations, contained 79 replicas and reproductions of Duchamp's seminal works like Fountain (1917), Nude Descending a Staircase (1912), L.H.O.O.Q. (1919), or The Bride Stripped Bare by her Bachelors, Even, or Large Glass (1915-23). While its intent was meant to question the validity of the "original" work of art, the innovative suitcase became an important tool that offered patrons and collectors a glimpse of Duchamp's work. Like a travelling salesman's suitcase, la Boîte-en-valise promoted the artist's name all around the world.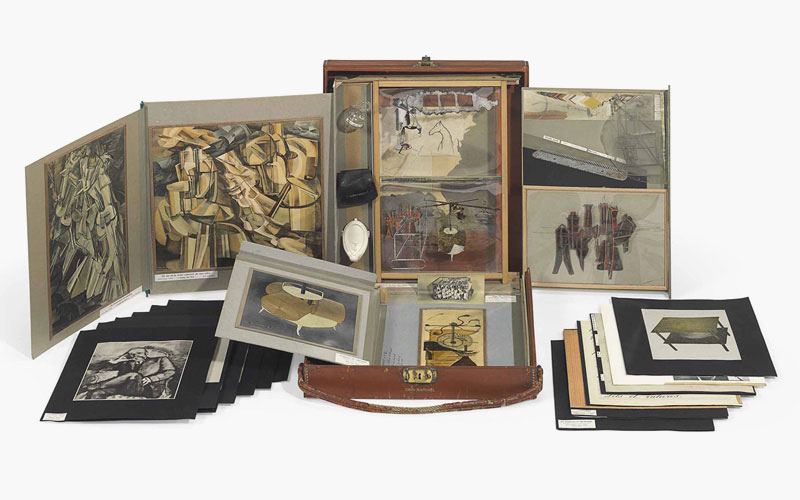 What Duchamp introduced to the art world—portable inspiration—was what Loewe brought to the world of fashion and luxury in its recent Spring/Summer 2021 showcase. Set against a post-pandemic reality where the possibility of physical gathering is eliminated and when fashion houses are scurrying to respond to the imperative to channel their resources to the digital, the LVMH-owned Spanish house introduced 'Show-in-a-box', an iteration of a portable fashion show.
Sent to members of the press and friends of the brands 'Show-in-a-box' came sleekly packaged in a classic archive box, wrapped in textured canvas. Foremost, the box unfolds to reveal a pull-out invite in the form of a book. Each box contained vital ephemera that conveyed the collection's vision: standing frames of fabric silhouettes, a pop-up mini runway set, material swatches and a foldable player with a vinyl record were amongst the multilayered narrative presented.