In Vulture's previous issue, we spoke at length to two curators from the Singapore Art Museum about this year's Singapore Biennale and its theme An Atlas of Mirrors. Keywords such as navigation, borders, and migration took center stage, at once suggesting an outward stroke but retaining a reflexive arc through the imagery of the mirror. As new technology disrupts the world daily, and the human race pushes boundaries in exploring other forms of life, perhaps the discovery is inward too—who are we, really? And what sort of world are we creating for ourselves?
William Butler Yeats' poem The Second Coming speaks of a 'widening gyre', a suggestion of a world that spins out of control and is unable to remember its origin. As news of disasters, both natural and man-made, mounts it comes as no surprise that this apocalyptic poem has been quoted more times this year than in the past three decades. With today's context in mind, what revelations do the artists make? We investigate their material—both literal and metaphorical—by rounding up five young and emerging artists featured in the Singapore Biennale 2016.
FYEROOL DARMA
B. 1987, Singapore
For Darma, absence speaks louder than words. His commissioned work The Most Mild Mannered Men (2016) critiques historical amnesia by presenting two characters pivotal to the founding of modern Singapore, but in distinctive ways. While the appropriated bust of Sir Stamford Raffles commands the viewer immediately, the opposing pedestal stands empty; save for the inscribed name, birth, and death dates of Sultan Hussein Mua'zzam Shah.
"During my research for this work, I encountered the Malay word ghaib. In the theology of Islam, ghaib refers to the unknown, of things you cannot see and cannot explain, though not in the ghostly sense. It resonates with what I've been reading up on minor narratives, and of the structures between the major and the minor. In music, you hear the major chords, and the minor chords act as an accessory, but it is there. What we know about art is always shaped by the Western perspective. So I asked myself this question—if we didn't have knowledge from the West, would we be able to start something fresh? But I am not a historian, I am an artist. I am not creating a new narrative, I am merely echoing an existing one."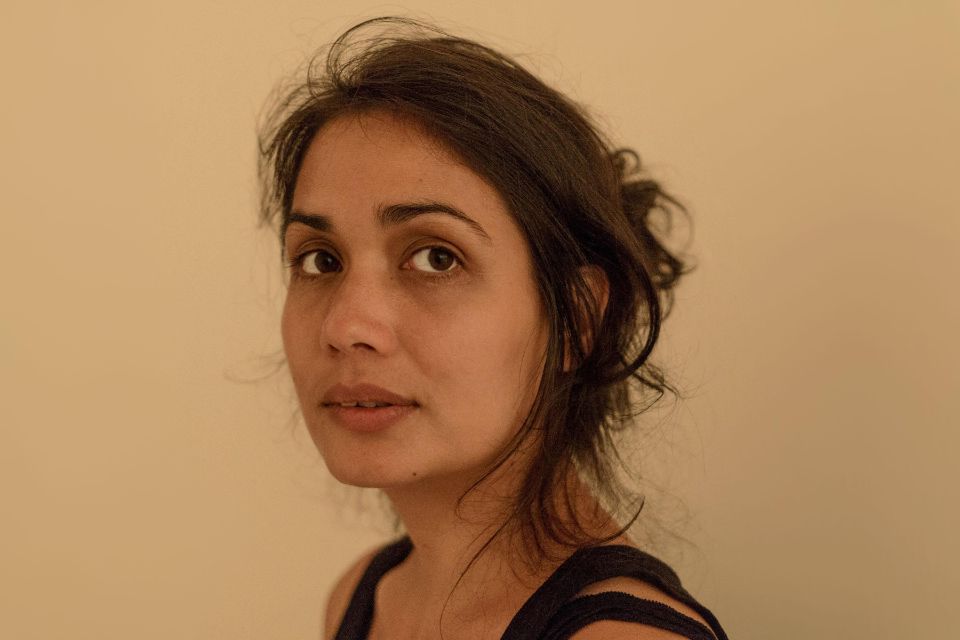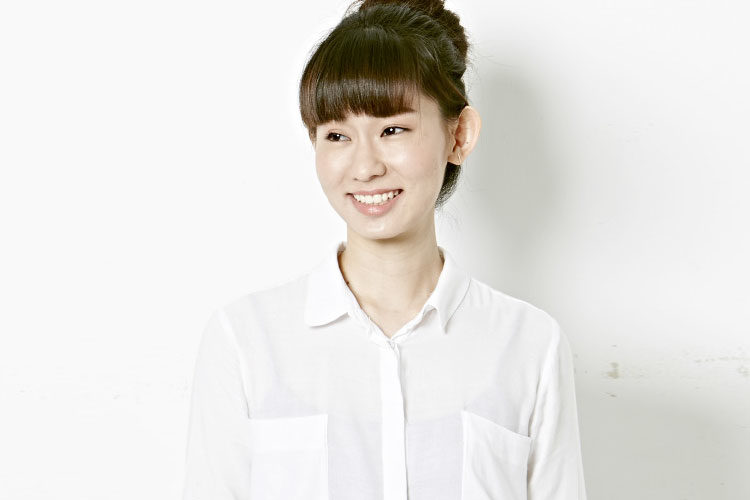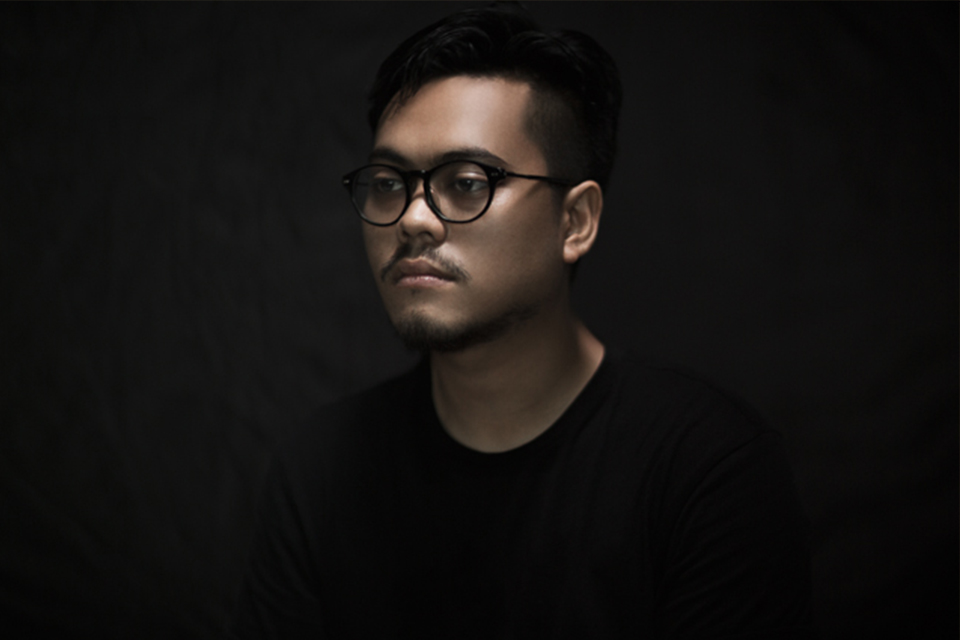 From left. Artist Portraits. Martha Atienza (The Philippines/ The Netherlands), Melissa Tan (Singapore), Fyerool Darma (Singapore).
CHOU SHIH HSIUNG
B. 1989, Taipei, Taiwan Lives and works in Taipei, Taiwan
Good Boy, Bad Boy (2016) houses two million years of history in its frame. The two Plexiglas containers display 250kg of dark petroleum each, forever frozen in time and space. For Chou, the work is personal—it reflects the relationships and expectations from his family who run an oil supply business—and at the same time academic; it questions the very notion of what we understand as a painting. "The two questions usually asked are: what to paint, and how to paint. I started to think about how one can make a painting, rather than what to paint. In the past, artists blended their own ingredients and materials to form colourful pigments. People now understand a painting as something that hangs on a wall, and are rectangular and flat. Good Boy, Bad Boy is about the dilemma of trying to be what society wants of us while staying true to ourselves. People interpret my work differently, bringing in ideas about the environment and of history—I am open to all of these. I'm not trying to change the way people see art. Actually, it's more of testing to see if they can accept my works as paintings. If I could summarise my work in one sentence, it would be: this is a painting made with oil."
MELISSA TAN
B. 1989, Singapore Lives and works in Singapore
Far from bemoaning the impact of urbanisation, Tan welcomes, if not celebrates change. Her work, If you can dream a better world you can make a better world or perhaps travel between them (2016), makes visible the nuanced transformations of Singapore's landscape into metal sculptures that depict the varied layers of terrain under development—each layer made of paper or metal, and painstakingly cut and etched. Accompanying her main work are three 'music boxes', where the rough pavements of Singapore are transcribed into a scoresheet that plays the city's cacophony; circumambulating pebbles, granite or cement pieces taken from the original sites. "The three pieces were found at different locations—the trading industry at Keppel district park, the city's business district, and the residential area. The quietest piece is the granite, and it has an interesting link to Singapore's history. There used to be granite mining in Singapore, but all the quarries are used up now. But if you go to the business district, you see many granite buildings—all made up of granite taken from elsewhere. Singapore is changing so quickly, so I wanted to use all these materials that we find in our landscape and put them together. Even for the static sculpture, I cast the rocks and pasted the textures on top of one another, because they have a relationship with each other. I like change, though sometimes it's too fast. I think what motivates me as an artist is not to let myself get too comfortable."
MARTHA ATIENZA
B. 1981, Manila, The Philippines

A first glance at Atienza's work might bring forth the notion of travel and voyage; the sea, after all, is very much aligned with this year's theme. But Endless Hours at Sea (2014, 2016) has other ideas. Atienza is enraptured by the liminal space the sea offers—to be somewhere and nowhere all at once. This contradiction carries through in our identity. As more heritages and cultures converge, we are but global citizens all at sea.
"As someone who is half-Dutch and half-Filipino, I'm always in the middle of nowhere. I've always had discussions about what identity means. And that's what's refreshing about being at sea—you don't have to belong to or identify with something. Ships are like countries on their own. You could get on a ship, be on international water, and no one can really touch you. My previous projects were about the families and communities at sea, artworks that touched social issues. This time, I wanted to create something just in response to the sea, to go back to basics—sound, water, and light."
PANNAPHAN YODMANEE
B. 1988, Nakhon Si Thammarat, Thailand
Aftermath (2016) recalls murals often found on the walls of temples and places of worship, but Pannaphan's mythical figures dance and writhe alongside materials new and mass-produced, a composite of the traditional and contemporary. Using the Buddhist cosmos as a landing point, Pannaphan presents and questions the understanding of faith amidst our quest for science and progress.
"My work speaks of how people use religion in different ways other than the main ideas from it. People use it for their own purposes, for wars, colonisation... Good and bad are brought together. I want to present a comparison of the past, future, and present, a comparison of beliefs and what happens in the real world, to allow visitors to use their imagination. What do you think will happen to religion in the future? The answer is up to anybody."